Collecting Cobramite HO Scale
Cobramite introduced their HO "Super Competition Line" in 1970 using the company name "Minicobra HO Racing Products Inc". Cobramites were designed to compete with the commercial advances in HO scale racing developed by Tyco Industries with their TycoPro line (as well as the soon to be released AFX Super 2 by Aurora) and especially with the brass chassis'd cars like Boss HO line developed by Riggen Industries, and Dynamic's HO Dynabrute.
Cobramite introduced their HO chassis for $4.00 (common price point with the other brands) and with the following features: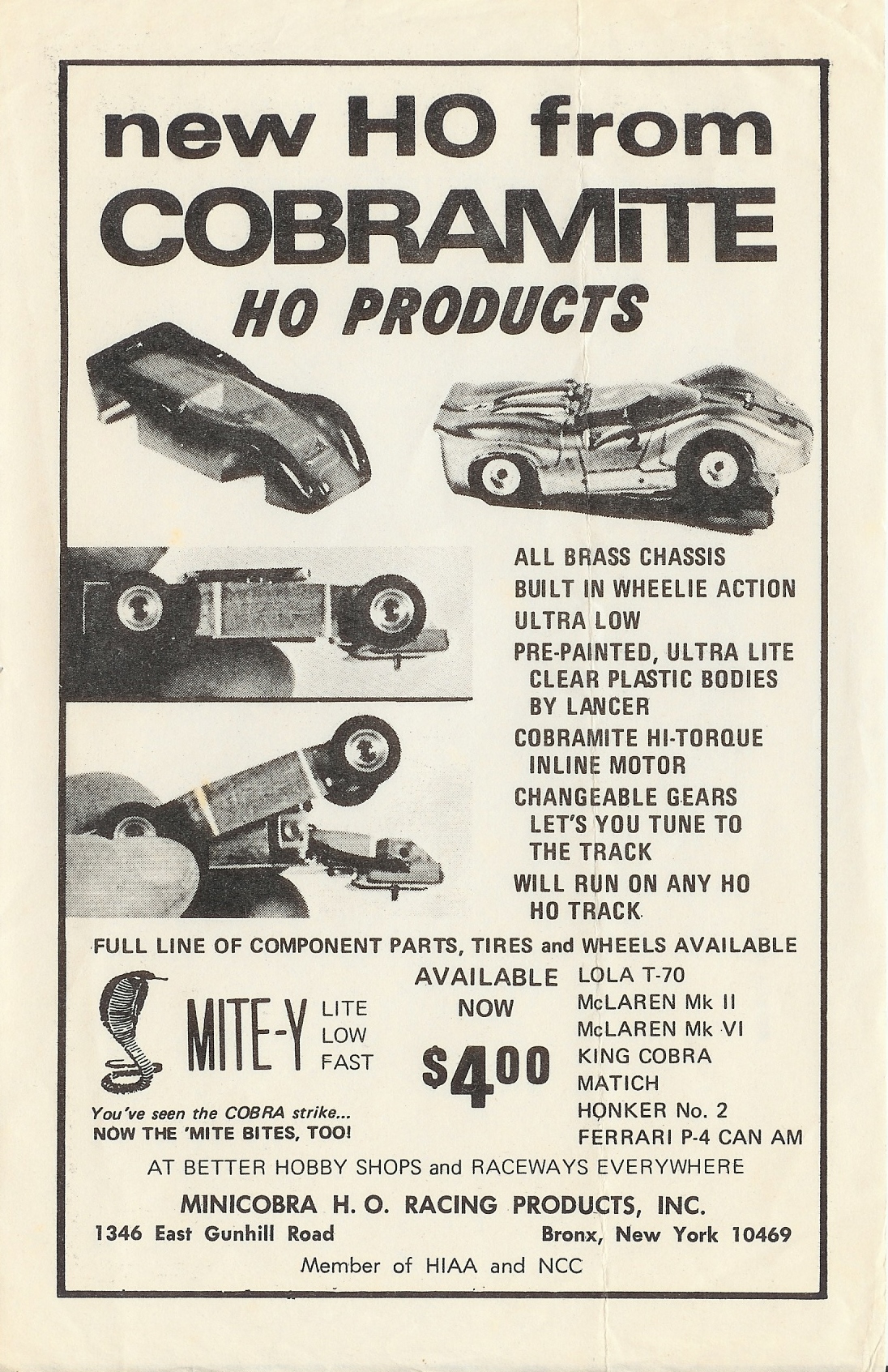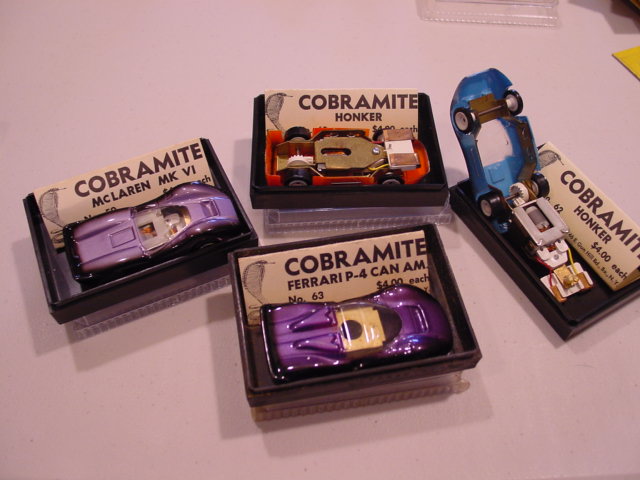 See this link for complete scans of the Cobramite Catalogue
--Brass Chassis with built in "wheelie" action
The Cobramite chassis design was a brand new concpet for HO scale. Basically designed as an ISO frame with the motor mount and drivetrain separated from the front wheels and the body. The outer frame, (like the Riggen shaker plate), helped isolate the driveline from motion vibrations and track chatter. Bodies were attached to the outer frame with small staple wire "clips". The chassis does not appear to have changed throughout the production run of approximately 2 years. "Wheelie" action may have been an unintended consequence of the design, but certainly made for good ad "copy".
--Hi-torque motor with changeable gears
The very first Cobramites had a Japanese made K and K can motor but were quickly improved to the then current best of breed Mabuchi HT-50 can with copper wire arms (sometimes epoxied) and then red wire arms (sometimes epoxied).


--Mikronite pick up brushes
The pick up system went through a number of changes throughout the production run. First issue chassis' had a "sled style" pickup that was basically a pair of brass plates shaped to fit flush and flat with the bottom of the plastic guide shoe. The copper plate was very stiff (would snap before it would bend) and smooth track/power connection WAS NOT GOOD. Later versions had a smaller, less stiff plate with slightly more flex and could be (gently) shaped to attempt better track connection.(*I have only seen this type of flag on one car in my own collection, but that was from a MIB car with no signs of handling or running.)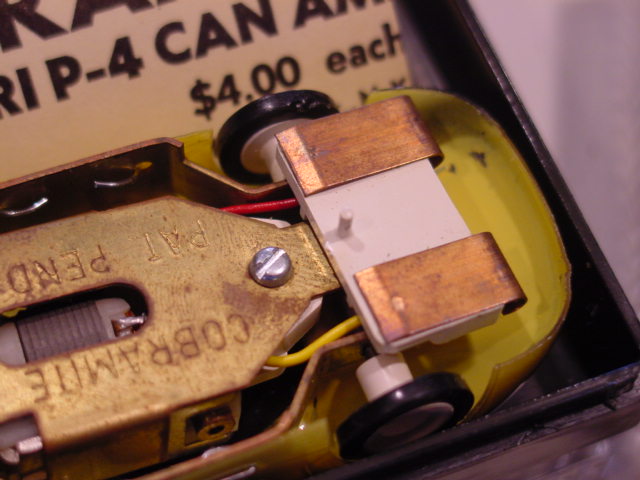 The final version of pick up used a brass holding clip that secured a smaller "flag" made of thin brightly colored metal or copper braid that had very nice flex and could be shaped for excellent track connection. Guide shoes, (as well as the wheels, motor block and gears -- 8 tooth pinion, 20 tooth crown) were made from white plastic originally. Later Cobramite hop up parts included the crown and pinion gear made of a clear "poly" plastic. The guide shoe has been seen variously in white, clear, black, and red.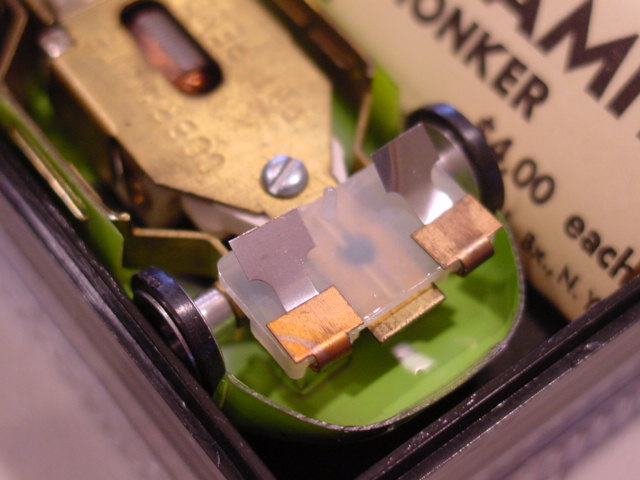 The plastic guide shoe had an integrated guide pin. This often broke and was usually replaced with a cut pushpin. Lead wires were connected to the shoe under a fold of the brass pickup at the top of the shoe and later in the clip) in a pre-formed groove on the shoe. The other end of the lead wire was inserted into a hole in the motor block and the stripped end was "pressure fit" against the brush tube of the motor by a plastic motor block. Lead wires often lost connection to the motor. This is a definite weak spot and was almost always modified by necessity. The motor block also served to keep the motor mounted tightly to the chassis and was attached to the chassis with a screw.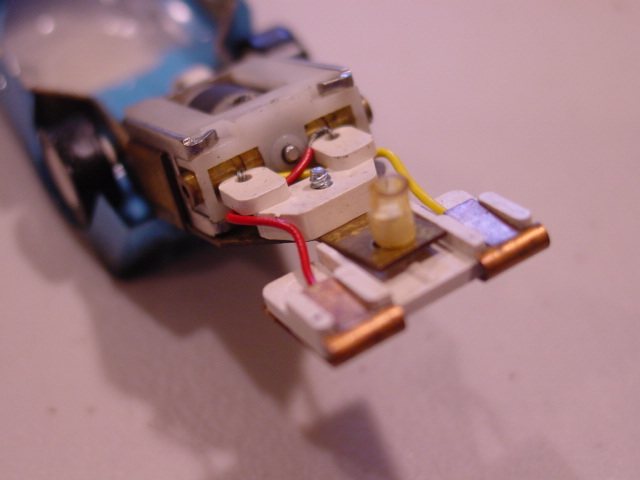 --"Sil-i-kon" tires
The first front and rear tires were made of a rubber compound called Silastic and the marketing department came up with the name Sil-i-kon. These were very brittle. Very nice hop up rear sponge was also available.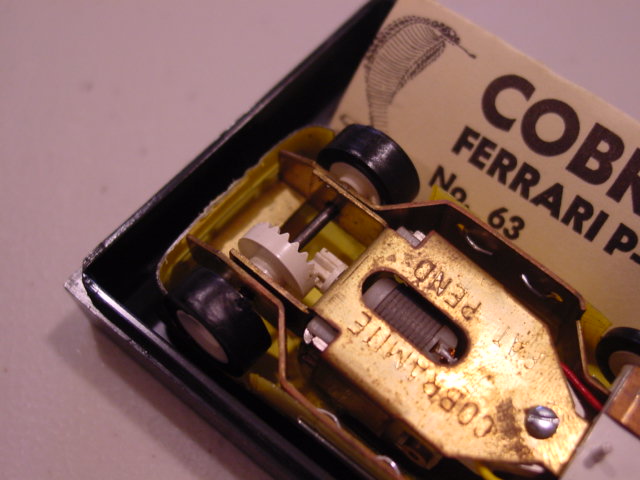 --Ultra-lite and low pre-painted two tone bodies
Approximately 20 body styles were offered. Bodies were two toned airbrushed Lexan Lancer styles (as stated in the early ads). There are a number of body variations within model numbers such as the Corvette, the Superbird and the Charger. The first cars were Can Am styles, other more popular models were quickly added to the line.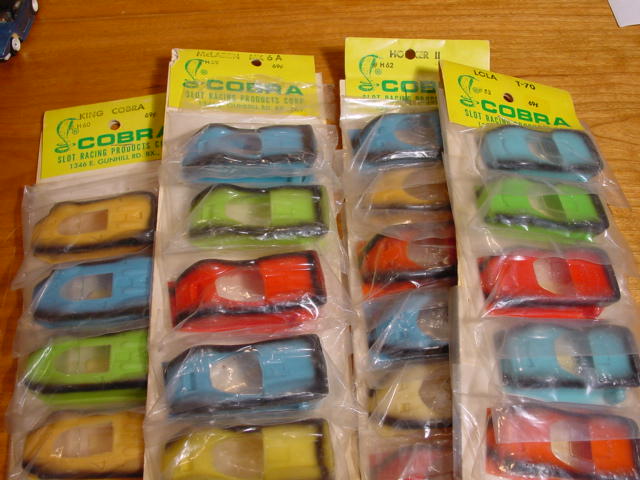 --Sponge rubber doughnuts for real traction
Cobramite offered hop up microcell sponge tires in blue, green, grey and black. Two sizes were available in three colors.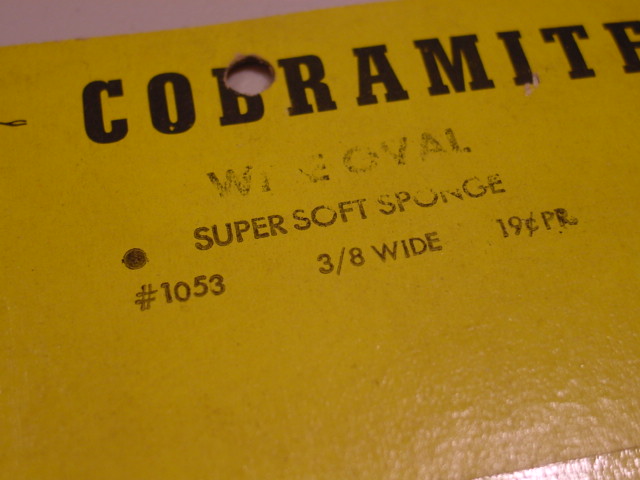 Cobramite later introduced an upgraded "Supermite" series for $1.00 more. Supermites had the latest red wind HT-50, deep dish threaded aluminum hubs in the rear with "calibrated" sponge tires glued and ground, and aluminum O ring fronts of their own design. Good quality upgrades and attention paid to the competition...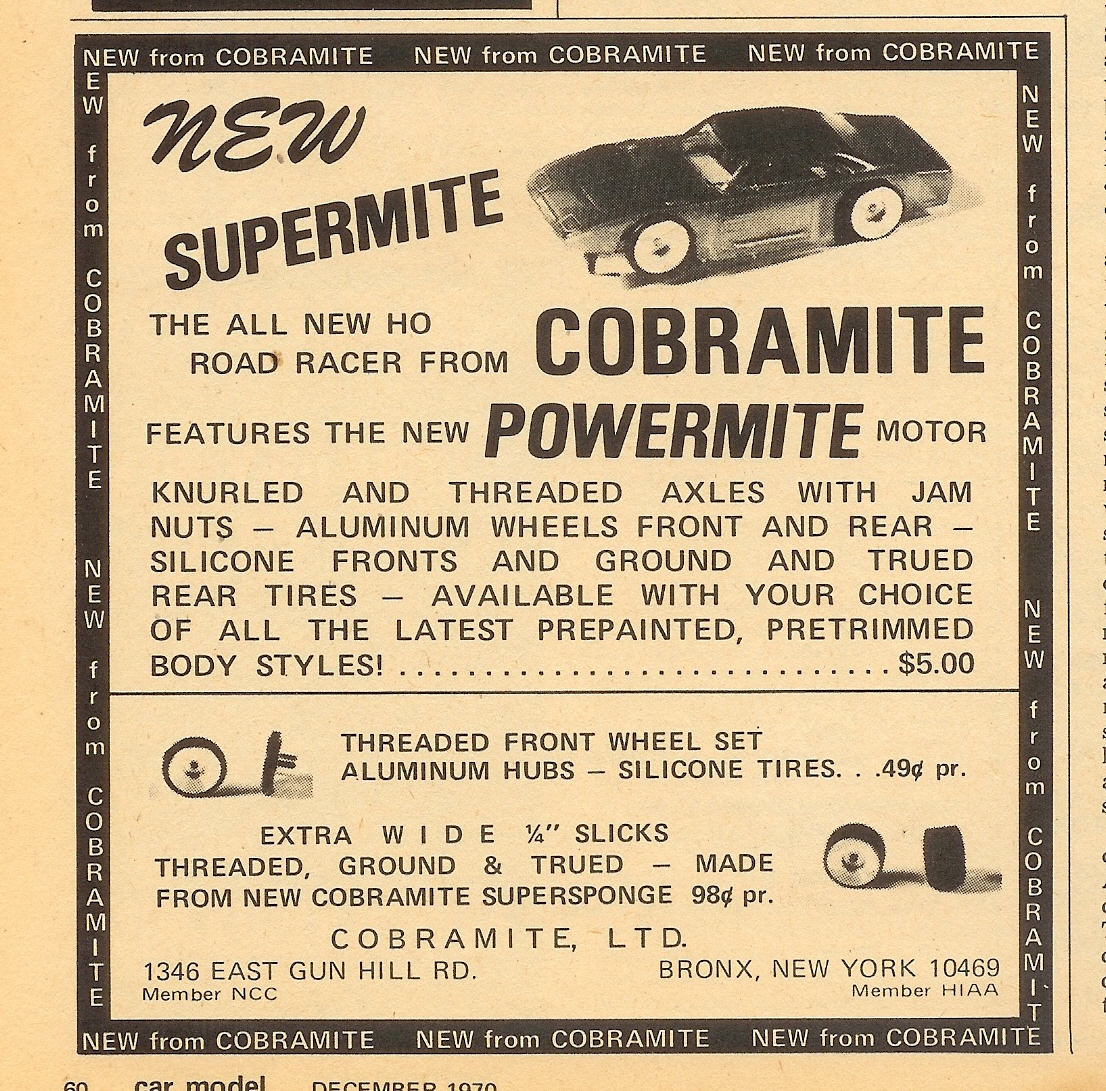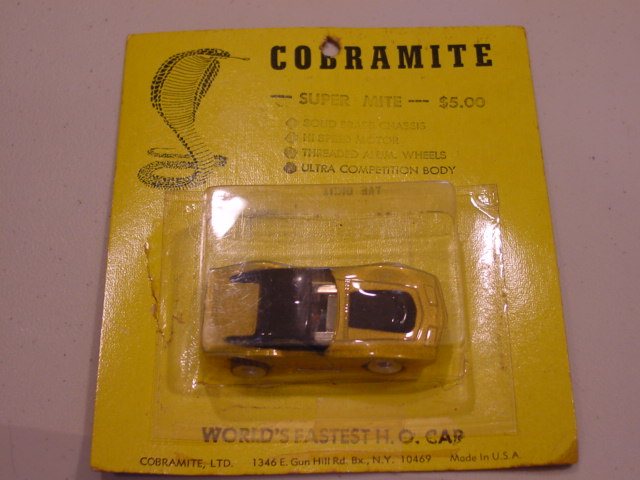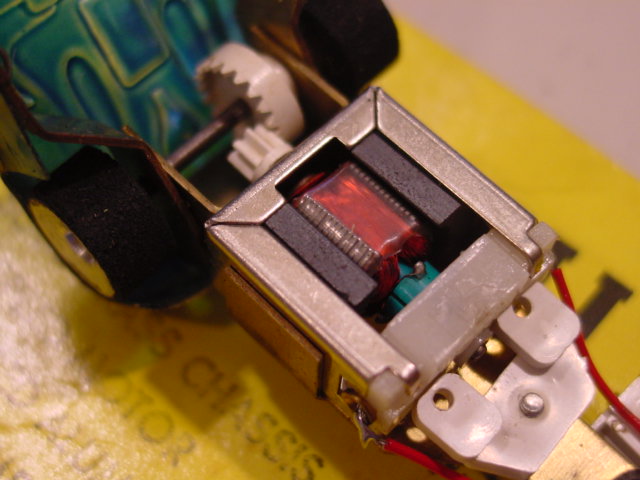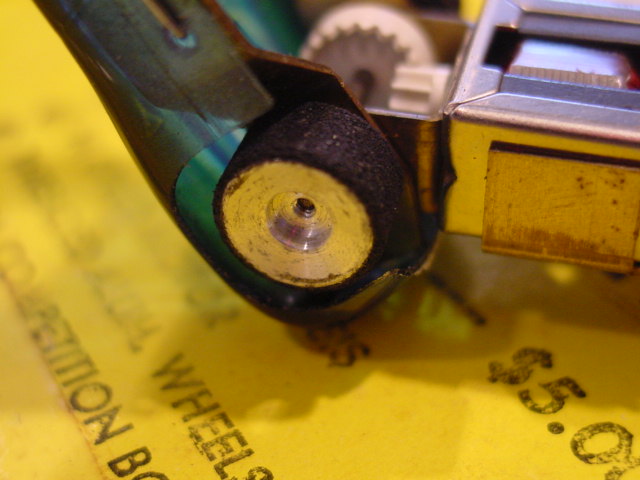 Packaging:
There were two types of packaging. Early cars came in plastic boxes, pretty unimpressive: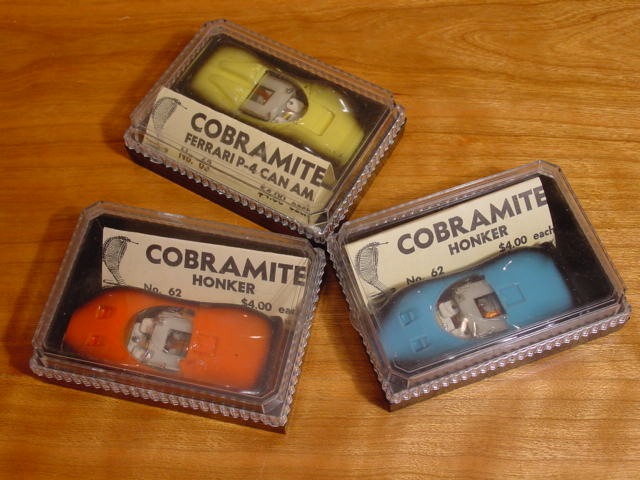 The later Supermites came on (flimsy) cards:
Cobramite also offered 4 body styles as Supermite Dragsters.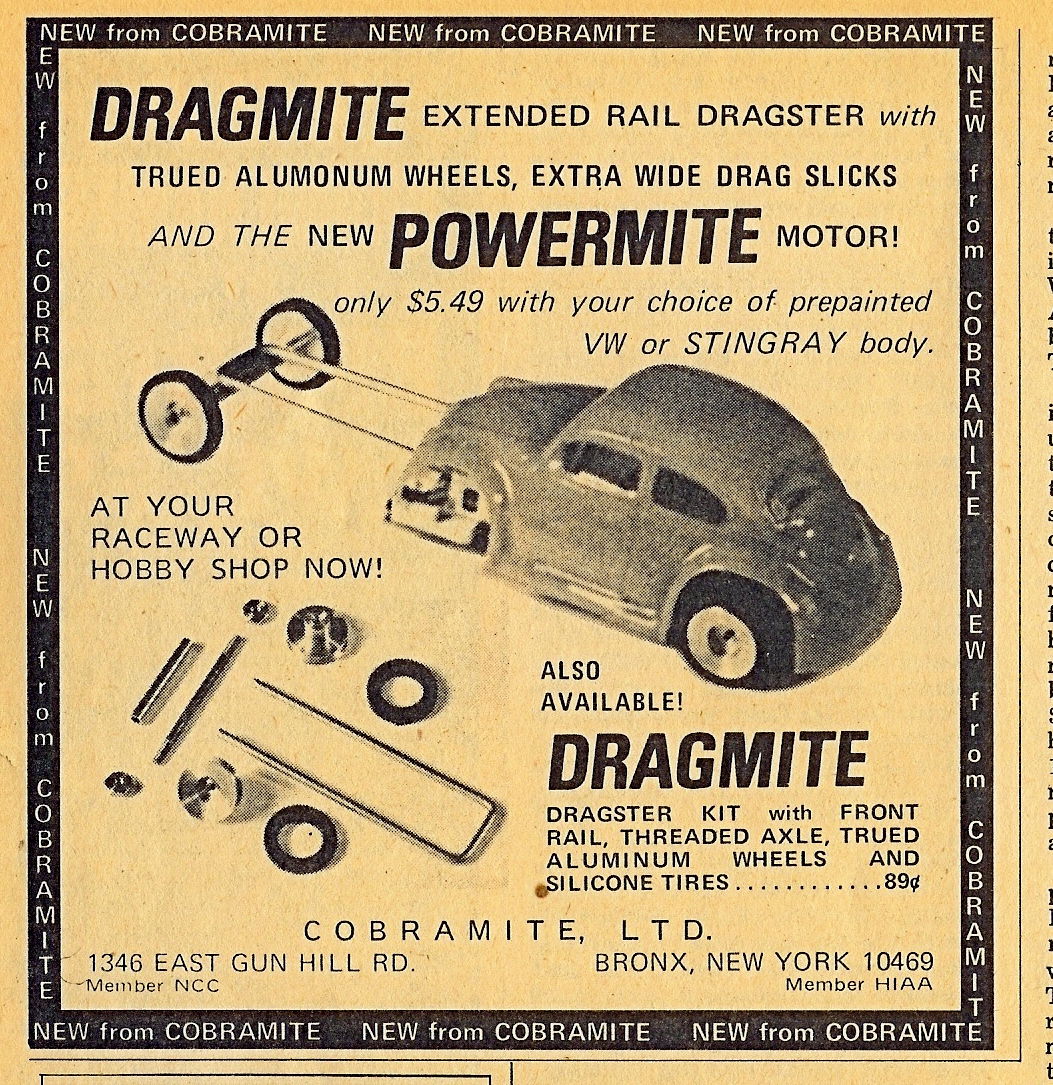 These retailed at $5.49. A Dragster KIT was also available with the Supermite wheels and tires and extended brass tube chassis. The dragsters are very rare and the holes punched in the front of the bodies on some of these styles are often confused for home made alterations. 3 of the Dragster styles were stock bodies (Lil Red Wagon, Corvette, VW Bug). The fourth style called the Custom Maverick was available only as a Dragster.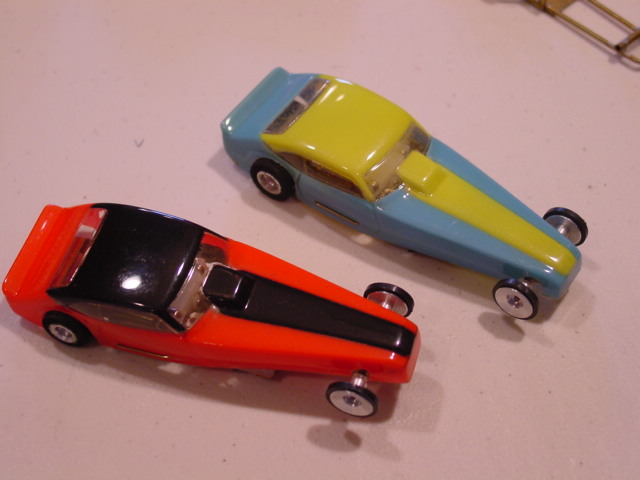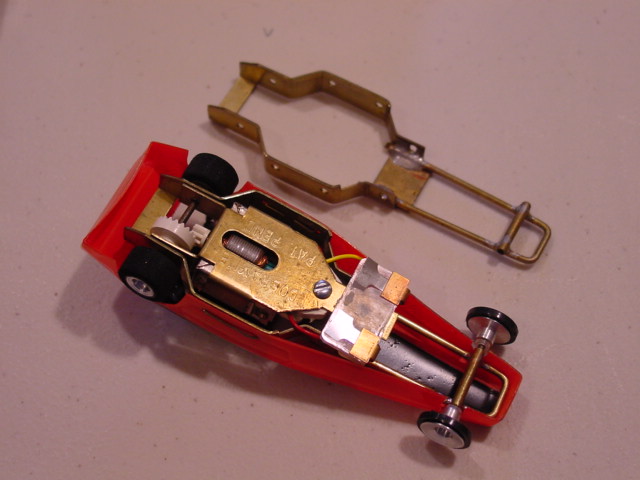 Cobramite supported their ready to race cars with a full line of parts.
A clever idea to promote the brand was a brass body clip they called the Snap On clip. Made of brass with a design that mirrored the gear strap on the Aurora chassis, the Snap On clip allowed any Cobramite body to be mounted onto an Aurora chassis without modifications. The clip was offered with or without bodies.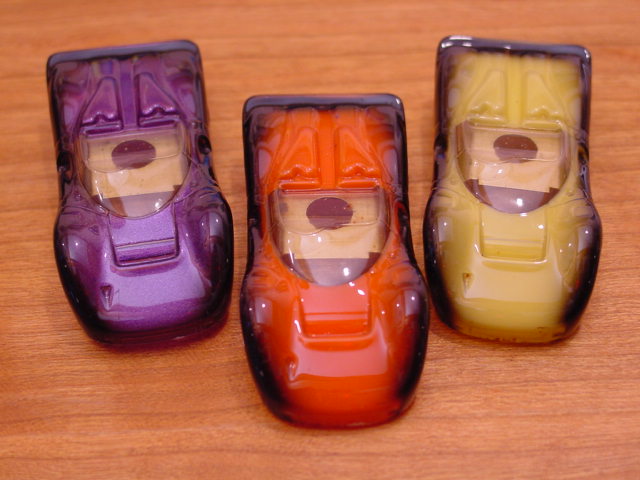 A large stash of NOS bodies with clips was discovered in 2000 and packaged together with upgraded T Jet performance parts as a line of "Cobrajets". Very nicely done.
Some accessories were also available such as a "win lite" and a very nice controller, with an available brake.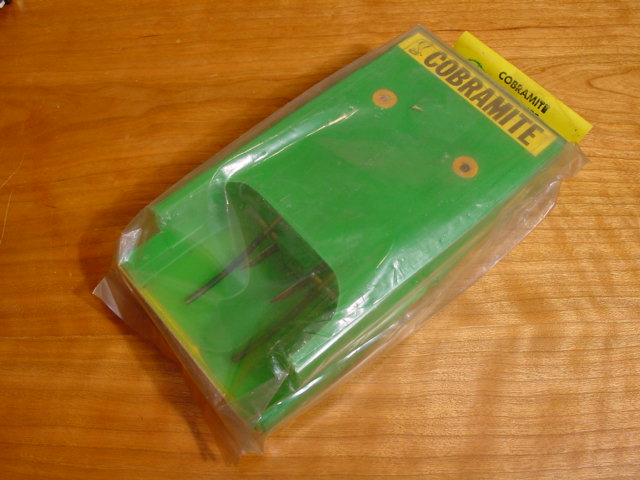 Finally, Cobramite offerred a special line of pro racer chassis assemblies and parts called Scratchmites.....these were essentially hand crafted brass tube chassis' to be used as a platform for the latest pro gear..Two parts were also made available separate sale for do it yourselfer's; the motor box and the guide flag tab...Very Rare....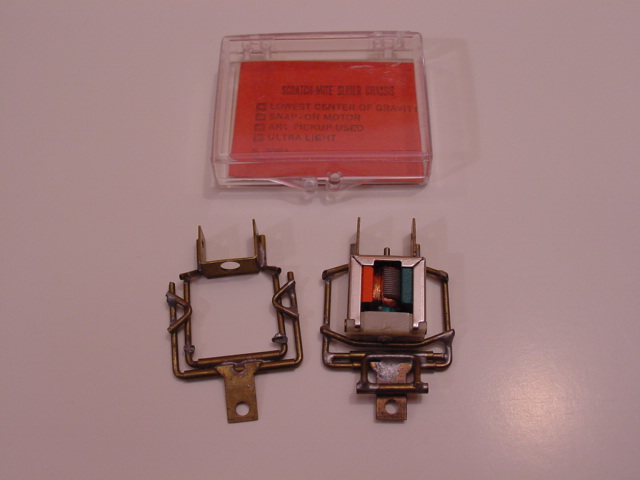 Collector Notes: These cars are very hard to find in good original condition. Front and Rear "silastic" tires are almost always hardened, deformed and cracking. Pick up assemblies are often discontinuous or home soldered to repair racing damage. The brass chassis pieces can be bent and the proper white plastic pieces (gears, pick up assemblies with broken guide pins) are virtually impossible to replace!
----------------------------------------------------------------------------------
List of Cars with Pictures
4-02 Red Wagon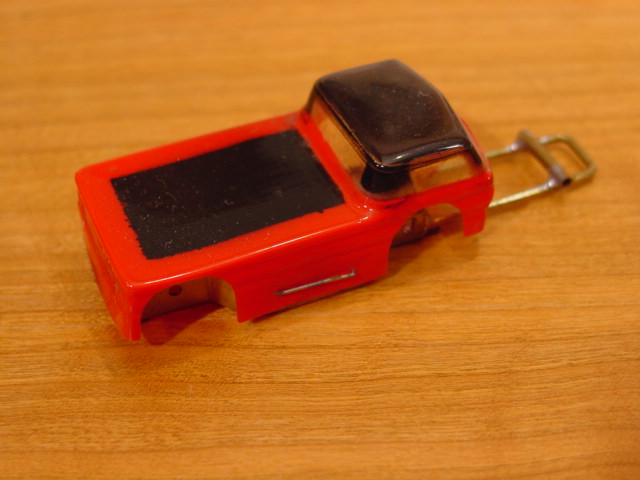 4-03 Corvette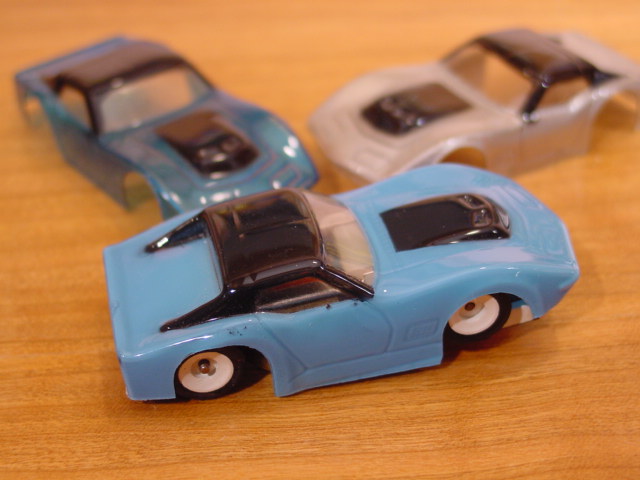 4-11 Volkswagon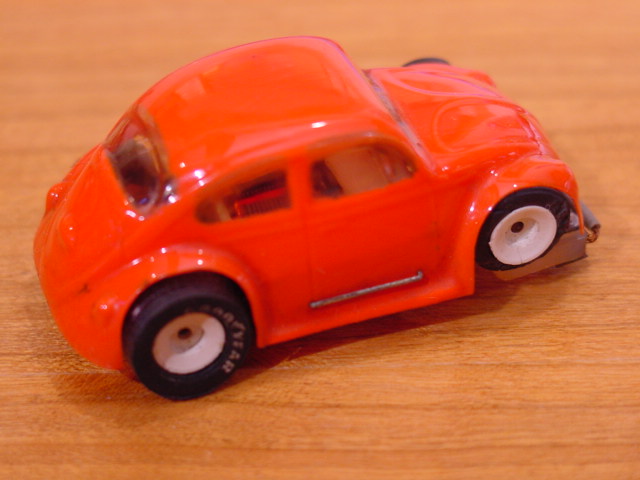 4-12 Superbird


(this body appears very much like the Riggen Superbird)
4-13 Firebird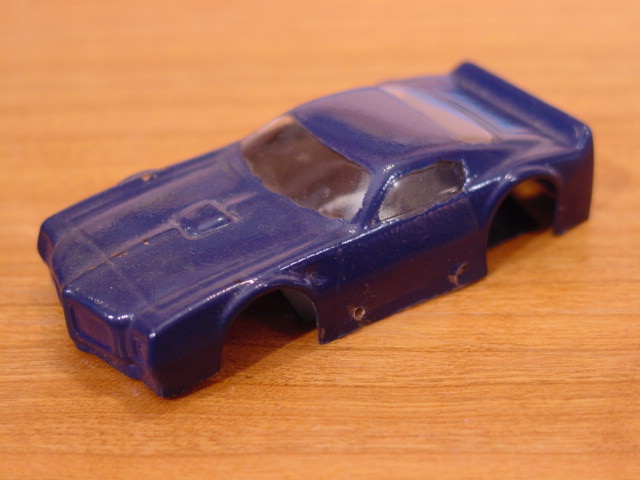 4-14 Torino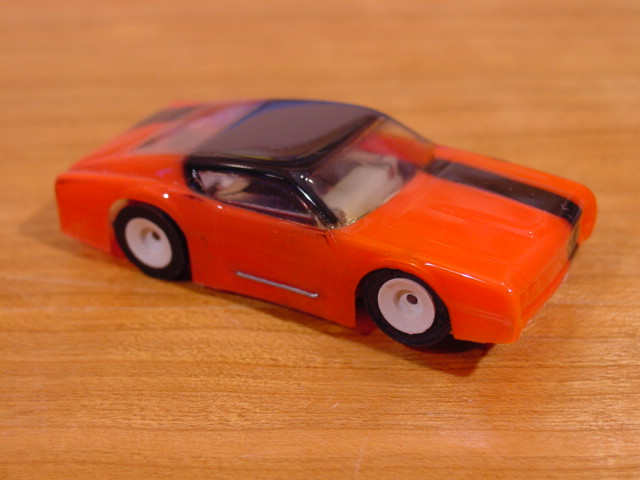 4-15 Stingray


(vent is slightly different)

4-16 Challanger



4-17 McLaren 8-D
(I have never seen this body style on a Cobramite chassis)

4-47 McLaren MK 2


4-53 Lola T-70


4-54 Ferrari P-4 Coupe


4-59 McLaren MK 6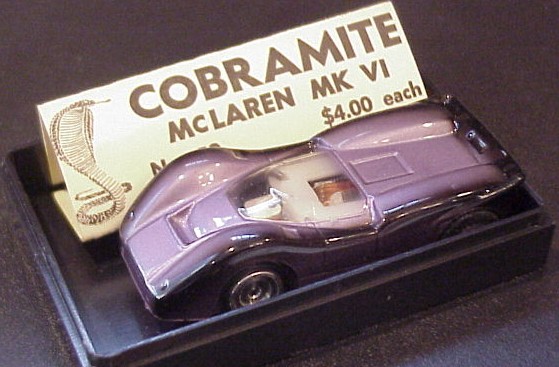 4-60 King Cobra


4-61 Matich


4-62 Honker


4-63 Ferrari P-4


4-83 Lola T-70 Coupe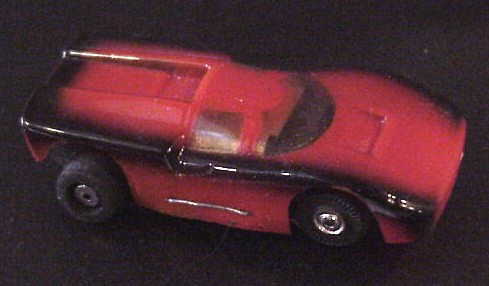 4-91 Daytona Charger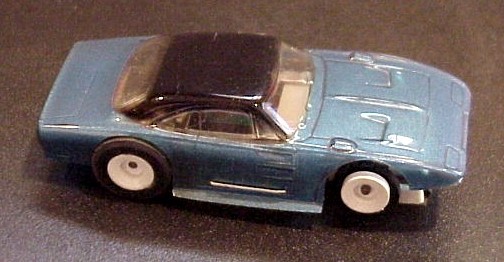 There is also a version that uses the Lancer body that originally included the wing...not sure if ever retailed this way by Cobramite but the Lancer offering definitely included the wing....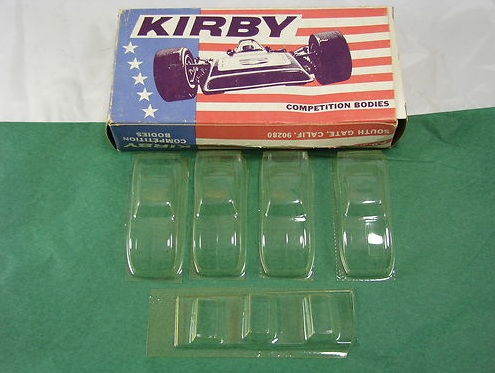 All bodies were available in the Supermite Series ($1 more) including the Dragsters..
D-02 Red Wagon Dragster

D-03 Corvette Dragster


D -11 Volkswagon Dragster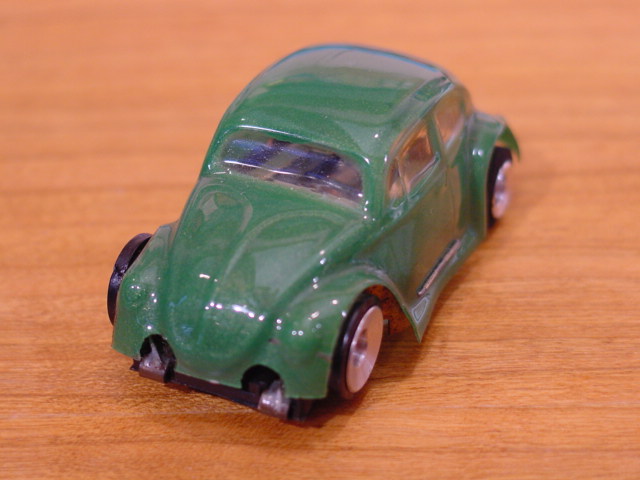 D-18 Maverick Dragster (note this body is Dragster only)