Rider Modified Riggen, Limited Edition
complete series...final cars and progress pictures...
Group Shot (see all cars below)

Build Pictures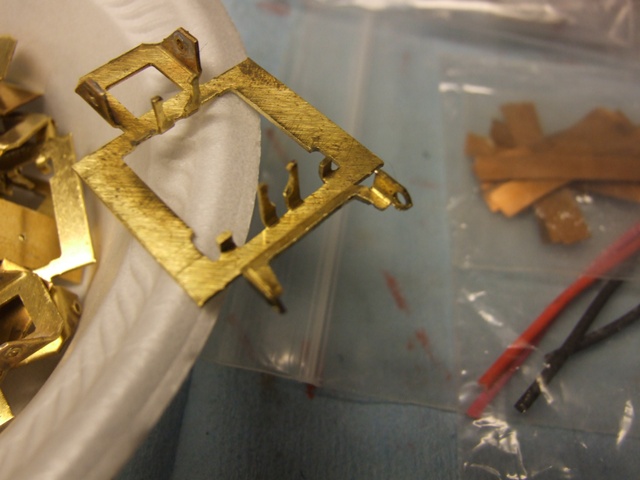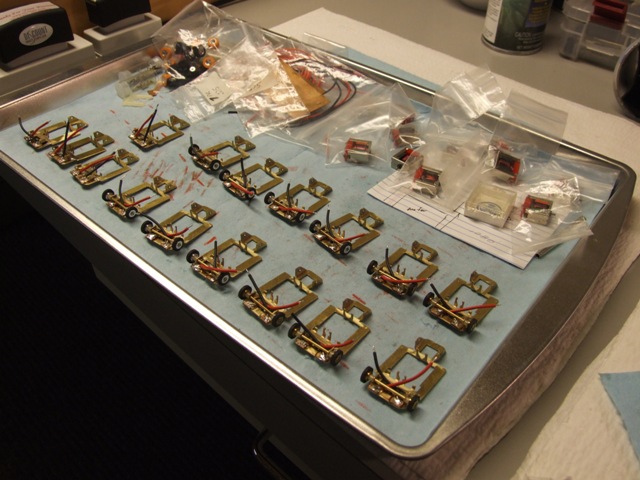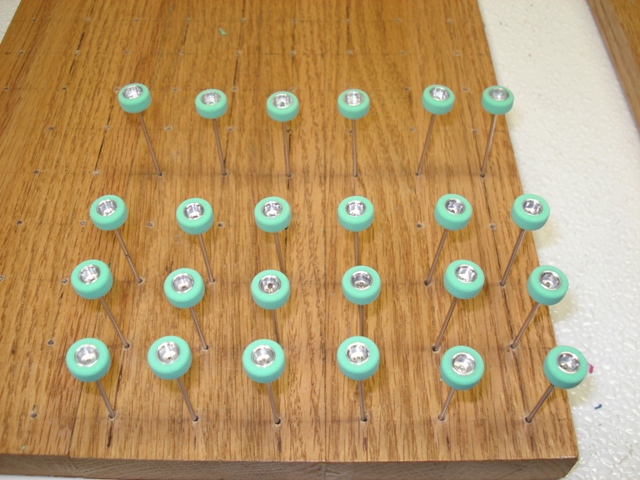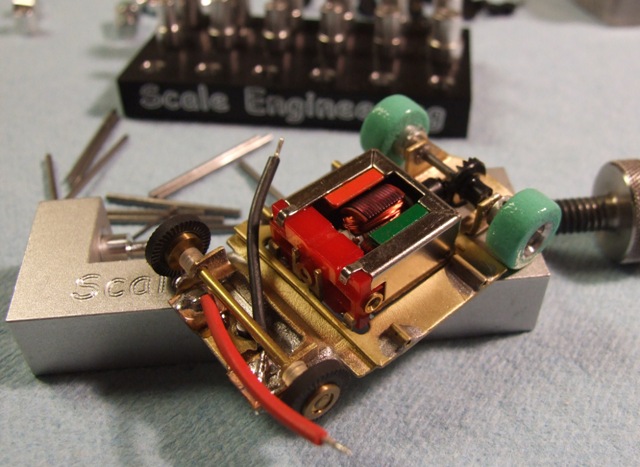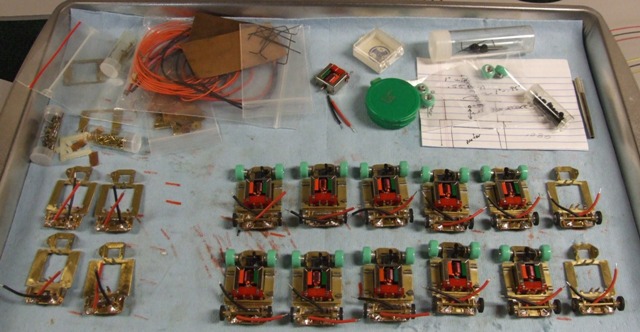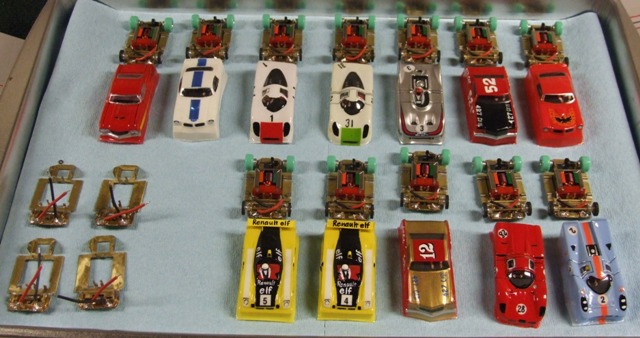 Concours spec bodies by Jairus Watson using vintage Thayer(?) shells
Here is the complete edition....
vintage "DPizza" body Chevy Monte Carlo (Allison) (TAKEN) D.P.

vintage "DPizza" body Pontiac Trans Am (TAKEN) B.S.

vintage "DPizza" body--Renault Alpine #4 (TAKEN) L.H.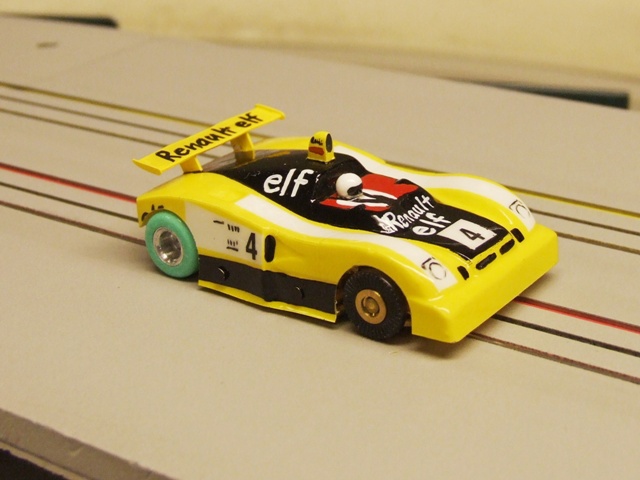 Thayer Mercury Cyclone (?) great interior detail--hard to see the couple cuddling in the front seat.... (Taken CF)

vintage "DPizza" body Chevy Monte Carlo (Red Cat) (Taken) J.B.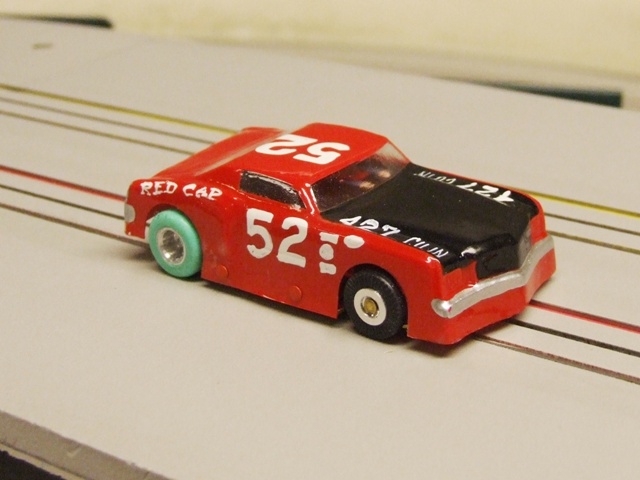 Thayer bodies Porsche 908 #31 (Taken EB)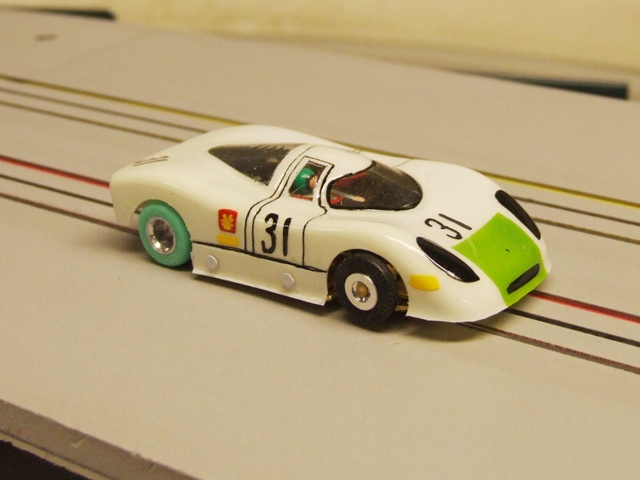 Thayer bodies Porsche 908 # 1 (TAKEN) S. H.

vintage "DPizza" body Pontiac Trans Am (Taken) J.S.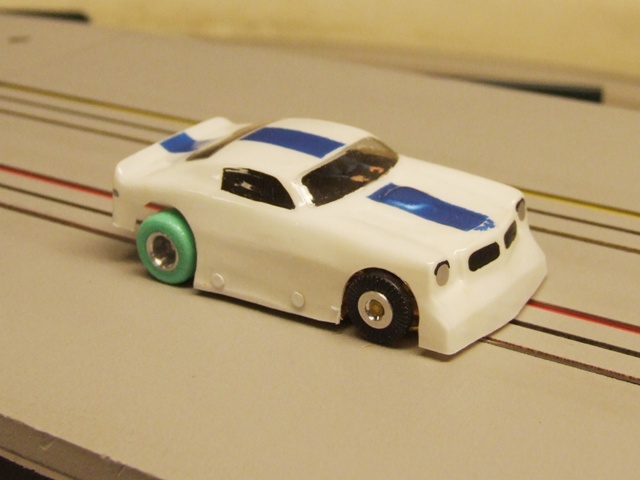 vintage "DPizza" body--Renault Alpine #4 (TAKEN) R.B.

(TAKEN) T.F. Porsche 917 Can Am 917-330 (brand unknown) 2 views shown of same car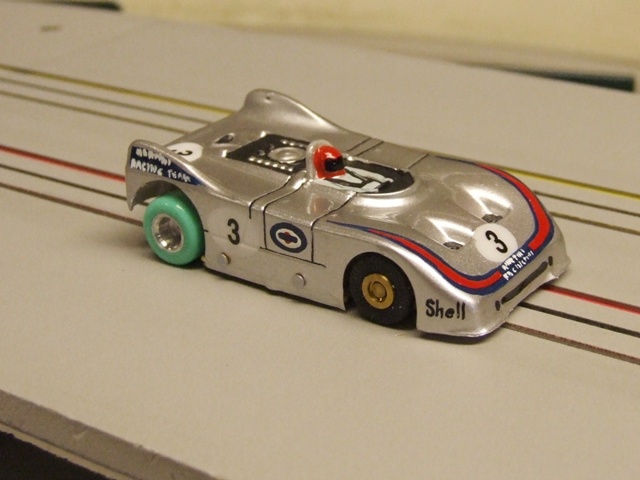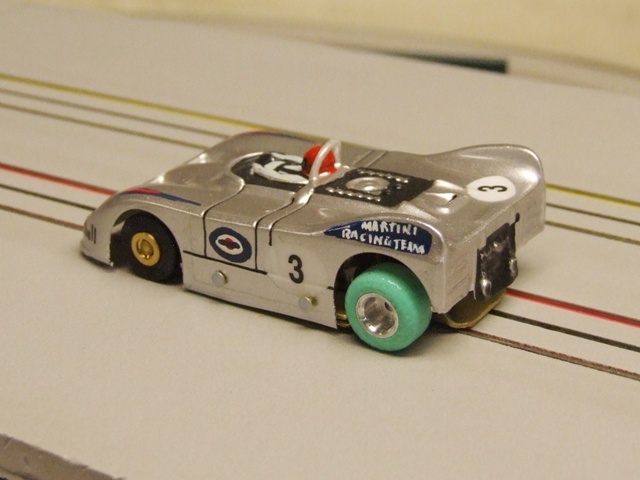 Thayer Porsche 917-10 (TAKEN) R.T.

Thayer Ferrari 512 (Taken) G.R.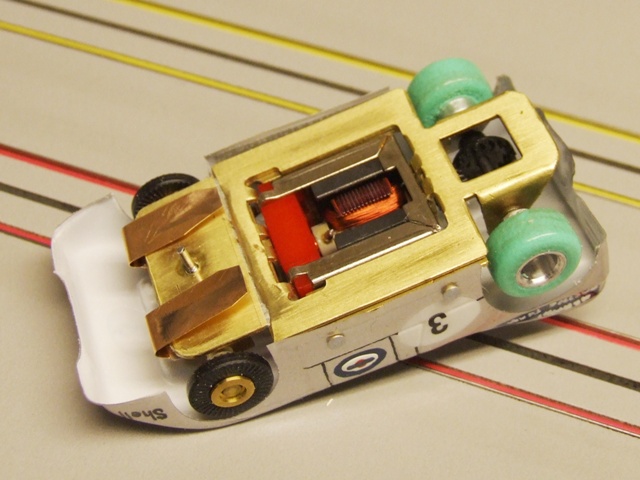 Build Notes, Terry Flynn
At the outset I have to say this LE may be the most demanding that I've undertaken. I didn't wake up on day with the brain fart – "Hay Ron, let's do a knock-off of a Rider car… ."
About 2 two years ago Ron had contacted Gary Rider regarding a limited edition run of cars based on Gary's flat-nose HOPRA car. The idea behind is simple, getting it done is not so. There are tremendous numbers of steps involved.
The goal for the build is to replicate Rider's 71 race winning chassis…here is some details from Gary's notes: "At another HOPRA race in Pittsburg Pa., I won running a modified Riggen on Aurora track. We ran a brass pan from the motor forward with a soldered guide pin and brass tabs for a pin tube front axle with cigarbox front wheels. Had our perfected phospherous bronze pickup shoes attached to the plate."
Starting out then, Ron contracted me to build the motors. That was easy enough and quite enjoyable. Little did I realize the motors would be coming back home a long visit.
For a verity of reasons, Gary could not get the project underway. Much time had passed and Ron wanted to get the cars onto the market. After getting all the parts returned, Ron called me with the request to finish the series. Opportunity knocked and I opened the door… .
Later on Ron sent me an email outlining the inventory of parts:
"Terry, hope all is well and Happy Mother's day..
I went through all the stuff again and I am ready to send down the cache of parts…
Here is the parts list for a 12 car build and some comments:
-Test mule 1 (BMW), Test mule 2 (red bell). These were Gary's proof of concept assembled in 2009.
-3 modified pans and 1 almost complete car (meant to be production run for the replica series) included as example but these will NOT be used for the run—
-12 painted bodies (done by Jairus), painted to Brasswars Concourse spec
-14 Picard chassis, 14 pin tube shakers—Picard chassis already has the drop motor and the rear bushings installed…
****Using the Picard chassis with the bushings already installed makes it impractical to use the threaded axles/TCP style rears as originally contemplated because you can't install the crown on the axle with the bushings already secured because the bushings are too small to accommodate the center knurl on the axle. To stick with the Picard chassis and simplify everything I sourced some very excellent set screw wheels with plain axles, all with trimmed treated sponge, new set screws and new wrenches. Call them "Kalon" wheels…they vary in color and size but this was all I had.
-11 Red Bell can motors (you built these a while ago) the 12th car is on one of the production run cars Gary almost completed…use that for the series
-12 sets front wheels w tires/pins and brass tube w spacers (mostly complete)
-12 sets tycopro pinion and crown
-24 pieces brass wiper material
-piece of brass for new chassis front end
-piece of brass for guide shoe holder assembly
-example wire for lead wire (you will want to select your own after you proof out the guide shoe assembly and soldering process
The challenges for this build (aside from straight assembly) will be trimming the Picard chassis to accommodate the attachment of a brass front pan section, a motor brace solution, and getting the guide shoe holders right…
Let me know what you think after you see everything…"

Now, you have to understand that I did NO brass car fabricating of ANY scale back in the day. Everything I had back in those days was Aurora T-jet, A/FX, or Tyco Pro. So whacking and soldering brass seemed like having to build the Space Shuttle single handed.
Very fortunately I was wrong. It was not that hard once I got "The Professionals" involved – Pat Dennis and Doug Morris. Discussing the scope of work with them, I quickly understood what tools and supplies I would need to produce a quality product.
A major time-saver and quality enhancement for me was when Pat Dennis offered to cut the brass pan fronts on his metal shear/break. The finished sheared pieces were extremely uniform and square. This greatly added the cars' overall integrity and appearance. Pat also fabricated the guide pins.
After that, the standard Picard modified chassis had to have their front area around the axle bosses trimmed back to accommodate solder and guide pin installation. A soldering jig was fabricated to hold the parts square in place. Soldering was done with a butane torch, Stay-Brite solder and Lucky Bob's acid flux.
The finished chassis were washed to remove any flux. Next they were media tumbled for about four hours to further and brighten the brass. Chassis corners were then rounded and 'de-horned'. Chassis bottoms were sanded to remove solder and give a flush appearance. Next the chassis were de-greased with Naphtha a clear coated with lacquer paint. Right about now I thought though I'd never see the end of this project.
The next big operation was to fabricate and affix the pickup system. This is Doug's territory and he explained that it really is simple. It is – simple if you are doing ONE car for yourself! #%$&*@# I have to do a dozen! I was short on the proper shunt wire and Doug sent plenty to get the job done.
It actually went well. Once the holders and lead wires are fabricated, the assemblies are epoxied onto the chassis. Doug explained this has to be done in two steps. The initial setting was done with 5-minute gel epoxy. This allowed the assemblies to easily maintain clearance off the chassis so to avoid shorting out. Then, a final coat of regular 5-minute epoxy was used to fill in gaps and bridge the tops.
Now the chassis were ready to hang the running gear and motors. Test assembly of one chassis revealed a problem with both the front and rear tires. The fronts had been trued to .375 OD. With the stock front Riggen axle bosses, this left the tires hanging in space. So Doug sent down a mess of un-cut tires that are close to .400. This allows the fronts to have gentle track contact.
The rear tires were a more serious issue to resolve. The sponge had been ground down to as small as .418 on some pairs. Also, the uncoated sponge, while looking period correct, would prove problematic on an un-glued track. I contacted Slade Brown to see if he could provide a solution.
After examining the lot of tires, it was decided to strip off the existing sponge and start over. This produced uniform finished tires. Due to the nature of the set-screw rims, working time was increased fivefold over that of a modern delrin rim based sponge tire. If you've never done business with Slade, I suggest you do. He makes a quality product one can count on.
Once the finished tires were back in house, true final assemble could begin. All the normal tweaks I undertake on previous LEs were done here – with others as they became apparent. The shunt wires are were attached to the motors with a small buss bar arrangement that Gary Rider had utilized. This gives a clean appearance and avoids solder creep into the brush barrels.
Pinion gears were a mix of Riggen and Tyco Pro. The crown gears are all Tyco Pro. During final tuning, the combination of a Riggen pinion and Tyco crown proved unworkable. No amount of finesse could get the gears to mesh well to sound and run smooth. So Tyco pinions were substituted. Even then, several chassis required five to seven pinion fittings to find one that was 'happy' with a crown gear.
The proud owners of these Rider LE cars will discover the lost art of pickup wiper tweaking. It doesn't appear there is much substitute for trial and error. Once they are right, just don't crash ;-))
Are these cars perfect? No. Were the originals back in the day? "Only your hair dresser knows for sure…" But I do like them and the driving style they have. It will be interesting to see how the design works with current design gears and tires.
Again, a special thanks goes out to Doug Morris, Pat Dennis, and Slade Brown. Trust me when I tell you the quality and timeliness of finishing the project would be a failure if they didn't participate with parts, labor and advice. This was not a 'one-man-show'.