(back to riggenho.com main page)
(Ed. note...FEBRUARY 2008....With great sadness I report to you that our Canadian friend and builder, Mr. Marv Miller has unexpectedly passed away. Marv was responsible for the design and the build of the limited edition drop arm chassis we planned to offer in Spring 2008.... He was also the designer of the Miller Guide Flag system as well as our Black Magic Motor. We do not have any inventory of these parts and there are no plans to have them remade...Please accept my apologies. Marv was a very good friend, and a true HO slot enthusiast. He will be missed.)
Miller Modular Guide Flag System $19.95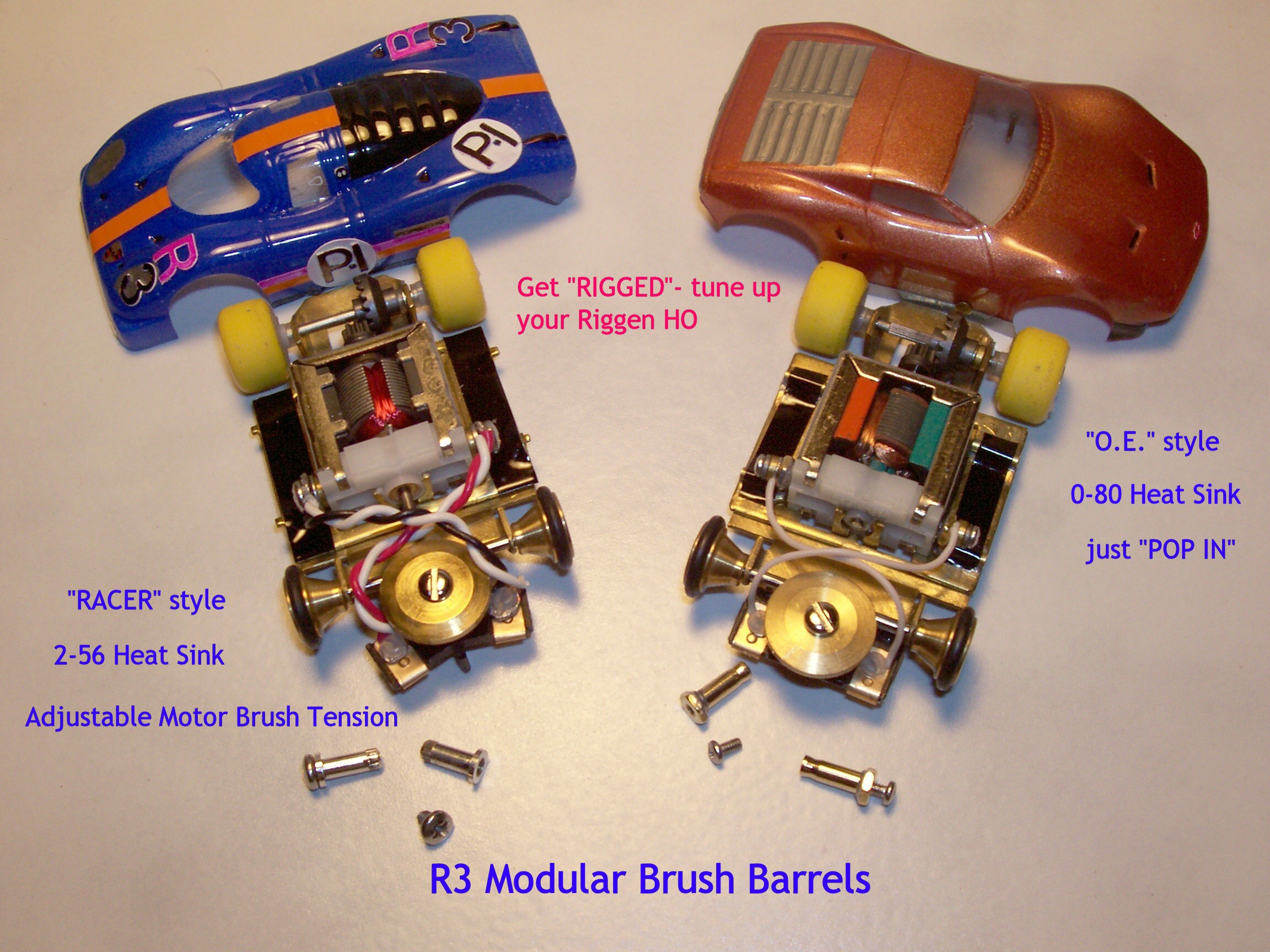 The R3 Modular Guide Flag System
The system was created to allow quicker and less complicated changes of the "WIPERS" and "BRAIDS" ON THE Riggen H.O. slot car chassis.
The system is retro-fittable to all Riggen chassis. A small enlargement of the guide flag mounting hole on the chassis may be the only modification required.
The system also ensures a much better electrical contact between the "Track Rails" and the Wipers / braids, as well as from the flag to the motor. No longer do you have to handle a separate "Motor Wire Clip", but just a turn of two screws and the wipers / braids are renewed.
The motor wires are retained at the brush barrels by screws that not only assure good electrical contact, but act as "Heat Sinks" as well. As easy as changing pick up shoes on a modern magnet type H.O. slot car !
Details:
---Completely renewed Vintage Tyco motors
---Double stranded motor lead wires
---Guide flag with stainless steel flag post and 1.9g Brass Mushroom Weight
---Wiper / braid attachment screws are non-conductive nylon
---Longer screws are included so you may fine tune the adjustment of wiper to rail contact, just replace the existing screws and trim with side cutters to desired length
---Insulator Strips (prevent shorting from brush barrels and shaker plate

Assembly Notes:
We provide a complete assembly, ready for breaking in and use on the track.
Simply replace your existing motor, lead wires, and guide flag with the unit supplied.
You may have to "close up" the front and rear motor mounts on the chassis to accommodate the smaller bushing area of the motor supplied.
Please use retaining compound on the pinion shaft, gear, as the armature has a smaller diameter shaft.
The motor leads are crossed to add a "centering" motion to the flag, as well as rotate the motor in the correct drive rotation, crown gear on the LEFT.
Also available as a "Pin" style type guide.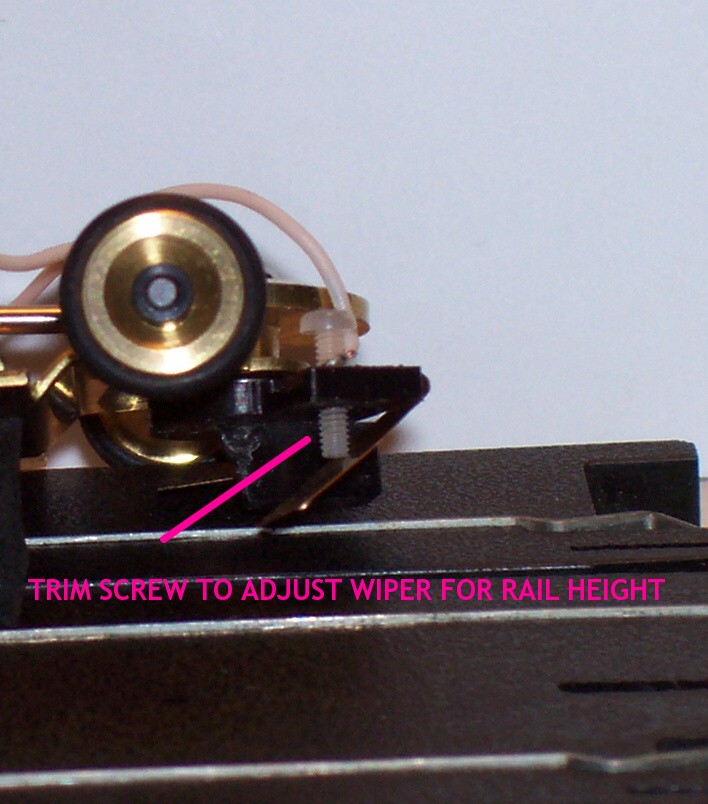 Replacement and spare parts are also available including wipers and nylon screws. We also have custom lead wires in single or double configuration.
These are custom made to order, please Contact us by e-mail to order!

(back to riggenho.com main page)