(back to riggenho.com main page)
Polycarb Special, Limited Edition of 10
September 2007
$175 each (sold out)
The RiggenHO PolyCarb chassis was designed as an attempt to utilize the most modern "high tech" materials in combination with proven principles of slot car chassis design to make a "magnet free" competitive HO race car. The use of brass is intentional as it provides the best weight to strength ratio, especially important when used for a slot car chassis platform, keeping the mass (and center of gravity) as low as possible. Brass also draws upon the heritage of 1960's slot car racing and "scratchbuilt" chassis design. Our first prototype used carbon fiber for the chassis material which turned out to be plenty strong but too flexible to hold the motor as securely as needed.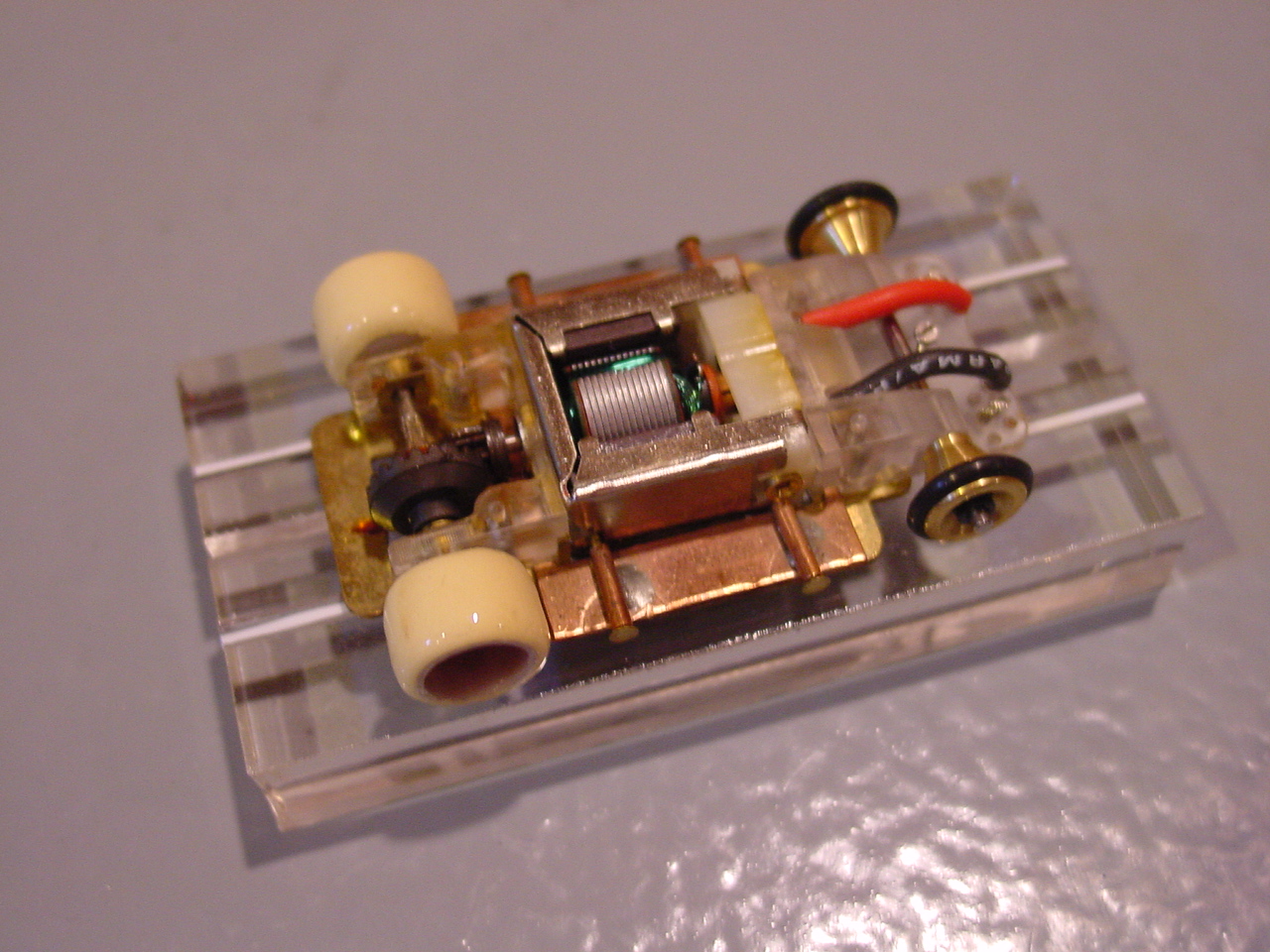 The motor cut out hole in the chassis mimics the last vintage Riggen Industries chassis design where the motor is secured into the chassis into the cut out to fit flush with the bottom of the chassis (as opposed to sitting on top of it) and adds extra bracing.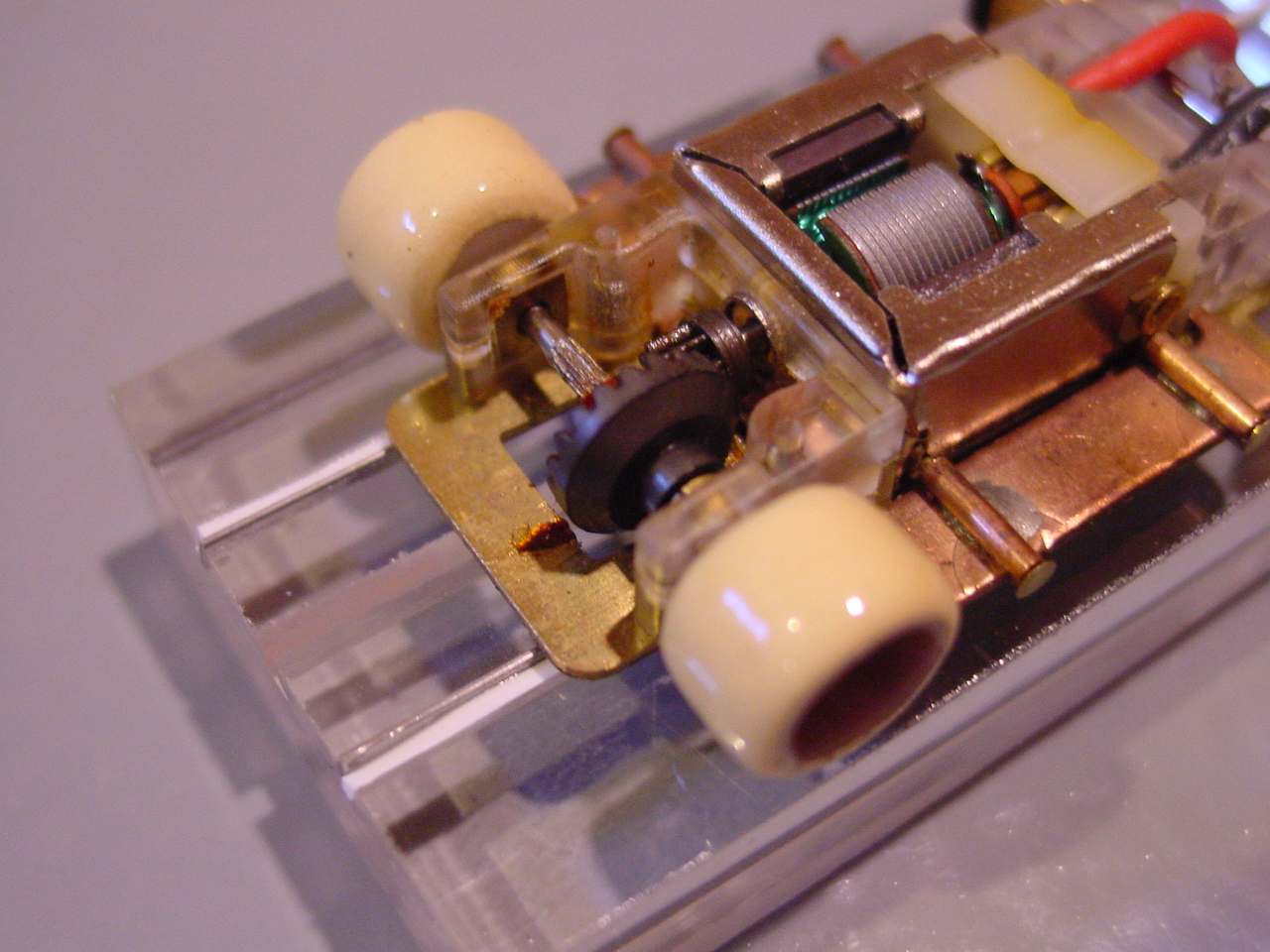 The front and rear poly carbonate pieces are custom CAD milled from our design. They are super light and super strong. They were (EXPENSIVELY) machined to exacting tolerances. The pin tube shaker plate is a vintage style component and adds more useful low weight while permitting the lightest plastic pinned body.
The rear axle holder is made up of two pieces of milled polycarbonate plastic sandwiched together by the titanium screws and specifically designed to accommodate brass bushings. The axle holder has special grooves milled in each half to accommodate the square brass bushing. This design allows for a "quick change" rear wheel and gear set-up: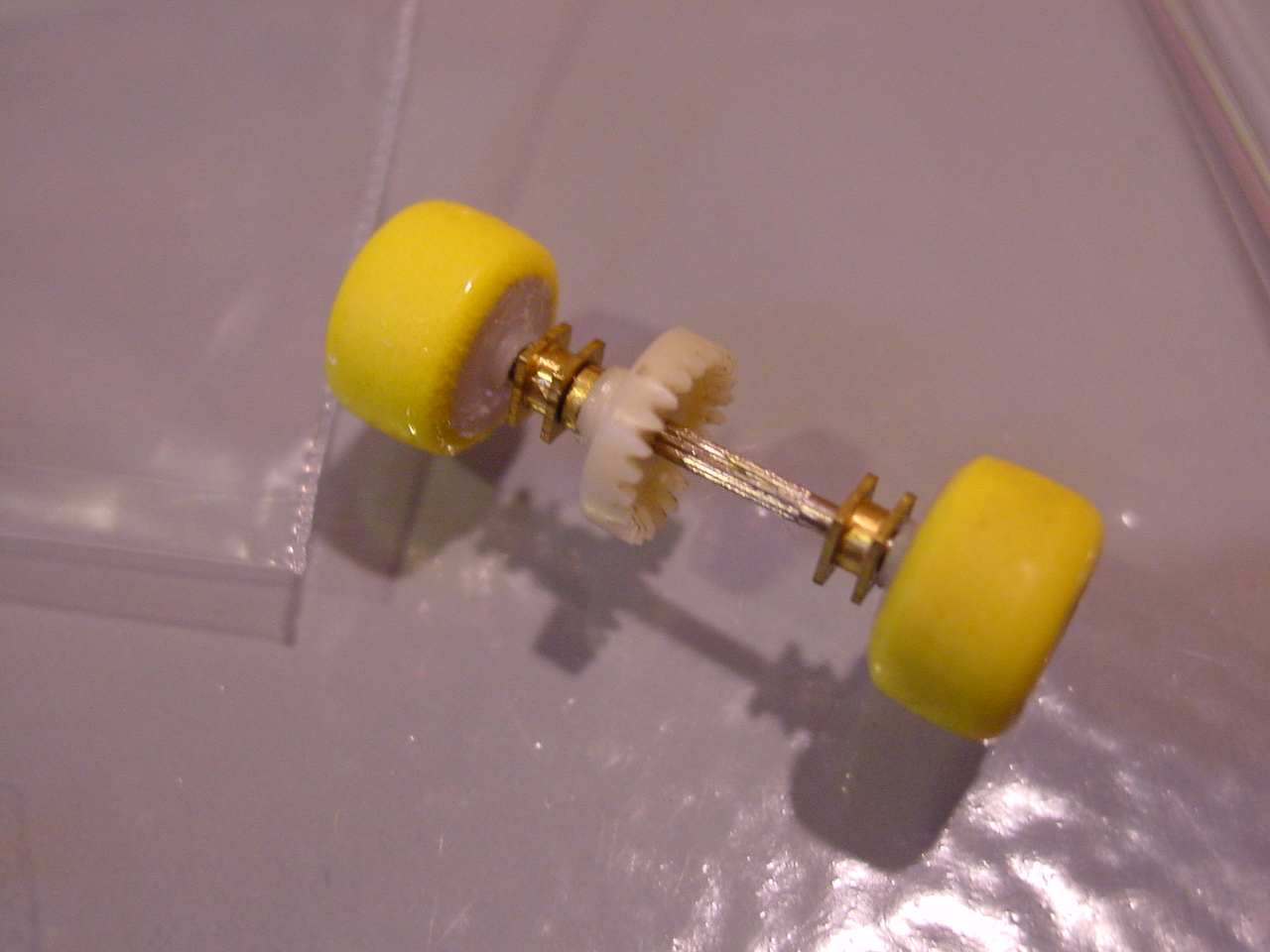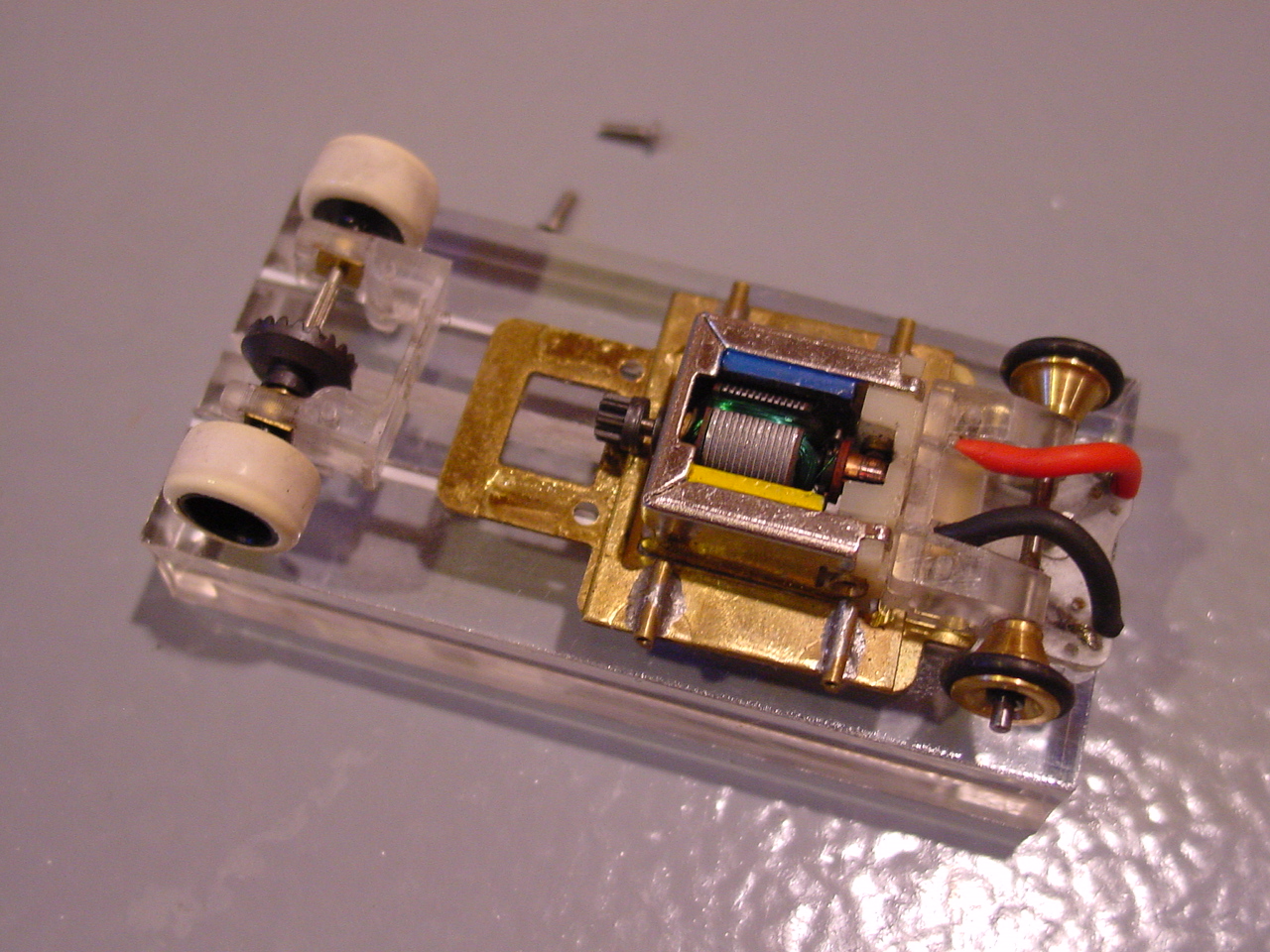 ---unscrew the two titanium screws, slowly without stripping
---separate the two polycarb halves of the axle holder (carefully wiggling)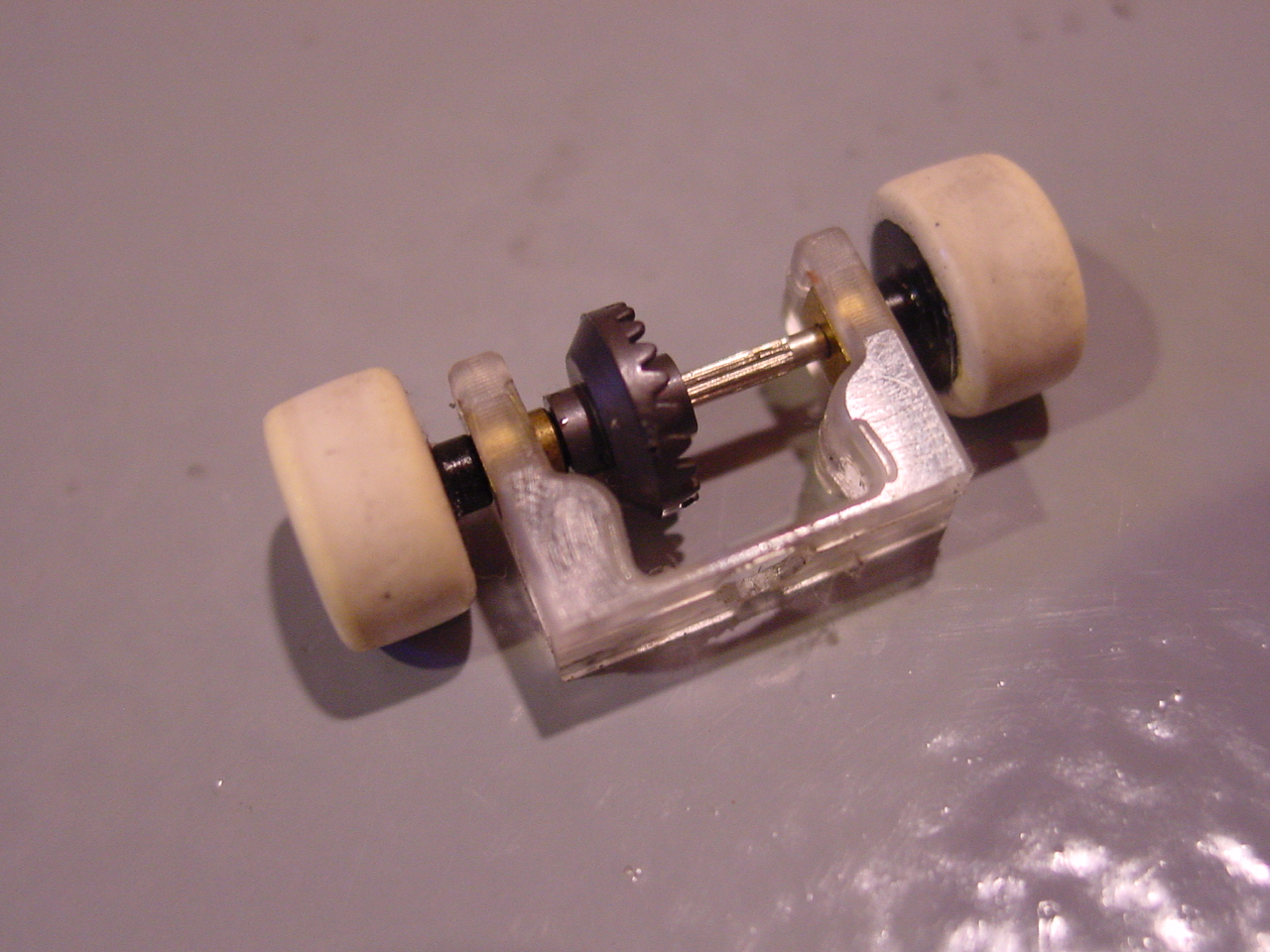 ---swap out the rear gear/axle wheel/tire assembly
---pay attention to the alignment of the bushings in the polycarb piece
---check location of the brass spacer (depends upon your gear set)
---re-assemble in reverse order..

****Be very careful when changing the rear axle holder assembly. The poly carb parts are extremely fragile in some places and I HAVE NO SPARE PARTS…nor are any likely to ever be made!
2 extra axles and 4 bearings are provided for your convenience. Add your desired crown gear (and appropriate pinion as needed) to suit your track and driving style. Changeovers are quick and easy---BUT PLEASE BE CAREFUL!!! (see note above)
Screws are titanium. Be careful not to strip the heads though. Use a high quality Phillips head screwdriver such as the WIHA 261 PH00x40. I do have a few extra screws if you should lose one.
Screws do not have to be "supertight" to the chassis. Tighten to a snug fit and then back off ½ turn…
The front axle holder is also made up of two pieces and features a drop arm style tongue which permits limited vertical and lateral float. The tongue float is governed by the tension of the lead wires. The axle fits through the two poly pieces which are also attached with two mini titanium screws.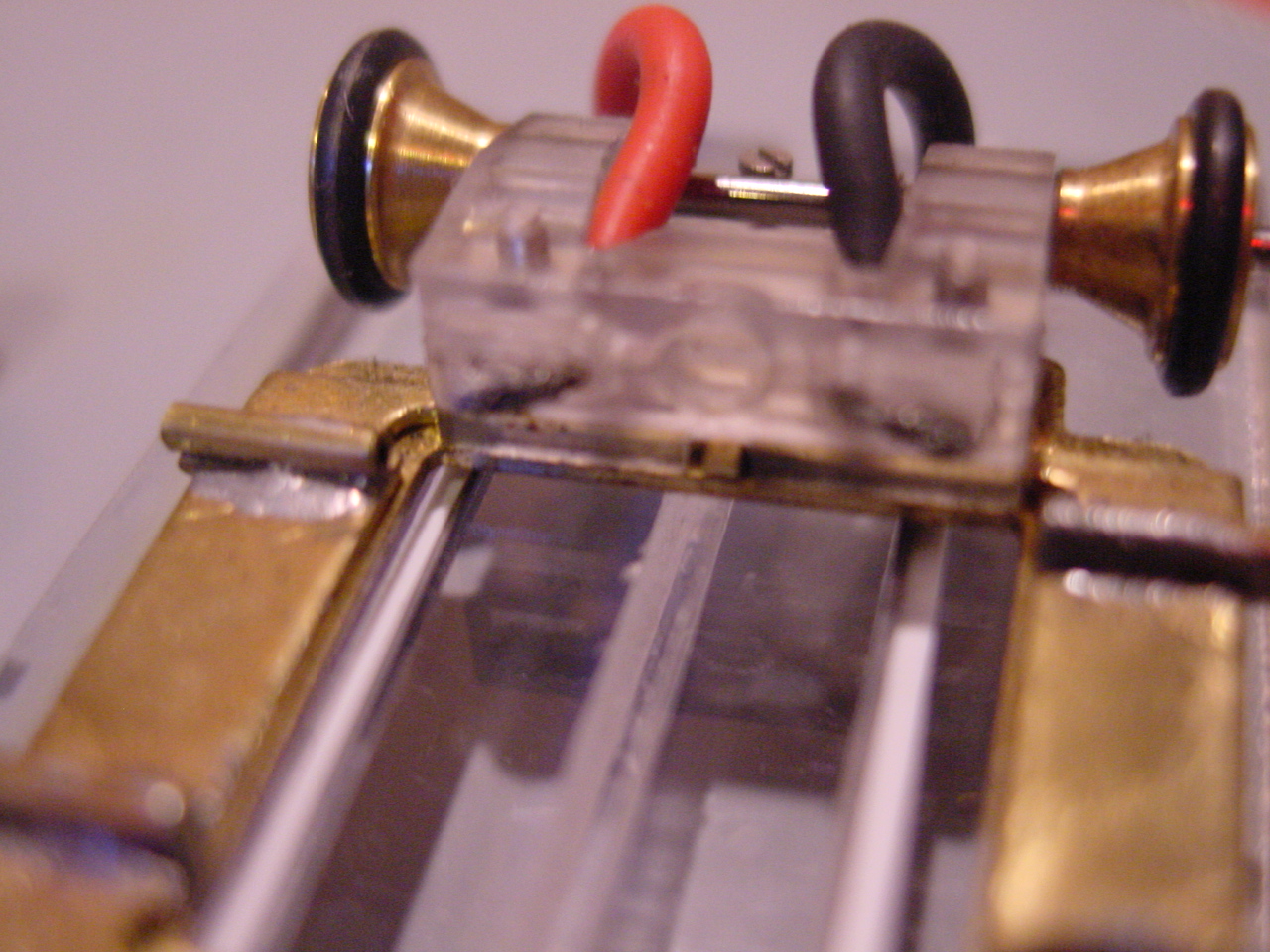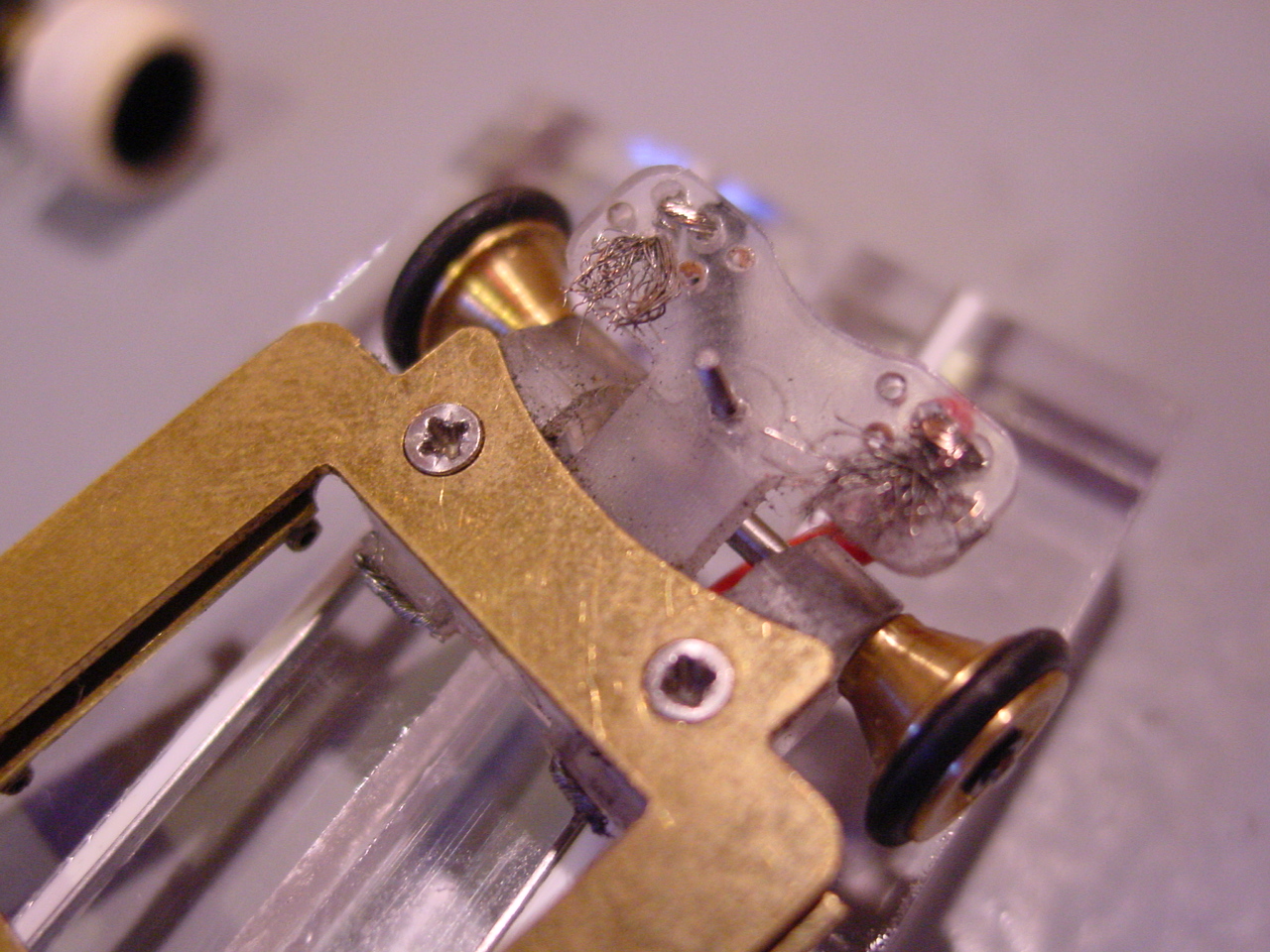 The electrical system mimics Ed Bianchi's slide guide with a direct wire connection from track rail to motor brushes. When re-installing a motor, make sure the end of the lead wires are positioned properly in the plastic holder so that they "mash" against the brush barrels.
The guide pin is a titanium flat head screw. Use a straight blade screwdriver to adjust to your track depth. I have extra guide pin screws if needed.
The motor is a stock product and the chassis can accommodate almost any typical HT50 style can motor.
Stock rear tires are Wizz 442, adjust tires to your preference and track. The axle is a stock .061 axle and the front wheels are RiggenHO brass fitted with O rings.
Note: the shaker plate assembly fits much tighter than originally envisioned. This is unfortunate because some amount of float is useful to remove track vibration. This is more important on vintage Riggen chassis' which were not bushed and also had tires that were less friction free than today's silicon…so vibrations are much less noticeable and less of a factor on the polycarb chassis BUT….this is a design flaw that was too expensive (and dangerous) to correct.
Bodies are vintage Riggen Industries Porsche Daytona #103 that have been custom painted (all by hand, including the TIGER!!!) by "Noose". The body paint scheme was designed to replicate the vintage Riggen Industries packaging style that had a window display and bright, HOT colors. These are not really the optimal bodies for racing because of their weight. You may want to use a modern light weight body and provide a little bit more body float (enlarge the pin holes).
Thanks for your interest. Feedback is greatly appreciated and any user notes will be published on the website.