Riggen Industries
#122 VW Funny Panel
Perhaps the "NICEST" vintage Riggen HO collectible?
Why? It's an extremely rare body style to find in any condition and this one is almost mint, with proper box, with label, in great colors, has the flower power decals (seen on many vintage Riggen VW bugs), its a beautiful body design. This one also has a good story behind it....

(collection PN)
Hey Ron,
You are not going to believe this one. My son and I were unpacking my slot collections that have been stored away for maybe 12 years. I knew that I had a few mint in the box Riggens and recalled a black VW acquired as one of my first. I think I purchased at a Parsippany show around the time I was buying 1/24th stuff. To my surprise we just found the VW Panel Van mint IN THE ORIGINAL PACKAGE w/ Orange tires , All the inserted paperwork AND THE ORIGINAL RECEIPT from a hobby shop in Framingham. It does not say which Framingham. The receipt is dated 1974. It is black , with gold hood panels , Black wheels , two flower stickers on each headlamp. I flipped when I unwrapped it. The box is one of those plastic black bottom large white sticker and BEST OF ALL , it has the side identification sticker, It is a rounded edge rectangle sticker with V.W. Funny Panel # 122 $ looks like 4.95 but someone blacked out the price.
Medium grey guide shoe, brass wipers ......
----------------------------------------------------------------------------------------------------------------------------------------------------
This is a very rare body style...The models pictured on these pages are some of the few I have seen...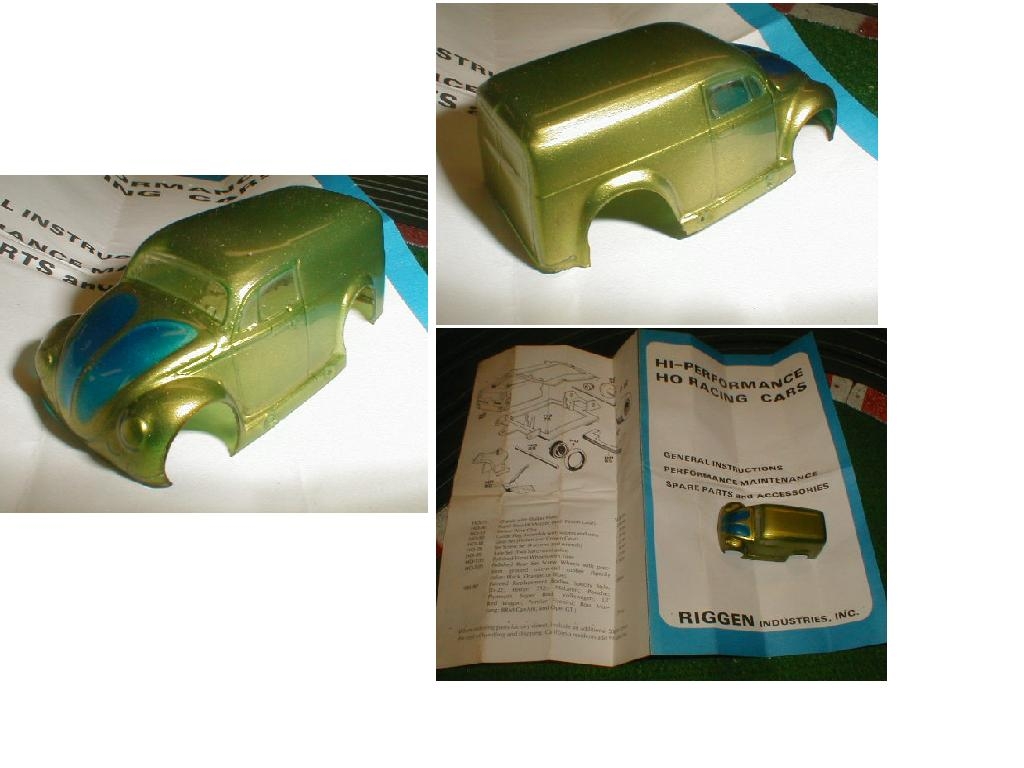 (December 2016)
-------------------------------------------------------------------------------------------------------------------------------------------------------------
more on the story of the Purple...from toybaron.com:
VW Delivery Van ---How do we know it's for real?
Mystery solved with convincing authentication!
This body style had been seen in 2004 by the author, a jpg sent by a fellow collector asking for an opinion as to legitimacy. The body style is not mentioned in any Riggen literature that I had seen to date and had not been recognized by any other collector queried at the time. I posted an entry on the toybaron site with a picture and an uncertain description and left it at that. 18 months later, the same body style appeared in an ebay auction. I queried the seller asking about the provenance of the piece and if he could provide any more detail. He told me that the item came in a collection of cars he had bought in the 90's and said the previous owner was a designer for Riggen, Dynamic and Aurora (They always say that right?). The collection included many cars of all scales (primarily Riggen) as well as some prototypes made for his various employers. Now having seen two of these, I decided I could not afford not to have a copy and the car looked very cool anyway. I was aggressive and won, beating out a Slot Car/Volkswagen lover from Sweden for the prize.
During the same week (Nov 4, 2005), while searching ebay I came across a listing for two Radio Control car bodies made by Jerobee/Riggen. The lot consisted of two bodies with their boxes, and some decals and paperwork. Not having seen these before, or even positive that Riggen was involved with RC (Now I know they were, see this picture), I bought these items for $35. Both boxes had end labels which included Riggen Industries, the standard "Tiger" logo, the proper address, and another graphic of a race car with the text "Bodies by Garcia" on the label.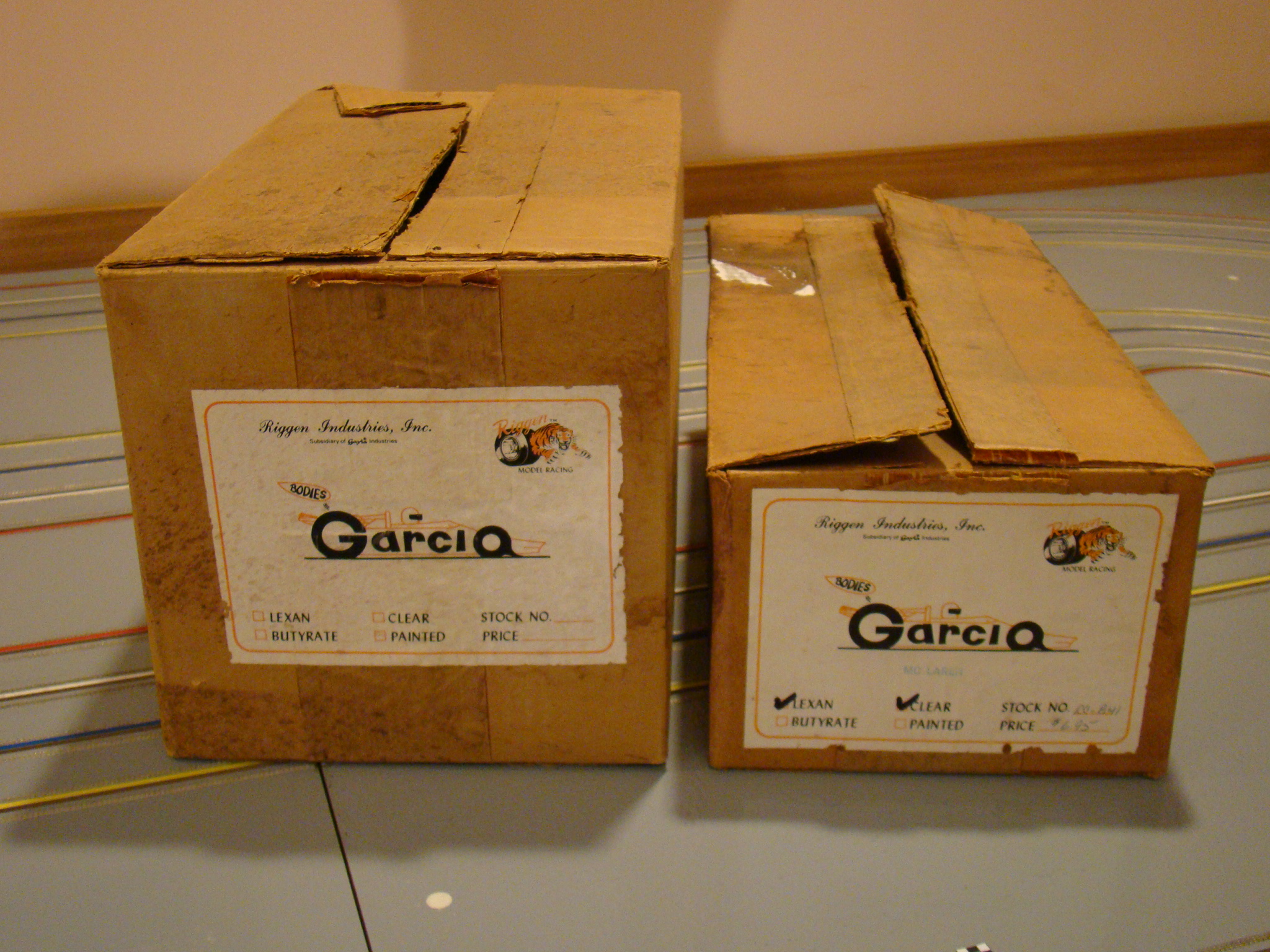 After I recieved the VW Bug from the auction, I corresponded further with the seller asking for more info about the origin. It turns out the item was sold by the brother of someone I was nicely acquainted with from previous dealings (and a slot car show in England we went to together!) who had a fantastic collection of slot cars, gas engines, and many other things. SMALL WORLD! Now I felt more comfortable about my purchase....I learned more about the collection he had bought, and my friend sent me detailed pictures of some of the other items in the collection---It certainly seemed legitimate to me. One of the items in the collection that had been saved by my friend was a letter from the previous owner...saying who he was and where he had worked and if my friend had interest in buying his collection....
The letter is signed: Jack Garcia! And just to nail the lid shut, there was also letter signed Jack Garcia included in one of the RC Car Boxes! Jack Garcia was a modeler for Riggen during the Gayla era, ivolved in R/C, and R and D. The purple van comes from his collection. The letters almost certainly prove that this Jack Garcia is the same man that worked for Riggen.
...........
The story continues...at the Pete S show in NJ on Nov 20th, 2006 I had a small display set up with some RiggenHO. A serious racer and I start discussing vintage racing and collection. He is a VW fan. He has two Riggen cars. One is the VW Delivery Van! That makes three I know of---any more out there? Please get in touch!
And more....At the same show, I trade a TycoPro display piece for some old Riggen price lists and a test chassis. Included in the literature was a1972 price list. This was a 1 pager and included the Gayla stamp of ownership. Previous price lists had been 4 page versions...Sure enough, under the HO section is listed style 122: VW Funny Panel----Not seen before, not seen after. (bottom right on page 2, click image for larger)