(back to riggenho.com main page)
-----December 2009 "RiggenHO 4000 Series"
$69 for stock chassis with stock body, $59 chassis only

...............Introducing the latest version of the RiggenHO chassis
RiggenHO SERIES 4000
Improvements all over the place...
Based upon various feedback from both collectors and racers, we have been working on a number of improvements to the RiggenHO chassis design and some of its' components...The most frequent discussion items about the RiggenHO chassis involved the (lack of a) drop chassis design, and the rear axle/gear mesh...We knew these two items were critical to improving our chassis.
Fortunately, we met Rich Picard, master builder and modeler and he was able to create a jig and tooling that permits us to convert the stock chassis to a drop motor chassis. At the same time, Rich modifies each chassis by adding 060 bushings to the rear axle uprights which accomodates an 0595 drill blank axle. The drive train has never been smoother.
Another area of constant debate involved the pros and cons of a guide flag versus a guide pin. We are not convinced that either is better...that being said, a small production run as ours is requires economic cleverness---and the repro style guide flag was not easy to produce. The other issue we had was due to the fact it is an "assembly" requiring additional "practiced" labor steps to complete the flag (soldering lead wires to the copper flag, securing the flags to the guide). The new design eliminates a soldering step and allows further flexibility of flag material. It is easily home serviced and uses readily available parts...
We are proud to present this latest version of the RiggenHO chassis the 4000 Series....and hope we can continue to innovate and improve with your feedback!!!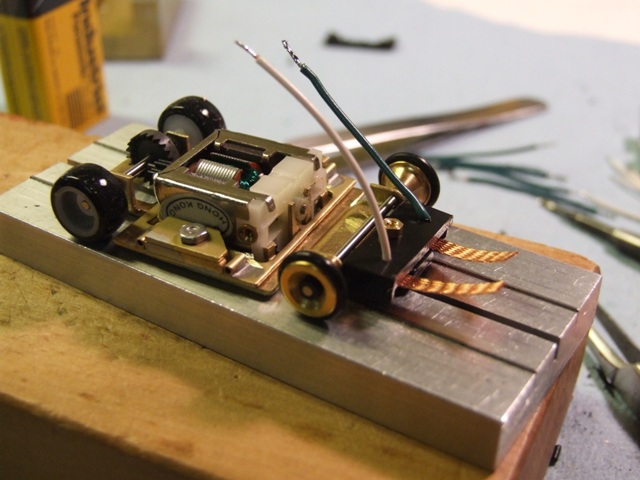 ---4000 Series Standard Parts---

--drop motor chassis similar to the vintage Riggen Industires later version chassis, the motor sits flush
with the bottom of the chassis achieving the absolute lowest center of gravity
--bronze bushings at the rear with an 0595 drill blank axle--"NO AXLE SLOP"
--Picard new design pin style guide flag see more details here...The Picard Guide Flag
--Pin Tube Shaker Plate (includes 4 body pins..note picture above shows special adjustable weighted shaker plate--not the stock version)
--Custom tapered BRASS front wheels
--Green Wire Armature HT50 style can motor
--Custom Silicon Sponge Wheels and Tires
Stock bodies include:
your 4000 RTR includes your choice of painted and trimmed body in one of the following body styles:

002 Hot Rod (limited supply, check for colors)
003 4 Engine Dragster
004 Blown bug
005 Porsche 917 (early version) (limited supply, check for colors)
006 McLaren GT

other body styles may be available from time to time as well as custom paint jobs... please inquire by email...
-------------------------------------------------------------------------------------------------
****Customer feedback for the new chassis:

---------------
(March 2009)
Hi Ron,
Finally got to try the cars this weekend. Not only do they look good, but I can report that their performance and fit and finish are first rate, they are on the money straight out of the box. Acceleration is less brutal than the 3000 series (7/23 vs 8/20 I imagine) so control is improved. Handling is excellent, it does everything well. The Sluggo's tires give good grip, but more importantly, (for me anyway!) a predictable breakaway and seem to be tolerating the ragging I'm giving them so far. The Picard flag is a stroke of genius. All in all a rousing success, well done to all concerned. The only feedback we could think of would be perhaps a new shell or two to accompany the new series.
cheers LH
--------------
(Feb 2009)
Hi Ron,
I wanted to let you know how impressed I am with the new Riggen design. I had Joe put one aside for me as soon as he got them but I wasn't able to give it a go until today. All I can say is WOW! Right out of the box, with only minor adjustment to the pickup braids and a tweak to straighten the chassis, I was running times as good as the Riggen chassis I won with last year, which by the way took me hours and hours to set up. The new pickup assembly is genius, particularly the use of the t-jet guide pin (I wish I had thought of that on my old custom
assembly). The no-solder braids are the way to go without question as well. I'm a little concerned with shearing the pin off since these chassis are so fast, so I'll be replacing the plastic one with a metal one from JW.

The added weight makes the chassis well balanced and handle much better than the bare chassis. Compared to my winning set-up the new one is a gram heavier (28g by my scale) with the weight about 60/40 favored to the front, where mine is closer to 50/50. It's hard to tell for sure at this point which one handles better since the new chassis uses 7/23 gearing and I've always used 8/22, but it's very close. Based on times alone the new one may handle a bit better since it's not getting as much top end but turning comparable lap times. I only have a 11 foot straight on my track at home which is not really enough to take advantage of top speed. Joe's new track will be better at making that judgment call. I also want to compliment you on the gear mesh. The drive is butter smooth and whisper quiet. Who's gears are you using?
I'm hoping to get some new chassis designs going before Joe hosts the brass wars this year. Even though my scratch built from last year is still the fastest by far, I believe there is always room for improvement. I want to try a direct drive next like the rattler chassis.
Hope to see you soon,
TK
-----------------
(Feb 2009)

Ron,
Thank you for shipping so quickly. well, 5 hours after they arrived 2 of the picard guides are installed. The first went easier than the second, with the second I wasted a lot of time trying to install the mushroom cap plain and simple it requires a longer screw. However, I have placed many laps on both of the cars I installed the guides and all I can say is WOW! my riggen cars always ran okay but... I was continually messing with the guide flag, Busted wires pickups misaligned usually do to rough driving or a bad spin. The picard guide is fabulous, I prefer the location of the guide pin over the guide flag. Gone is the death snap that usually would stop you dead in your tracks . In fact, the Riggen chassis performs much much better than I have ever been able to make it perform. It is smooth fast and my first impression is that it will prove to be more reliable. It certainly is a lot more fun to drive. On one of my chassis I had aluminum wheels, the tires seemed worn and slippery so I put a new set on I punched it on the straight section and sent the tires flying accross the room. I put a set of wizzard ast tires on and it became clear to me why they were needed. Thank Mr. Picard for me his efforts made a fantastic chassis better I believe it would
be tough for a competitor to come up with a similar chassis that was as good. I'll end by thanking you for your efforts in the Riggen project and I just wanted to let you know how much I like the car.

TB
-------------------------------------------------------------------------------------------------
4000 Series parts are also available individually:
Drop motor modified and bushed chassis...$25 with stock shaker plate, $30 with pin tube shaker plate
...standard RiggenHO chassis with the motor hole enlarged to allow the can motor to fit flush to the bottom of the chassis. Motor uprights modified to allow motor to sit lower. Rear axle holes have 0595 bushings soldered in to provide smoothest fit.
Picard Guide Flag...$12
...includes 2 piece plastic guide flag, brass 072 x 1/4 screw and nut, 24ga wire leads, braided flag material, heavy duty extra long guide pin
Click HERE for guide flag assembly instructions...
0595 Drill Blank Axle...$2.50
Custom RiggenHO .440 silicon coated sponge tires mounted on black derin hubs... $9 (blue or orange)
...these are specially made for us by Slade Brown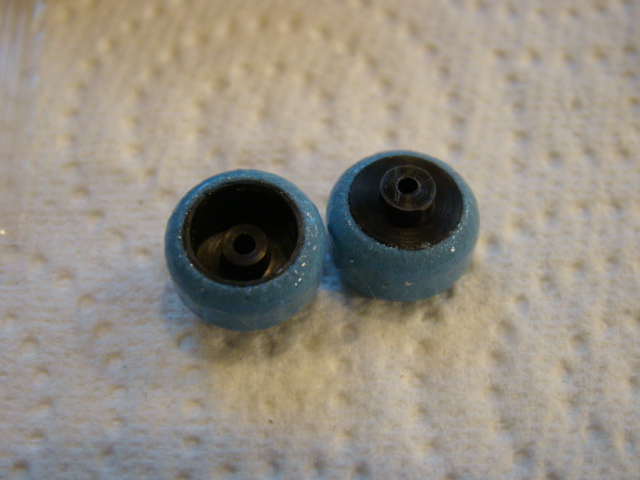 Brass Independant Front Wheels and Axle set...$9.95...
... includes pair of BRASS tapered wheels, O rings, delrin retainers and custom axle. This front end measures 1 5/16ths and weighs 3.3 gms
----------------------------------------------------------------------------------------------------------------------
----See the "Intro Limited Edition" here (sorry--sold out)....with HOP UPS for this 4000 Series Intro Limited Edition (edition of 15)