(back to riggenho.com main page)
Club Kit--Assembly kits for "stock" RiggenHO racing at your local track!
$280 for 8 complete kits, additional kits $30
contact us for more information about sponsorship and prizes!

RiggenHO Model Race Cars are designed to RACE! Just as in the 1970's when the brass
designed chassis' began to dominate HO racing, RiggenHO Model Race Cars are a perfect
counterpoint to vintage T Jet racing. Take your "non magnet" competition as far as you can
while remaining "vintage" and draw on the heritage and memories of the 1970's Brass Wars.
Each Club Kit contains all required parts to assemble 1 RiggenHO Model Race Car chassis and one vintage (clear)
trimmed Lexan body. The program is designed for clubs who purchase at least 8 kits (which is why the kits are discounted).
Race entrants assemble and customize their cars according to local club rules, drawing on the heritage of the 1970's brass
wars. Because each kit contains the same parts; each contestant's skill shines through in both building, tuning, and racing.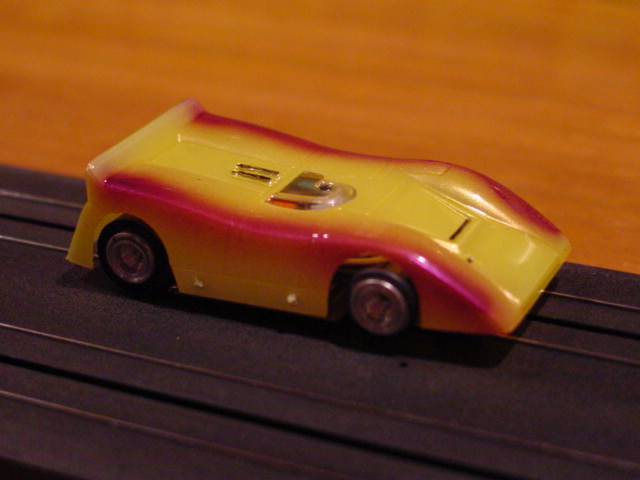 (Sample painted Lexan bodies, please inquire if you require painted bodies)

FEATURES:
Club Kit Body Styles come trimmed and unpainted. Add a concours event to your race!
Choice of vintage Lexan body style--Lola T-163, Bryant TI-22, Ferrari 612-P
RiggenHO brass chassis and shaker plate
RiggenHO guide flag with berryllium flags
Vintage NOS Mabuchi RED ARM can motor with brush tubes (HT-50 configuration)
(can substitute green arm HT50 style hop up motor (see 2000 series)
Custom ALUMINUM screw on rear wheels and stock RiggenHO front wheels
Silicon "No-Tear" rear tires, O-ring front tires
Correct wire retainer guide and guide flag retainer pin
Tomy SuperG+ 25/7 gear set and others (please inquire)
Link to Official Race Rules and Race Schedule. Click for details...

Link to Assembly Instructions