(back to riggenho.com main page)
RiggenHO Fun Kit! .......$35.00
(March 2010 increased price as we are no longer able to supply the old pin style flag. We will now include the 4000 Series Flag)
Contact us by e-mail to order!
We have had a lot of requests for an entry level chassis that will get some naked bodies back on the track, and look great on in display...



Each Kit Includes: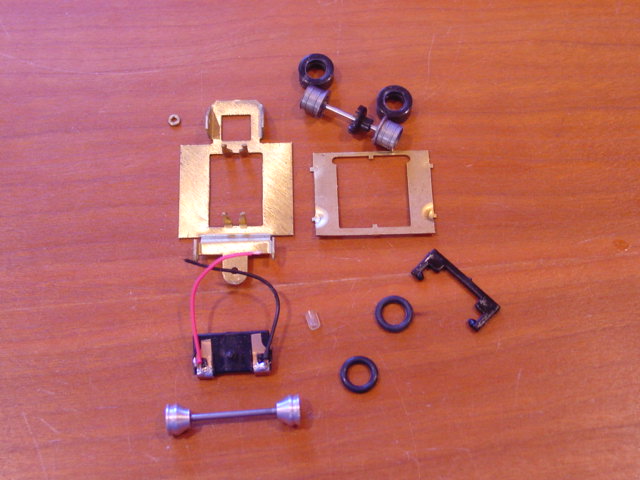 1 RiggenHO chassis and shaker plate
1 4000 Series guide flag with leads, retainer cap and leads retainer clip
(the one shown in the pic above is a pin style flag--we are out of stock on these...the kit includes the 4000 guide flag as shown below)


Tapered Aluminum Front Wheels, front axle and O ring tires
TycoPro Rear axle, TycoPro 19t crown gear and TycoPro hubs (This is a stock NOS TycoPro assembly. Use with HT-50 motor
for a 19/6 gear ratio)
NEW No-Tear Silicon rear tires to fit

YOU PROVIDE the CAN MOTOR! Surely you have a TycoPro donor car! If not, we can supply a NOS TycoPro HT50 with pinion attached for $4.95
YOU PROVIDE the BODY! Any Vintage Riggen body or RiggenHO body will fit!

We have some super painted lexan bodies...$12.95-$19.95.


This chassis can be easily hopped up like all of our chassis with state of the improvements including different gear, wheel and tire options. Many contemporary vendors offer parts that will help you push the envelopes of speed and control for your racing pleasure. See Performance Parts here.
(back to riggenho.com main page)