RiggenHO Model Racing
The Newsletter

Race, Collect, Restore!

Volume 2 Issue 3 Summer

2007
---
We have redesigned the website over the past few weeks and your comments and feedback is appreciated. We are spending more and more time on historical information and with RiggenHO limited production special editions--- the new web site design makes it easier for readers and customers to navigate to their areas of special interest....

This issue looks at:
---The RiggenHO Production History and will document the evolution of our products over the past few years.
---New information in the Brass Wars history section; detailed info about a "Magazine car" called the Lead Sled with detail by the actual 1970's builder Bob Kircher!
---A preview of upcoming projects, 2 links for your consideration, and thoughts for collectors
....enjoy your summer!
About this issue or anything related; questions, corrections or comments, please contact us: RIGGENHO.COM.
Thanks for your support!
Ron Bernstein
---
RiggenHO.com History, Products and News

The RiggenHO Production History...
Where we came from, where we are and where we are going. Staring with the introduction of the Series 100 chassis in May 2005 to our latest "New-Old School" Special Edition... click this link....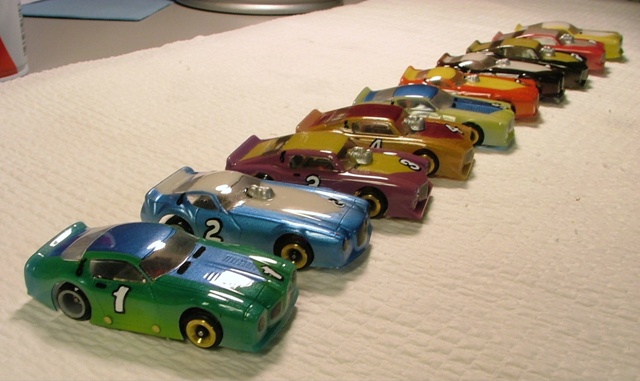 In the future we will primarily focus on special editions of RiggenHO cars and parts with cooperation from other builders. For reference, our latest special edition of 10 cars sold out in just 2 days from the time of the email announcement we mailed when the cars became available. Since then, we have had requests for a few more and unfortunately we cannot provide them. To insure that our next edition satisfies all of our "hard core" customers (and to prevent an immediate sell out of our next limited edition) as well as to keep our special editions special....I'd like to ask our customers to let me know if they would like to be "on the list" for our next releases...this entails ABSOLUTELY NO OBLIGATION on your part but will help us forecast better how many of each product to make...Some specials will remain at just 5 or 10 pieces, but for certain chassis parts or other "mostly stock" releases we can easily do more than 15 or so pieces and keep the costs down...If you are interested in "being on the list", please send me an e-mail letting me know!
----- Please click here: PUT ME ON THE LIST!

The HO Brass Wars...more history
As the web expands and becomes easier to search and use, it becomes easier for enthusiasts to find information about their own specific areas of interest.... and perhaps even information published about them they were not even aware of....In June of this year I recieved an e-mail from Bob Kircher who designed the Lead Sled in Nov 1971 which was featured in Car Model Magazine back in the day....Read all about it here...

UPCOMING PROJECTS: RiggenHo Poly Carb Chassis-
THE next generation RiggenHO chassis. Find out more here....
Ten chassis have been completed and bodies will be sent to the painter soon...There will only ever be 10 made and only 9 for sale so if you want one of these for your collection, please let me know asap and GET ON THE LIST (see paragraphs above!!!!)


UPCOMING PROJECTS: Miller Guide Flag System
A friend in Canada has spent some time tinkering with the RiggenHO guide flag....here is a sneak preview of what's to come...
---more secure (no more loose retainer caps), uses nylon screws
---easy to replace the wipers....screw off, screw on
---less loss of power from track to motor, looped leads on both ends, "heat sink" design tapped brush barrels, double leads...
Useful and Interesting Links:
Rob's Modeling:  http://www.robsmodeling.com/decals/home.html
Excellent selection of decals as well as a detailed "tips and guides" how to section, but of special interest to Lexan fans, check out the wheel opening stencil decals (item HOLXWO in the 1/64 section)...
The Independant Scratch Builder : 

http://www.theindependentscratchbuilder.com/1.%20TOC/TableOfContents.htm
Name says it all....amazing build quality...
Collecting and Archive Notes:

Recent Ebay Auctions...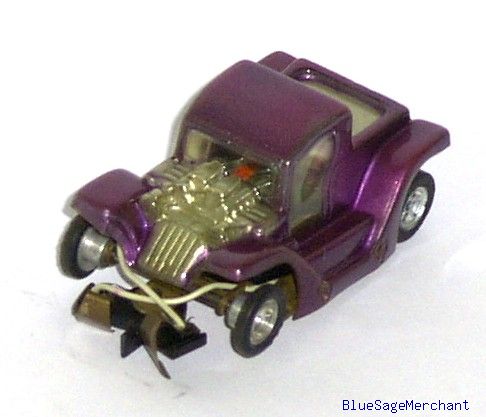 HOW MUCH DID YOU SAY THESE WENT FOR?????????
(read more below!)
Just a couple of quick thoughts about "collector pricing". In the past few months I have been selling some of my collection of "non brass" slot cars to focus more on the era and styles I am most interested in. I have been surprised (and gratified) by the recent price trends. As is always true with collecting, the best/rarest/best condition items always hold good value and usually increase the most in UP markets. I had some very nice T jets as well as Mint on card O Gauge items which were sold over the past few months at VERY HIGH PRICES relative to prices achieved just a few years ago...I would say that the toughest items have probably tripled in value over the past 3 years (black Mustangs from $1250 to $3750) and excellent examples of GOOD items have doubled (MIB Lola's, Alfa's). Muscle cars seem to be doing better than early cars--perhaps mimicing the trend in 1:1 collector car pricing. Even empty boxes have had serious price increases.
Collector price increases seem to be extending across all brands, not just Aurora. Recent Marusan (a vintage Japanese brand) items sold on ebay (some of which I was a buyer of) acheived EXCELLENT prices and I have observed that Atlas brand prices are running to 1.5 to 2 times values of just two years ago.
Of most interest to me are the recent prices achieved for Riggen HO scale items. I bring to your attention 2 ebay auctions from July...Now we all realize that prices do fluctuate seasonally as well as abberations accurring from two buyers that just "HAVE TO HAVE THIS ONE" but I am suggesting to you that prices are FIRM and RISING....
The purple Hot Rod HR-8 Runabout is a very tough car and this is a nice color on a proper drop motor chassis. Sale price on this was $765 on July 21, 2007. The Pinto #117 is also a tough car and one of only two Riggen styles that have Flame paint jobs from the factory. Sale price was $555 on July 21, 2007.
These are just my own observations and public data...not recomendations!
---