Collecting Riggen HO Scale
quick links to included sections:
--History--Chassis Design--The Cars--Packaging--Rarity Guide--
-- Catalogue of the Riggen Boss HO Series--Catalogue of the Riggen Hot Rods--Catalogue of the Riggen Prototypes--
(go back to riggenho.com)
In late 1970, Riggen Industries of Torrance, California and later Gardena, California introduced a new HO scale slot car for competitive slot car racing.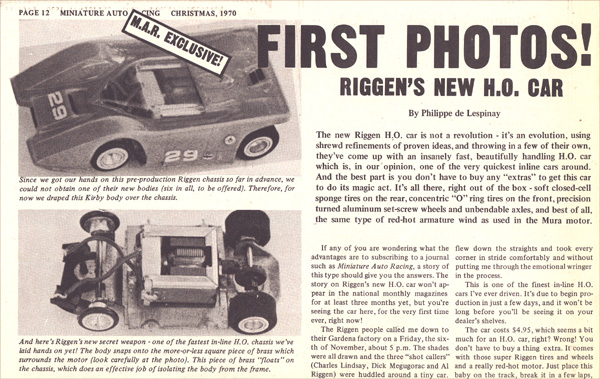 (click pics for larger versions)
-----------------------------------------------------------
Riggen Tire and Manufacturing Co. was already well known for their high quality 1/24 and 1/32 scale slot car wheels and tires and their JAD brand slot car kits.
---------------------------------------------------------------------------

The Riggen chassis was a new and different approach from the mass produced HO offerings of the time, a market dominated at the time by Aurora Model Motoring with their T Jet line and by theTyco Industries TycoPro line.

(Riggen on the left, center TycoPro, and T Jet on the right)
The design was meant to bridge the gap between toys and serious hobby items (as did the development of "professional" racing components fueld by the "need for speed") by introducing a performance oriented chassis design made from brass using "hop up" style components.
The Riggen chassis quickly became a popular competitive Ready to Run (RTR) option, as it was designed to race almost right out of the box. Introduced at $4.49 (perhaps at $4.95?..but slightly higher than the basic price point as the other brands), it provided the competitive platform for serious hobbyists and "pro" racers to improve upon. There were a multitude of hop up parts and light weight bodies available by others such as TCP, LaGanke, K and K, Thayer, Lancer, and Kirby.
Scratchbuilding a competitive car using some of these hop up parts (brass chassis mods, hot rewinds, modified guide flags) required decent craft skills by the user. Many of these aftermarket parts manufacturers also offered their building skills for a fee, but then the price of a RTR could exceed $10 with all the bells and whistles. This is one reason why the market embraced Riggen's new chassis--it was an easy platform to work with at an easy price that accomodated the latest developments..
The new Riggen design also encouraged other "serious-slot racing" focused companies to join the fray. Cobramite from Brooklyn, New York introduced an ISO PAN HO scale brass chassis, and Dynamic from North Hollywood, California introcuded a brass chassised Anglewinder named the Dynabrute. The Brass Wars (full history on this link) had begun. These efforts also pressed the Aurora Model Motoring effort (the mass market leader) to introduce their AFX Super 2*.
(click pics above for larger--Cobramnite, Dynabrute, Super II)
*Perhaps confirming the reasons that the Aurora Super 2 had limited success at this price point, the enthusiasts that bridged Hobbyist and Professional embraced the Riggen RTR car, and hopped them up with less expense than starting a serious race chassis from scratch (cutting an individual brass pan), or starting with a Super 2 at $10 and then adding modifications anyway..
--------------------------------------------------------------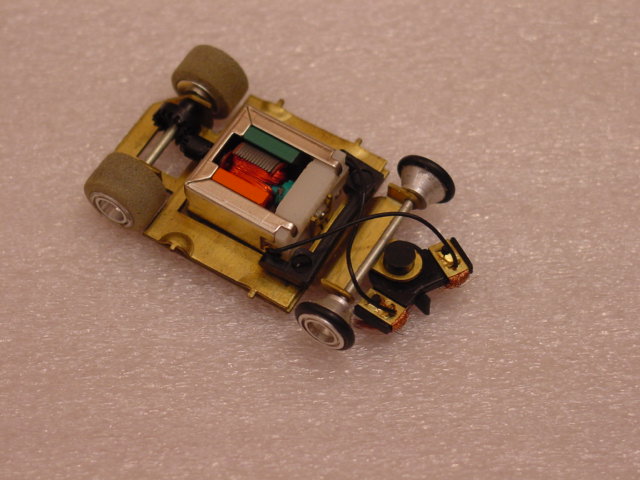 Riggen's chassis design attempted to duplicate some of the key features of larger scale slor car racing into HO scale. Rather than utilize a mostly plastic chassis frame with a firmly/fixed mounted hard plastic body, Riggen designed a two-piece brass frame with a "Plumber Action" suspension designed for maximum handling through turns and straights. The body is attached to a brass plate (shaker), which floats between the chassis and the motor mounts. The body suspended in this manner relieves torque developed on curves and dramatically reduced vibration.
The Riggen chassis was also wider (1 5/16ths" instead of 1 1/4th") than the TycoPro or the T Jet, which obviously yielded a wider stance on the track. The cars sit lower as lower on the track as well. Being approximately the same weight, the lower center of gravity improved handling performance without the need for aftermarket chassis weights and add-on brass pans.
There were two styles of chassis and shaker plate with different cut-outs and bends showing minor changes over time. The first release chassis had the motor mount position sitting on top of the brass chassis, while the later release (A Gayla era* improvement) had the motor sitting flush with the bottom of the chassis in a larger cutout in the brass chassis. The early shaker was a rectangular cutout and the chassis plate had two small motor mount nibs in the front to better secure the motor that the shaker plate fit around. The later shaker was slightly different in shape and had two small cutouts to accomodate the motor mount nibs. This slight adjustment further refined stance and low center of gravity, but more importantly showed Riggen's commitment to improvement. The rear uprights of the brass chassis could be tweaked (bent in or out, or even braced with soldered on piano wire) as needed to optimize the balance and fit between the crown gear and pinion gear.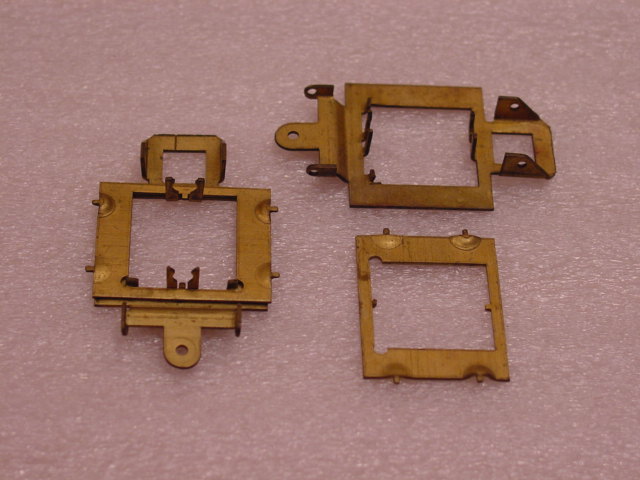 (*Gayla Industries purchased Riggen's HO Scale line in 1972, see below)
Component Mechanics:
The guide flag design was neat plastic piece attached to the chassis by a small matching retainer cap and permitted free rotation of the flag assembly.
The electrical pick-ups followed the fashion of theTycoPro copper beryllium wipers.The wipers were connected directly to a"hot" red wire arm Mabuchi HT50 motor (the same motor used by later TycoPro cars, as well as Cobramite and Dynabrute) but the lead wires were not soldered directly to the motor. Instead, Riggen employed a plastic pressure fitting retainer clip that secured the wires directly into the brass brush tubes.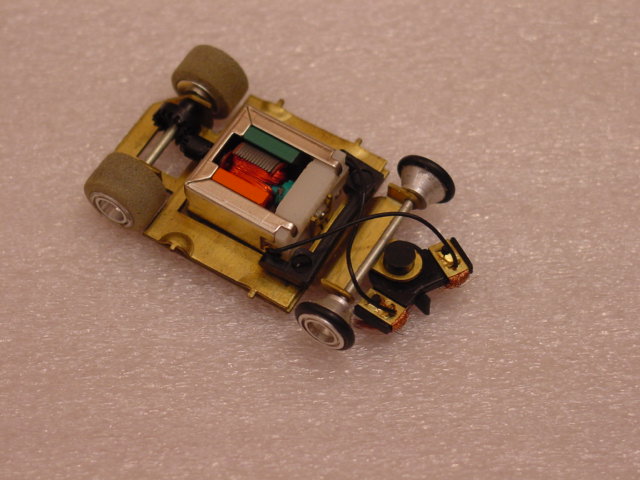 There are variations of the pick up assemblies. Copper wipers are the most common versions seen but there are also copper stranded pick-ups as well as steel braided pick-ups. The braided pickups have been mostly seen on later Gayla version dropped chassis cars and usually are attached to a white plastic guide flag assembly in contrast to the black pick-up assembly.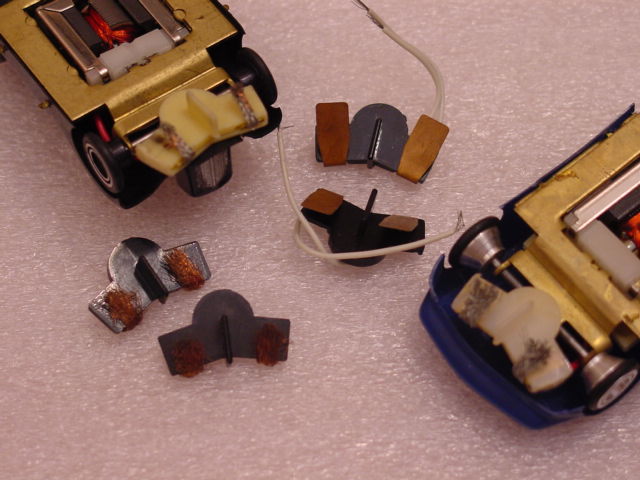 Wheels and Tires:

Riggen was known already for their excellent large scale wheels and tires. Their HO efforts were also top notch.
Rear wheels came in a few styles. First wheels were set screw designs mimicing large scale. Later wheels were turned aluminum simple pressure fits. Wheels were available polished or anodized. The annodozed are black, but have a polished out whitewall effect, very cool...Rear tires could be black, orange, grey or blue "micro-cell" rubber sponge.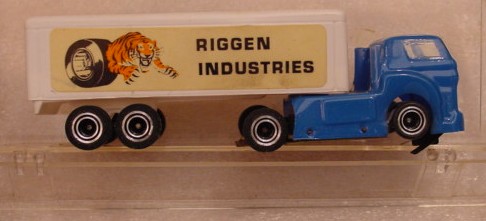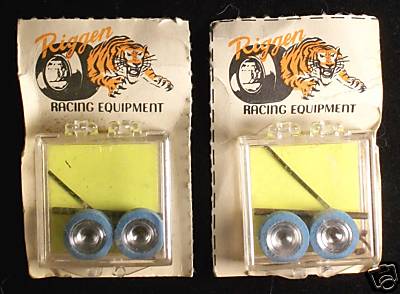 Axles went straight through pre-set holes in the brass chassis, both front and back, a pretty simple affair that assured consistency while permitting easy access.
Early version fronts wheels were machined from aluminum with a set in groove to accommodate rubber O-Rings "tires". There are two types of aluminum fronts seen, a block style and a (later?) tapered style.
There are also black annodized fronts in the block style...pretty rare: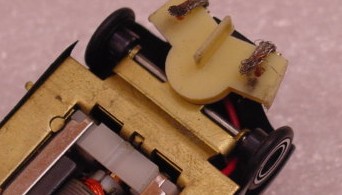 There is also a very, very rare (early) set screw front wheel set.

In summary, the key advantages of the Riggen offering were:

--Better weighting using a brass chassis and lightweight bodies that lowered the center of gravity; vastly improving handling
--"open platform" chassis allowing easy component upgrades (gears, axles, bushings), allowing easy weight tuning (adding lead)
--can motor which allowed plug and play flexibility allowing easy swapping according to the track (more brakes, more horsepower, etc. as desired)
--better wheels and tires, developed by the best in the business at the time
------------------------------------------------------------------------------------------------------------------
1971 price lists show that Riggen initially offered 12 "Boss HO" cars (styles #100-#111) and 5 Hot Rod (HR1-HR5) styles.
The line began with various open cockpit race cars, Can Am cars, popular street cars, "Funny Cars". The Hot Rod styles drew on designers imagination and the Hot Rod 1:1 craze that was part of the era. All body styles were also available as bodies only. Many of the early body styles are identical to bodies made by KIRBY (also in California) and it is likely that the Riggen efforts focused on chassis, wheel and tire design with the bodies being contracted out initially--a common occurrence also practiced by Cobramite.
The early price lists also show various parts offered for sale including the choice of polished or anodized wheels with tires in 3 colors. Early cars had set screw wheels in both front and rear. (Press on rear wheels show up in the 1973 literature.)
Later 1971 price lists show the addition of three more HO styles (112-114) and 2 more Hot rods. The Hot Rod price was increased .50 at this time as well. Riggen also introduced their TT-1 Tractor Trailer Truck.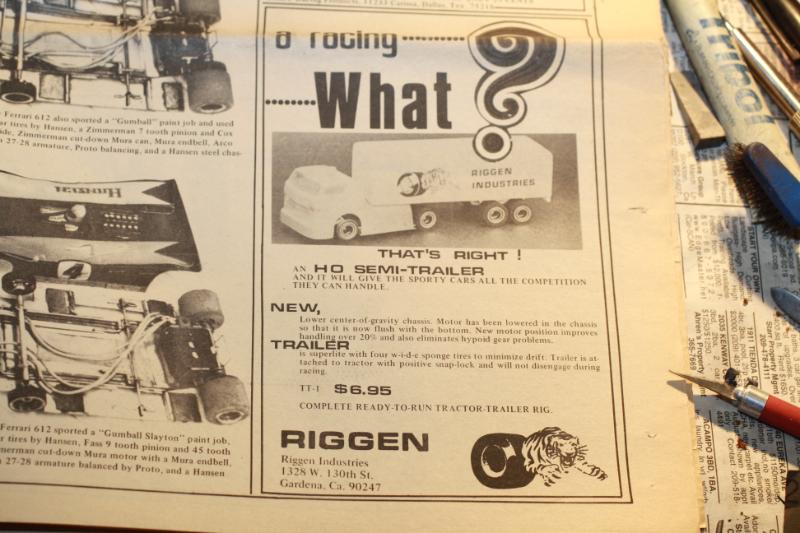 A prototype Oil Tanker was also produced but alas never made it to commercial production.
1972 literature shows the introduction of some Radio Controlled car bodies and an association with Jerobee and a small company called "Bodies by Garcia". Late 1972 price lists add HO body styles 115-123 and a final Hot Rod style. Importantly, please note body style 122, the VW Funny Panel which only appears on one price list and is very rare today!
Gayla Industries purchased Riggen Industries in 1972, and soon after that moved Slot Car operations to Texas. Gayla continued and extended the HO offering with three more HO styles, two home racing sets that both included HO and 1/32 scale cars, the improved chassis (mentioned already) and a new guide flag with braids instead of wipers.
An innovative Gayla offering was the kit car which included all parts required to build a car packaged in Buterate. The Buterate was shaped in the form of the car body and required the owner to trim and sometimes paint the car!
As the HO racing hobby contracted in the mid to late 70's, Riggen moved away from HO scale cars and focused on large-scale cars and parts. REH Distributing of Cincinnati, Ohio purchased Riggen in the late 70's and the HO line was all but abandoned. REH continued to distribute one of the Riggen/Gayla sets (which can be occasionally be found NOS) that contained two large-scale cars and 2 HO scale versions of the same car. REH currently maintains the line of Riggen tracks and a small offering of large-scale RTR cars.

Bodies:
The Riggen car bodies have a distinct "California" flair. Rather than copying the mass production style of hard plastic bodies, weight was reduced by using thin Lexan Polycarbonate plastic vacuum formed on hand carved body molds.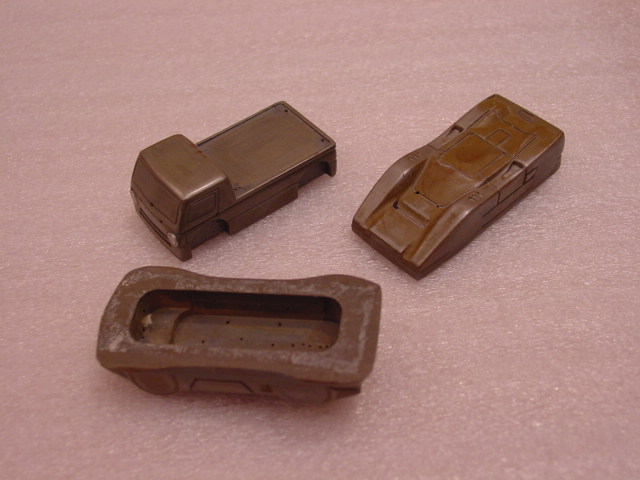 Care was given to scale and detail but the thinner plastic limited the amount of fine detailing. This was not a hindrance as the focus was clearly on performance. That being said, a very high quality of design was achieved.
The body styles are painted from the inside with two or three colors in most cases (main body color with black or silver accents), and at least two body styles have factory painted flames.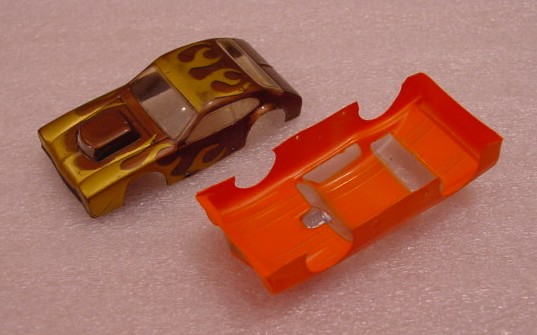 The block color style and lack of hard edges between colors lend an almost "impressionist" look to the cars.
The entire production run of body styles includes Can-Am race cars, funny cars, popular street cars like the Firebird and VW Bug as well as some Hot Rod styles and the Tractor Trailer.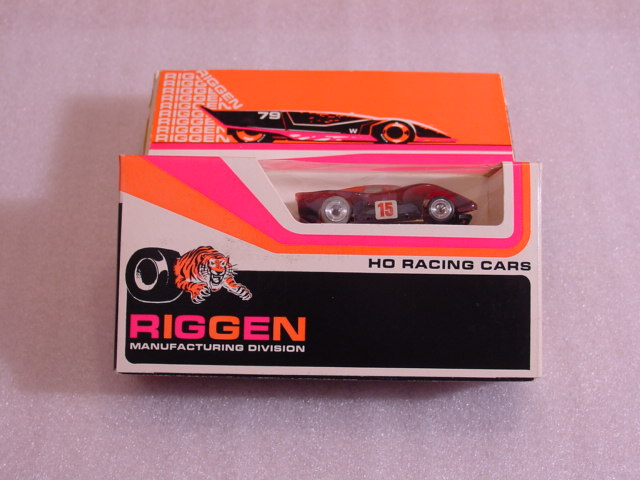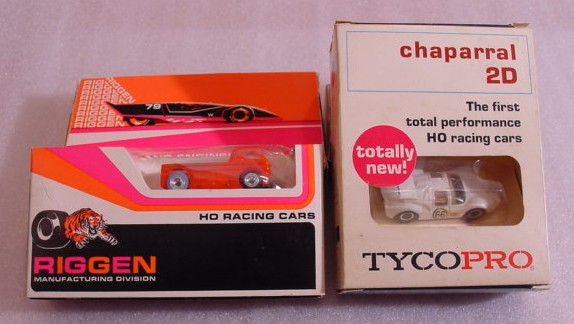 Packaging evolved over the production cycle. The early cars came in a cardboard box (vaguely similar to TycoPro's first cars) with brightly colored graphics and a display window showing the car attached to the chassis. Inside the cardboard box was an information sheet on yellow paper with maintenance tips and a list of replacement parts. There was also "Factory Notice" describing the plumber action suspension and reinforcing the maintenance tips.
Sometimes; believed to be very rare, a small decal strip was included with 3 meatball style numbers, STP, Shell, and Goodyear sponsor insignia, and a Riggen Tires insignia.
This is an important detail to note as a similar insignia can be found on the Riggen Delivery van prototypes obtained directly from the mold maker employed by Riggen (Gordon Brimhall).

Guided by the available bodies listed on the information sheet found in the cardboard boxes, it appears that the first run of cars were: the Ti-22, the Ferrari 512, Mclaren, Porsche Daytona, Plymouth Superbird, Volkswagen, Lil' Red Wagon, Firebird, Mustang, BRM Can-Am, the Opel GT and the "Funny Car". These styles (numbered 100 through 111) are seen in the cardboard box packaging style, with a few instances known to me of later cars. Replacement painted bodies were also seen in this style box.
The next packaging style utilized a plastic 2" x 6" jewel box holding an assembled car on a cardboard insert. The insert may be orange, black, or white. The orange and white inserts sometimes have a printed Riggen logo on it.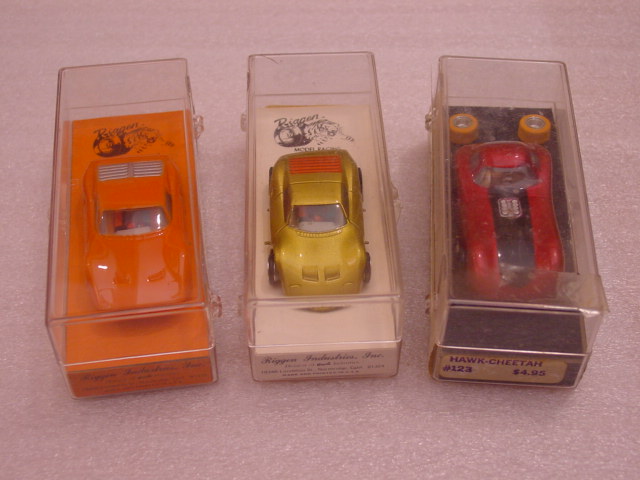 The car was affixed to the insert with double stick tape. The insert has cutouts allowing for the wheels and pick up assembly to sit "flush" in the package. At some stage, the packaging material included the mention of Gayla Industries of Dallas, Texas. We know that Riggen Industries was purchased by Gayla Industries in 1972 which helps with dating NOS cars.
There are at least two styles of this box. Early boxes have a wrap around sticker with detailed information printed on the sticker.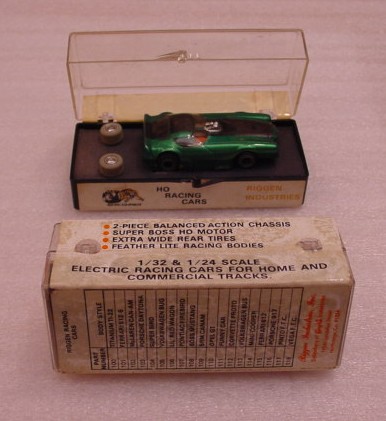 The sticker showed 19 body styles including number 113 (VW Bus), which is NOT found on later lists (i.e. lists included with the assembly kit). This box can be hard to open as the sticker placement restricted movement of the hinges! Some of these cars have an extra set of wheels included. Cars in this packaging are retailing for $4.95. Later boxes have only a sticker on one end with model number and name, retailing at either $4.95 and later at $5.95. All body styles have been seen in this style box and are believed to be remaining inventories from previous years.
At some stage, probably in 1972-3 Riggen reproduced and/or re-worked the molds for many body styles. These are denoted in our entries as "Style 1" and Style 2". Style 2 bodies are later versions, and most style 2 cars have a "blockier", less detailed appearance than their Style 1 counterparts. The Style 2 open cockpit cars also have driver's heads.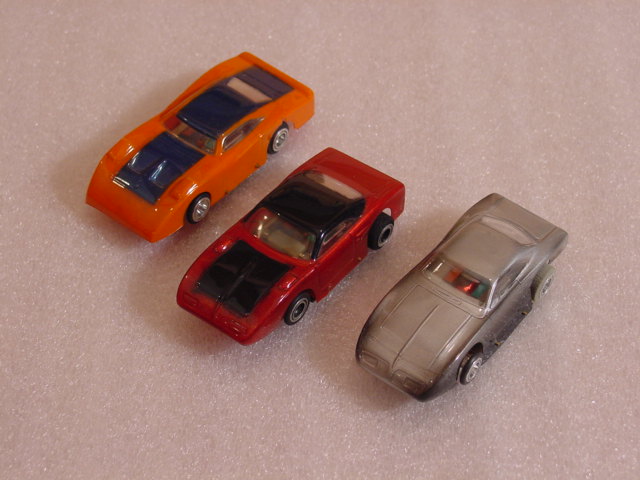 At the end of the Riggen run, Gayla produced a novel packaging idea--using the actual body mold as part of the package...The Lexan form was extended to include the body as well as a small compartment to hold the parts! The kits were priced at $3.95 and required the buyer to put the car together.
Clear instructions were provided, but the devil in the detail here is doing a good job with the body, as the mechanics are pretty straightforward to assemble. The bodies were inside painted as usual but required careful trimming. The instructions suggested a hobby knife or a STEAK KNIFE! The instructions included a list of available cars, which included the range from 100 to 126. Car number 113 has been dropped from the list and there is no mention of car 122--the mystery VW Panel Truck. Almost all body styles can be seen in the assembly kit. It is hard to be certain if the assembly kit was limited to specific styles.
Another interesting car, (not mentioned on the list of cars included with the assembly kit) was the TT-1 Tractor Trailer. This was packaged in a larger jewel box with only an end sticker. The jewel box had a black cardboard insert with appropriate cut outs and retailed at $6.95. The very first Tractor Trailers were packaged in a larger version of the cardboard box, but I have never seen one.
Riggen introduced the Mr. Hot Rod series with their inital body styles in late 1971,and packaging evolved to a plastic clear box with yellow end caps (like the Aurora T jet).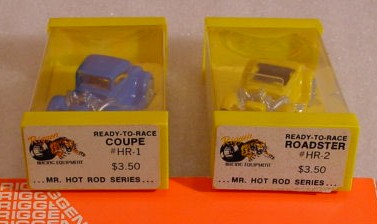 The end cap has an identifying sticker with model name and price and can be seen in two styles. These had a yellow insert with cutouts for the wheels and guide flag like the jewel boxes. I wonder if Riggen was making a "statement" by mimicking the Aurora box style? Cars retailed for $3.50 to start, then increased to $4.00

Riggen also provided a full range of replacement parts including separate sale bodies throughout the lifecycle.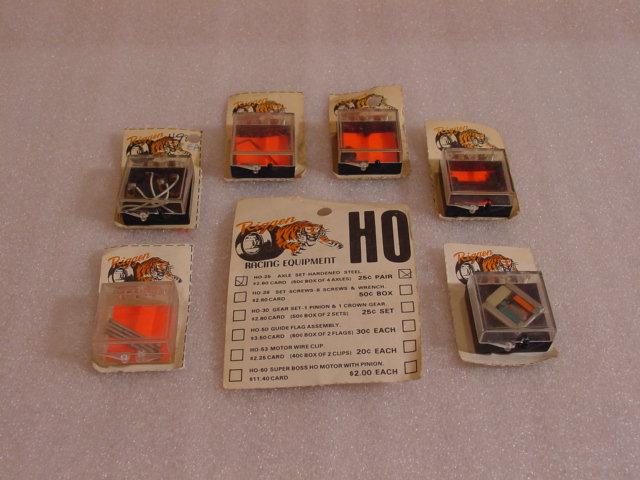 Rarity Guide and Collector Notes:
The Riggen cars are straightforward in design. For this reason, older cars can be readily restored if replacement parts can be found. Typical problem areas include broken lead wires from the guide flag, worn wipers, dirty gear mesh and brittle tires. One of the great things about the Riggen cars was that the user friendly design allowed racers to try all kinds of hop up ideas! If you find an "as run" race car with performance hop ups; DON'T mess it up. It's a true part of HO racing history. Tweaks that many racers employed were better tires, rewound arms in the stock Mabuchi can, new front wheel set ups, pin tubes on the shaker for tighter body mount yet preserving the shaker function, different crown and pinion matches, self made guide flag assemblies and much more. There were many body styles available throughout the production cycle, and many of the bodies had two or three iterations. There are also many different variations of packaging, and many different versions of packaging literature! Riggen never reached the production efficiency of Aurora and variations of all sorts abound. Hot Rods are very scarce especially in original packaging, and complete kit cars are an interesting addition to any collection. Certain colors like candy green and candy purple have been INFREQUENTLY seen by this author. There are also many different paint schemes: flames, stripes, fades and color combinations. All can be "correct". The Tractor Trailer is a very rare oddball as well. Consult other sections of this site for more information.
1-7, 1 being toughest to find...very subjective list....
Rarity 1:
Any legitimate prototype
Rarity 2:

122 VW Panel (more info) (pic)
113 VW Bus (more info) (pic) (pic)
HR-7 T Roadster
HR-8 T Runabout (careful, RiggenHO repro bodies)
Rarity 3:
TT-1
HR-6 Ice Truck...for more collector notes, see this link....
(Lancer offered this body and is sometimes seen on cars claimed to be vintage Riggen...The Lancer body is different and is much easier to find)
117 Pinto (good colors, flames)
118 Vega (good colors, flames)
114 Mini style 1 (check Lancer, and also clear bodies exist as well as re-pops)
107 Firebird style 2 (unpainted bodies have been found, these could be modern repaints)
HR-4 Phaeton
HR-5 Van
HR-3 Truck
106 Lil Red Wagon (careful, RiggenHO repro bodies)
105 Bug
HR-1 Coupe
HR-2 Convertible
Rarity 4:
111 Vega FC
115 Ferrari 612 style 1
110 Opel (premium with unusual paint jobs)
108 Mustang style 2 (almost always from kit, clear bodies exist)
104 Superbird/Charger (check variations, kit or box)
112 Mid Engine Vette style 1 (clear bodies exist)
112 Mid Engine Vette style 2
114 Mini Cooper style 2
121 Camaro Funny Car (nice with box and extra tires)
123 Hawk Cheetah
119 McLaren M8F
Rarity 5:
116 Porsche 917 (careful, RiggenHO repro bodies)
107 Firebird
108 Mustang style 1
103 Daytona (style 2 wingtips)
104 Superbird style 1
104 Superbird style 2
Rarity 6:

115 Ferr 612 style 2
103 Daytona style 1
109 BRM style 2
109 BRM style 1
120 LM Can Am (thin or thick lettering)
100 Auto Coast style 1
101 Ferrari 512
102 McLaren style 1
Rarity 7:

125 Ferr 312
126 Por 917 10-K
100 Auto Coast style 2
102 McLaren style 2
124 Sigma


Riggen "Style 1" Cars
This section catalogues the early release Riggen series. It is believed that Styles 100-114 are the first releases, with 115 possibly in this group as well, however we have listed that with the Riggen 2 cars).
Detailed pictures of model numbers 100-114 (style 1) follow... When relevant, there is also a comparison picture between style 1 and style 2 body styles.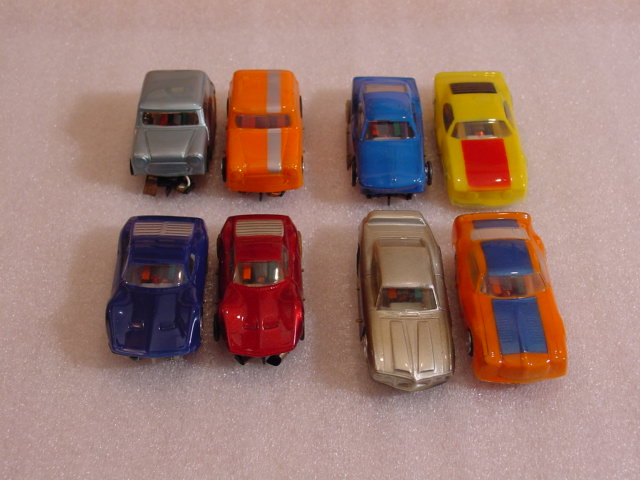 (Mini Cooper, Mustang, Mid Engine Vette, Firebird style 1 versus style 2 compare)
The early cars (100-111) are often found in the cardboard box packaging style. They can also be found in later packaging but these are believed to be the result of inventory reduction by Gayla. The picture below shows a good selection of early cars in NOS packaging.
100 Titanium Ti-22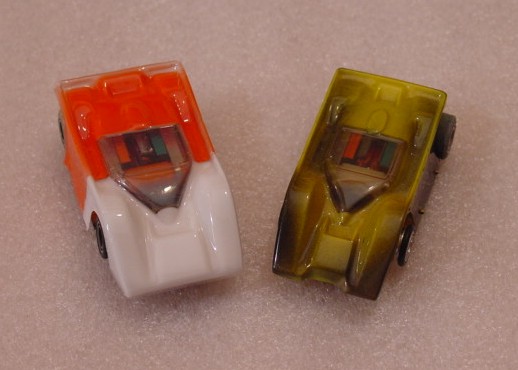 101 Ferrari 512-S
102 McLaren Can Am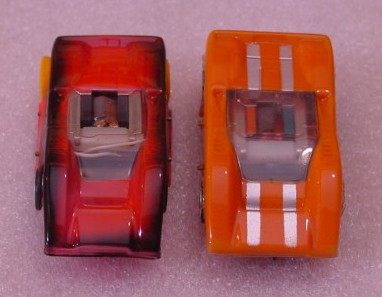 103 Porsche Daytona
104 Superbird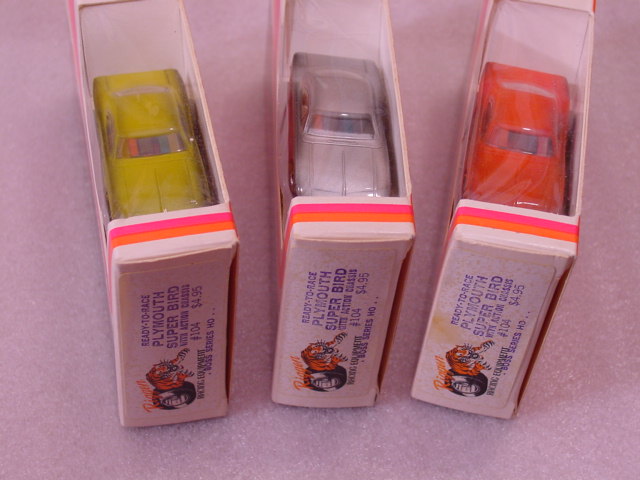 105 VW Bug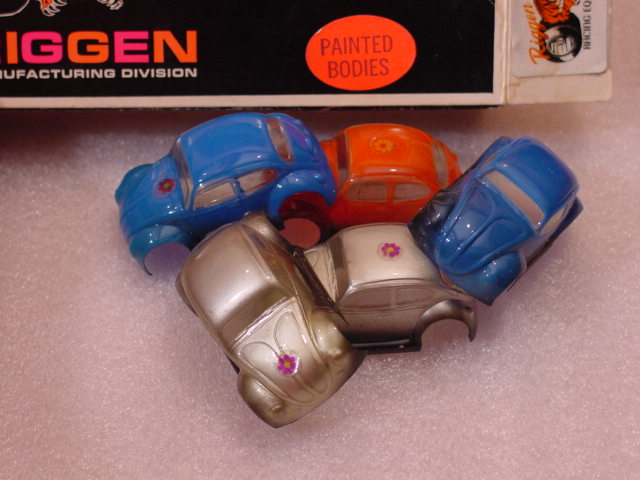 (bug kit from ebay 2012)
106 Little Red Wagon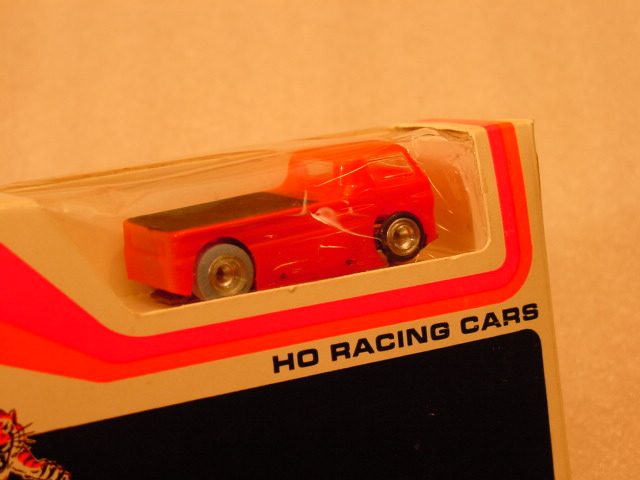 107 Pontiac Firebird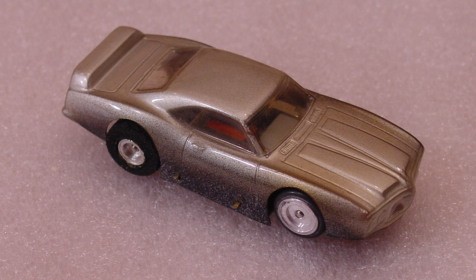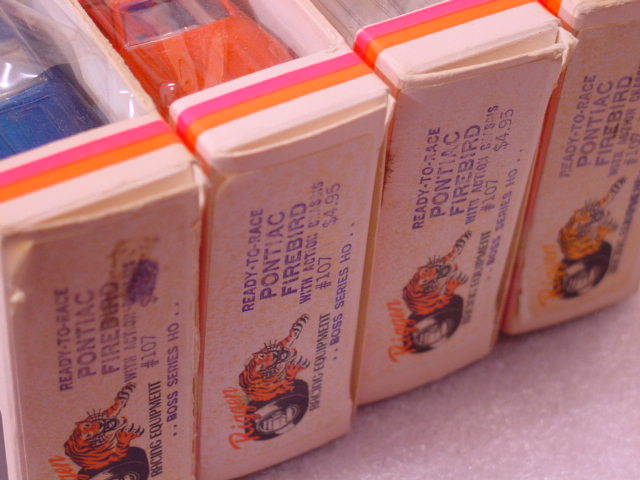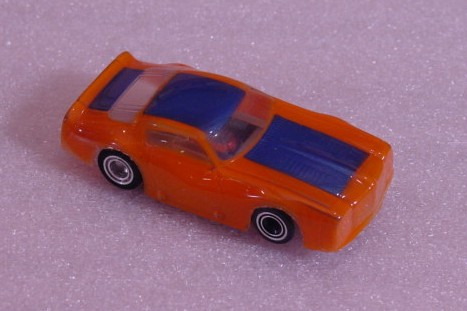 108 Boss Mustang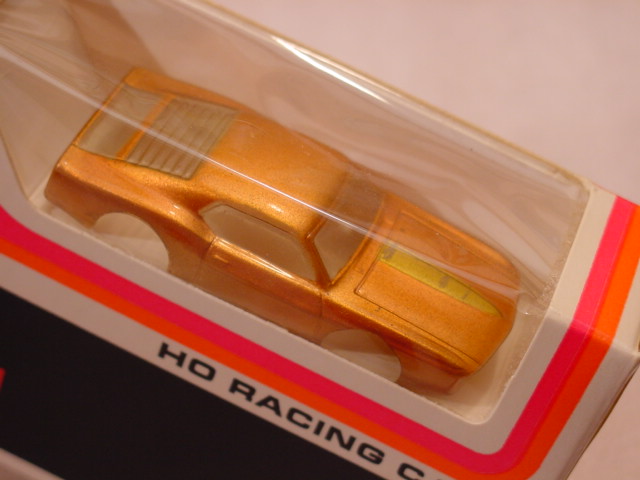 109 BRM Can Am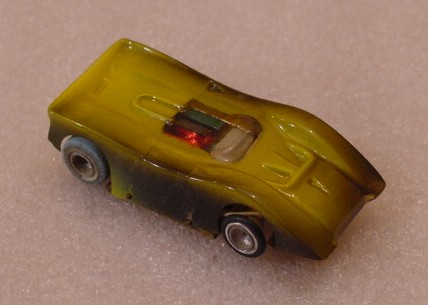 110 Opel GT
111 Vega Funny Car
112 Corvette Mid Engine Proto
113 VW Bus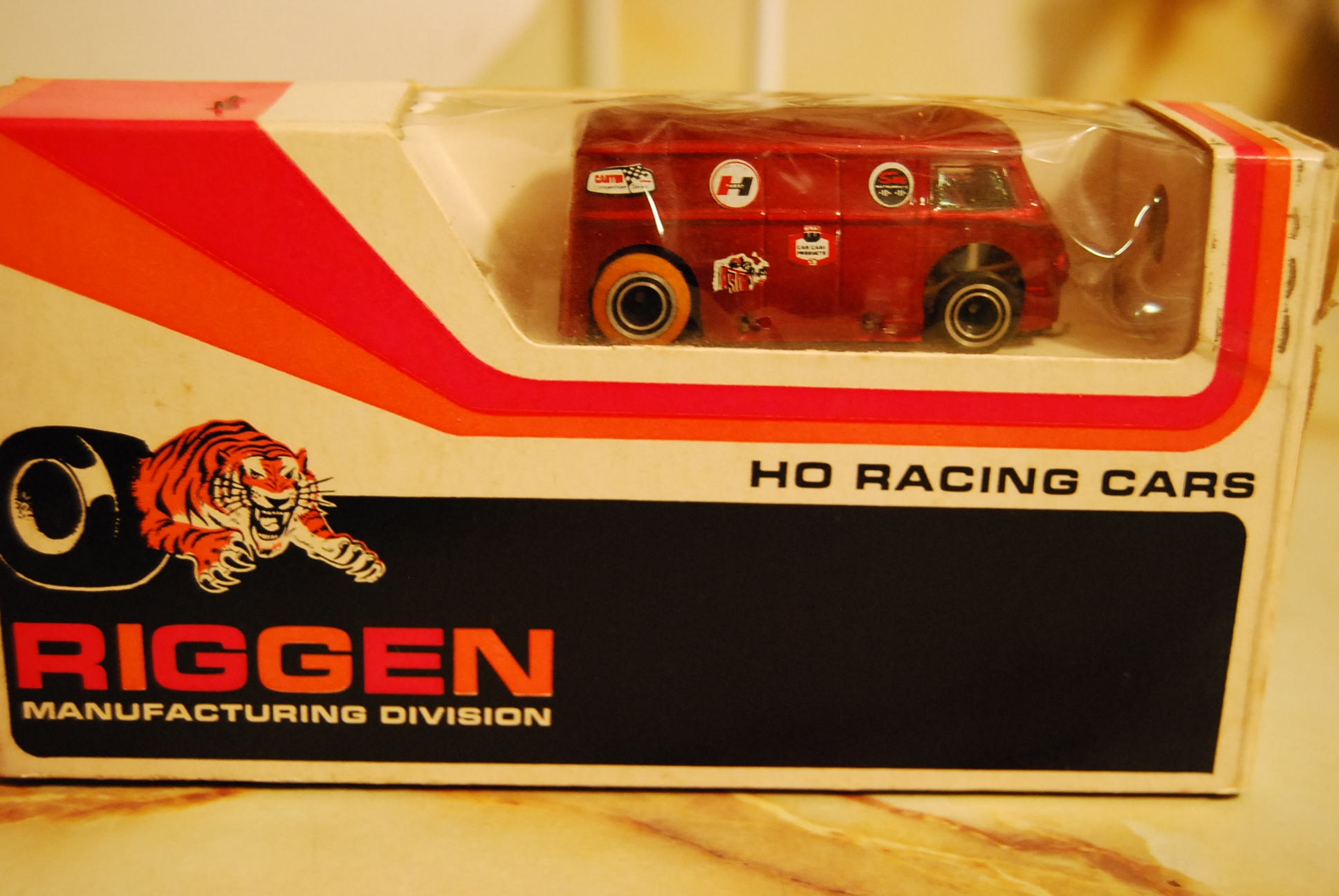 (nice boxed version..have only seen once, this one is not mine)
114 Mini Cooper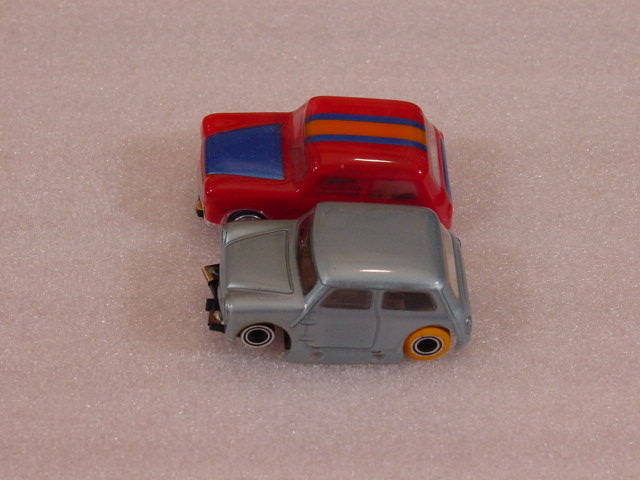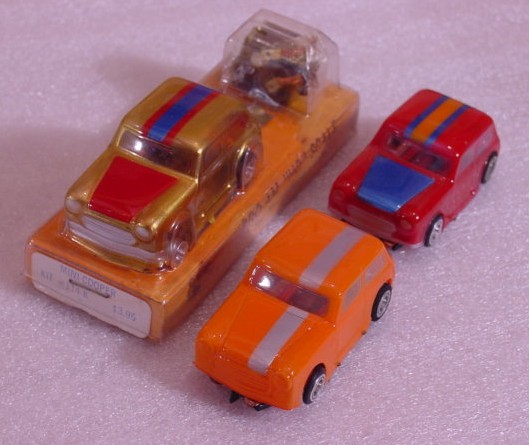 115 Ferrari 612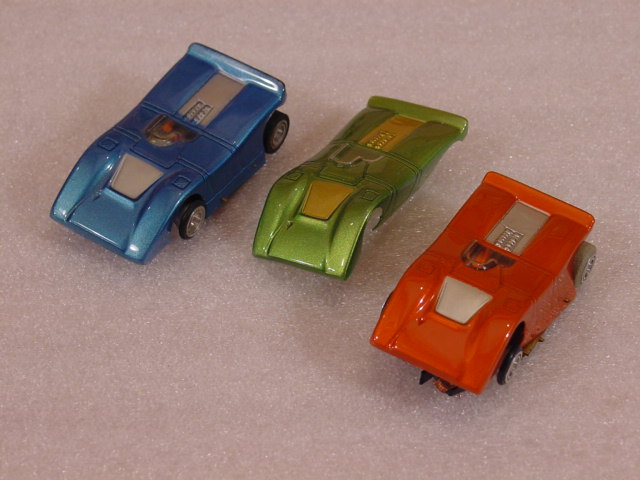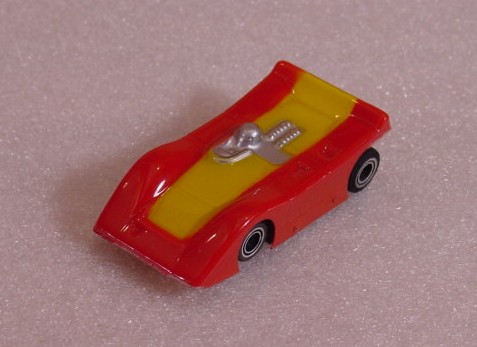 116 Porsche 917 Coupe
117 Pinto Funny Car
118 Vega Funny Car
119 Mclaren M8F Can Am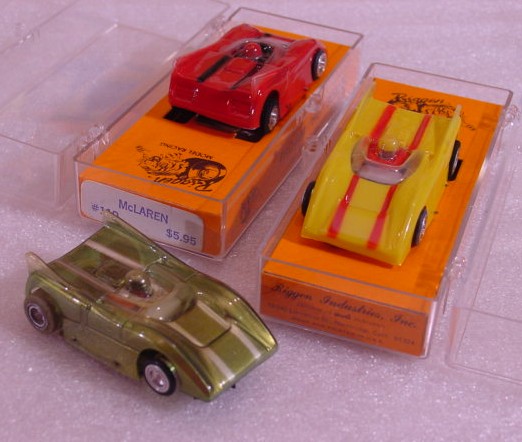 120 L & M Lola Can Am
121 Camaro Funny Car
122 VW Delivery Van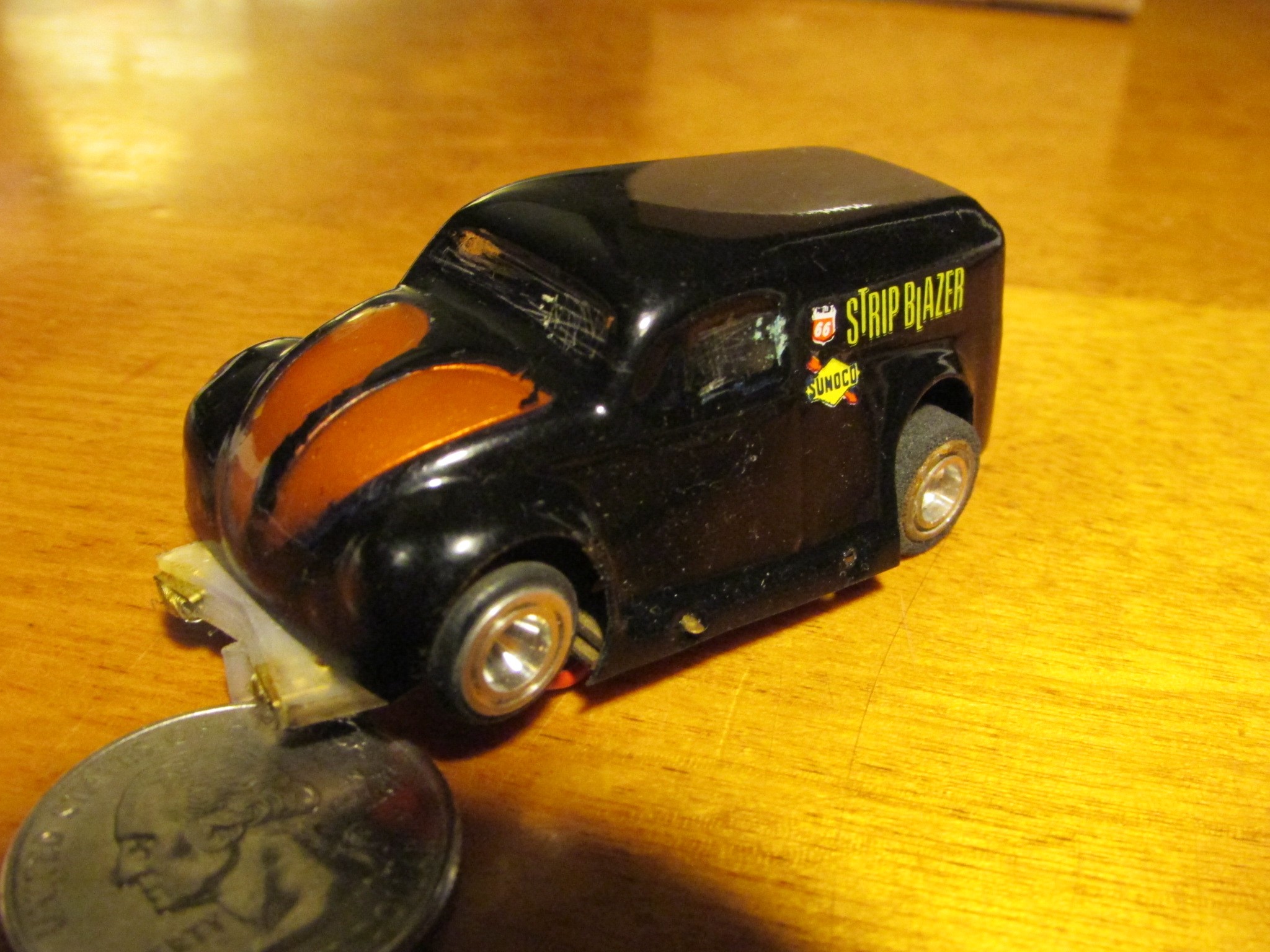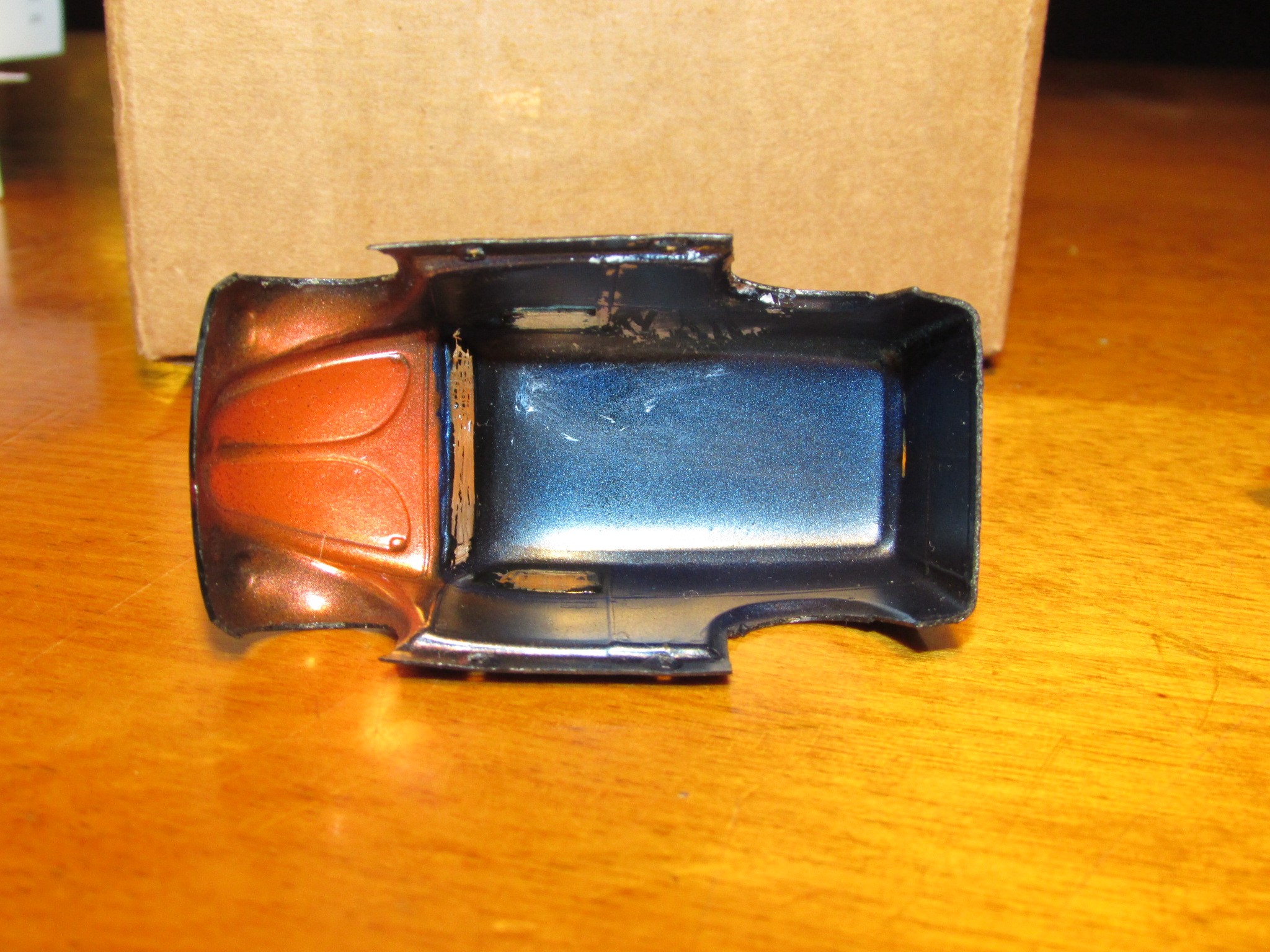 123 Hawk Cheetah
124 Sigma GC73
125 Ferrari 312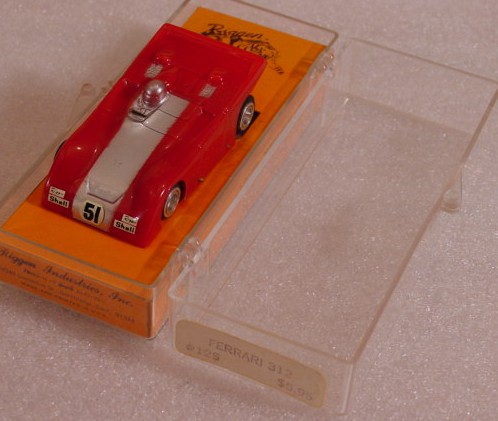 126 Porsche 917-10K
Charger Daytona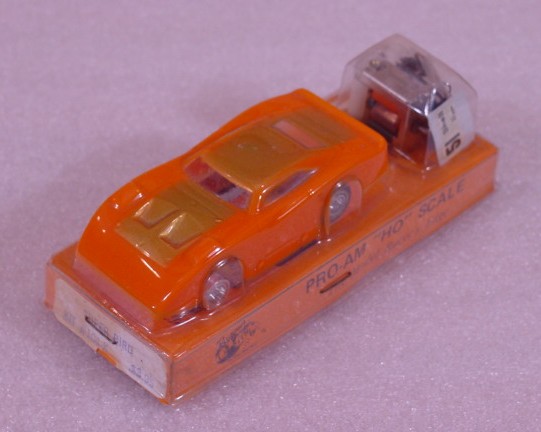 Notes about the Riggen "Style 2" Cars
Bodies are referred to as Style 2 cars WHEN there were 2 (or more) distinct styles using the same name. Styles 115 and onwards are new body styles for Riggen, and note that some of the earlier body styles have been relaunched with a new look--same name...The Boss Series body timeline is 100-111 released first,with 112-114 added sometime in 1972 and 115-123 appearing in the later 1972 price lists and finally 124-126 completing the line up. 122 is the VW Panel Van offered for only a limited time, and 113 VW Bus is almost as scarce.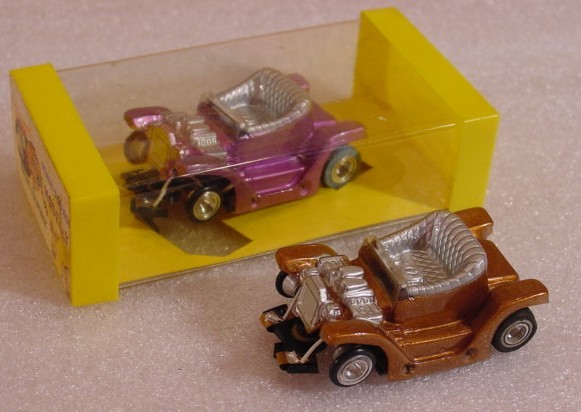 Hot Rods where released with HR-1 through 5 first, then 6 and 7, with 8 coming last. Near the end of the production cycle for HO cars, Riggen (now owned by Gayla Industries) complemented the "Boss HO Series" with a new series of cars called the "Mr. Hot Rod Series".

These 8 cars had a great look. New body colors were offered, though the car's mechanics were left unchanged. The packaging style was also modified, now using a plastic see-through box with yellow end caps reminiscent of a t-jet box.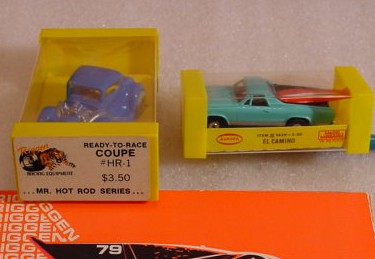 HR-1 Hot Rod Coupe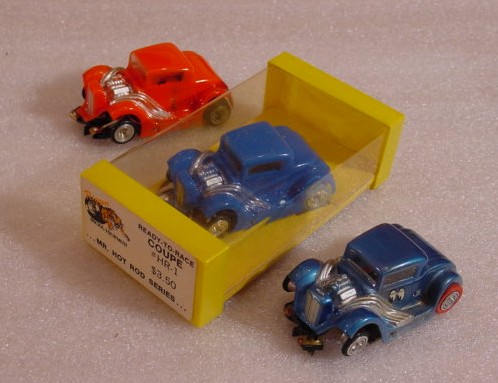 HR-2 Hot Rod Roadster
HR-3 Hot Rod Truck
HR-4 Hot Rod Phaeton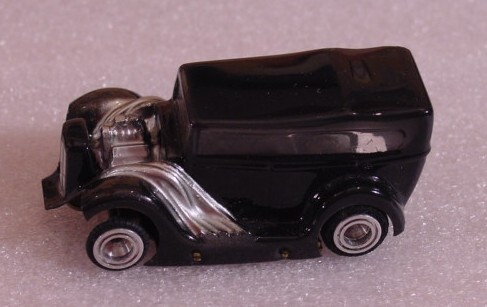 HR-5 Hot Rod Van
HR-6 Hot Rod Ice Truck
HR-7 '23 Model T Roadster
HR-8 '23 Model T Runabout
TT-1 Tractor Trailer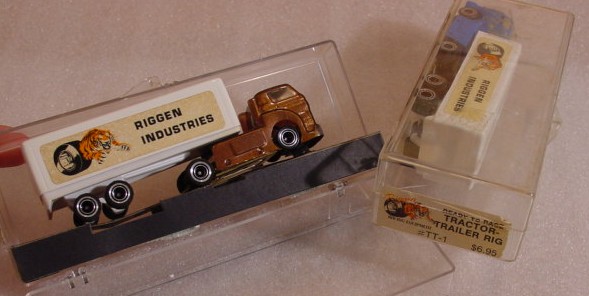 The Hot Rods are currently very desirable and seem to be more rare than the Boss series cars. Particularly rare are the TT-1 Trailers (not technically part of the Hot Rod Series but included here) as well as the last of the series HR6, 7, and 8 T-Truck, Coupe and Roadster.

Riggen Prototypes
Above is shown a "one and only" mock up Oil Tanker (acquired from a former executive of Gayla Industries)..This was meant to be the TT-2....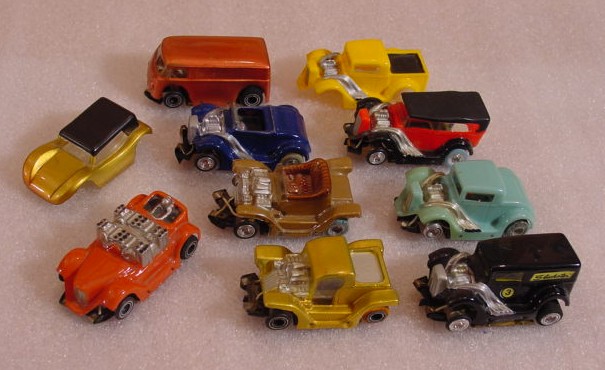 The following collection of prototype cars (photo above) and composite molds were acquired directly from Gordon Brimhall, the master model maker employed by Al Riggen on the early '70's.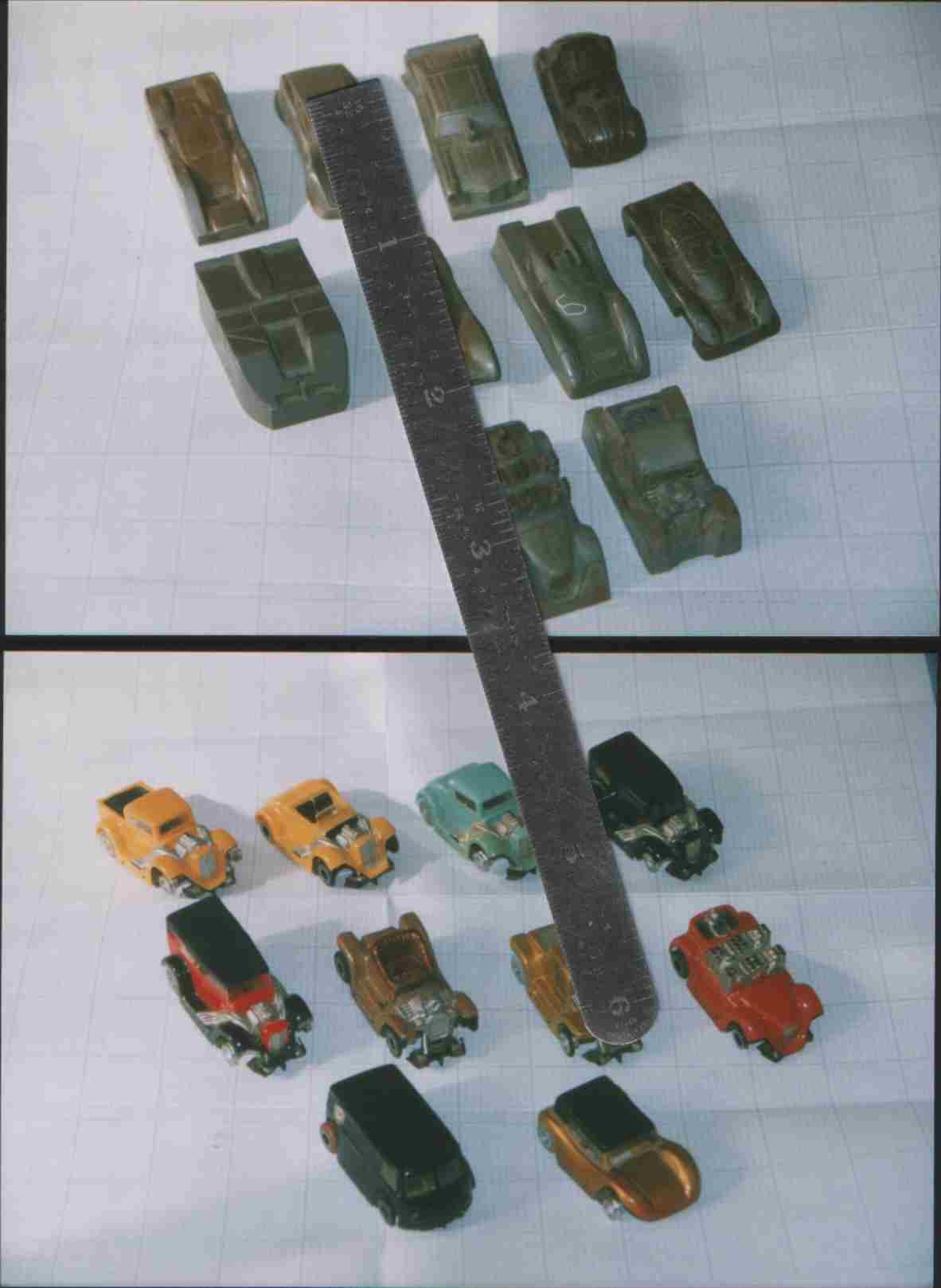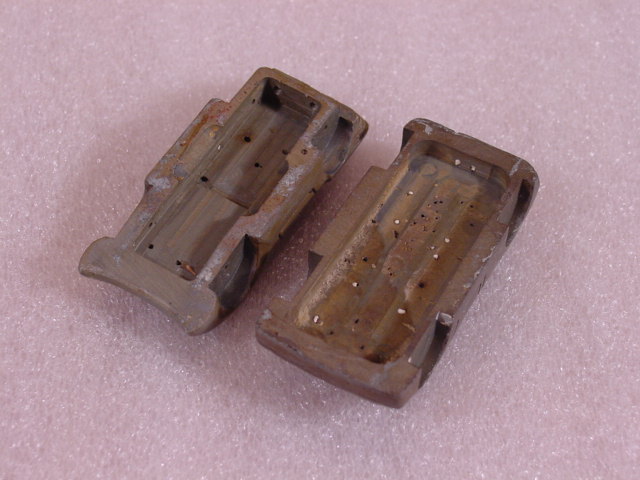 Each item in the collection is documented with a certificate of authority signed by Mr. Brimhall. Each completed car is hand painted on the outside (in contrast to the production versions which are inside painted). The bodies are trimmed by hand. The molds have incredible detail. The Delivery Van prototype car has some mechanical features typical of prototype model building. These photos show a "Champion Motor" sticker on the side of the motor. Also notable is the brass nut used to hold the guide flag. The motor lead wires are soldered direct to the brush tubes, the red dot on one wire indicate positive.
Some of the cars were noted to be production models or to have been "put into limited production".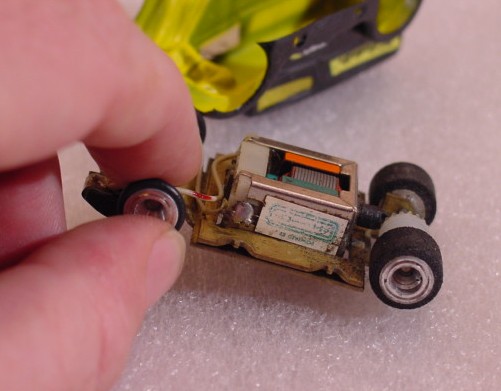 RiggenHO version of the Brimhall Porsche 917 (early version) body

P-1 Four Engine Dragster

(Above photo shows the only vintage 4 Engine Dragster known, this body style was later put into production by RiggenHO)
P-2 Blown Bug

(RiggenHo 4000 series version with reproduction body from the original mold)
P-3 Chapparal 2J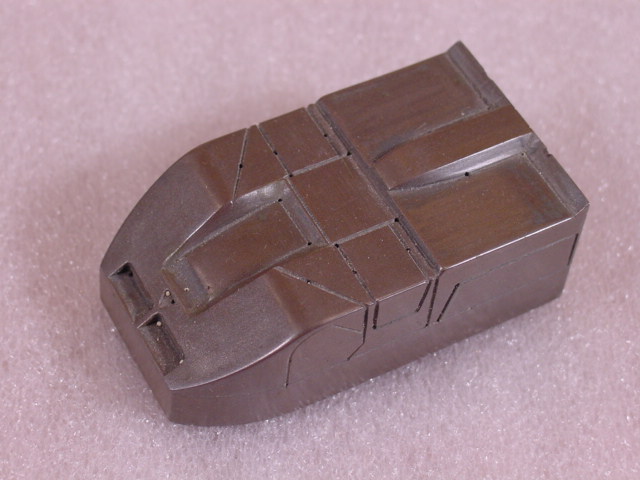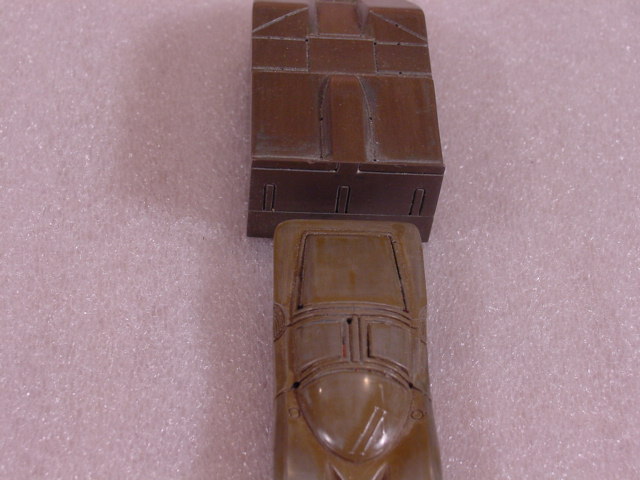 above photo compares the width required for the Chapp 2-J needed to accomodate the "covered wheel" design
below photo is an example of how the chassis would be modified to accomodate inside wheels...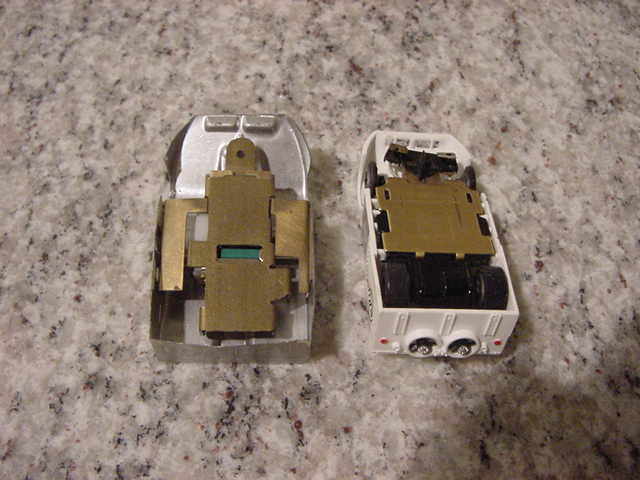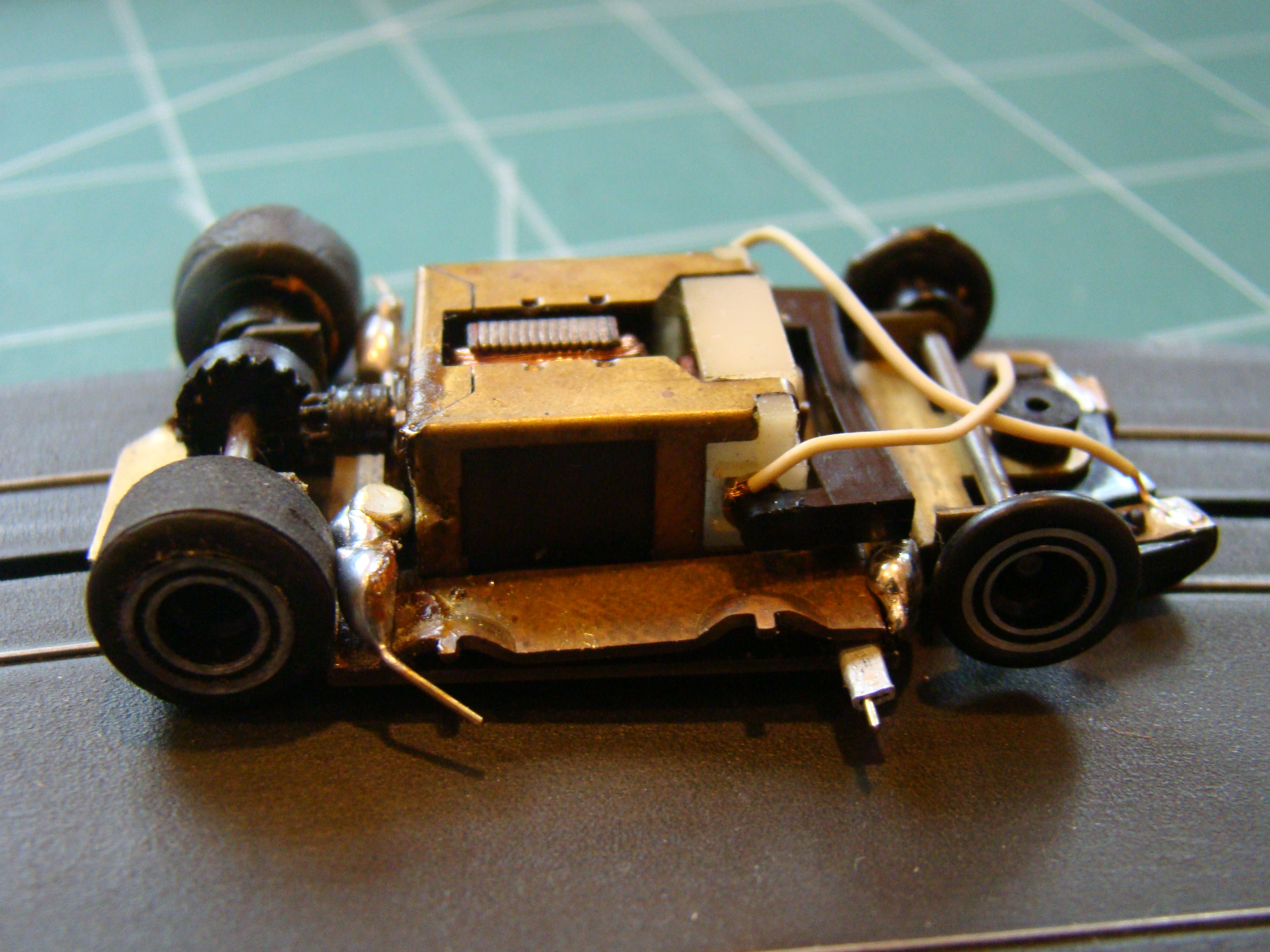 The chassis pictured above is the Brimhall proto chassis used for proof of concept on the 2-J. The body holders slide and pressure fit..
--note the block style front wheels and brass can motor (curvehugger)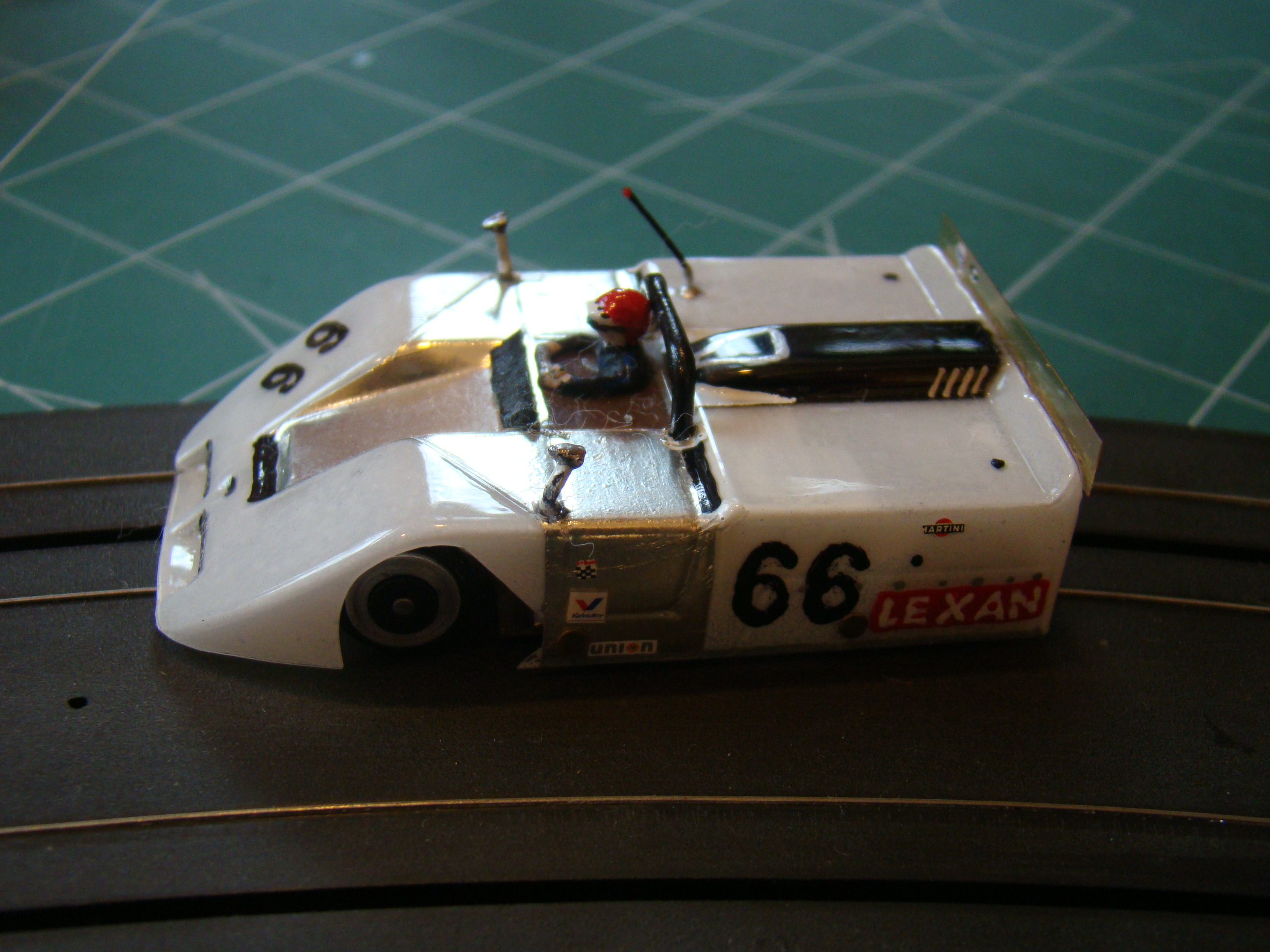 this is the RiggenHO Limited Edition Chapparal, using the Brimhall mold and specially deocrated by Kevin Crowe. More here...
(and the 2-J RiggenHO stock version)
P-4 Sandhopper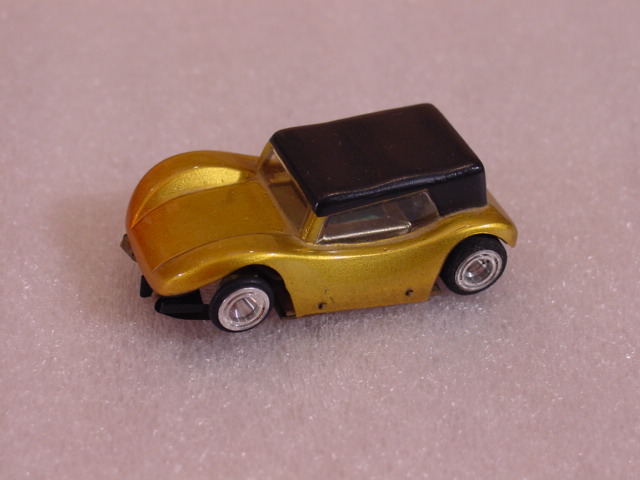 (Above photo shows the only vintage Sand Hopper, this body style was later put into production by RiggenHO)

After his involvement with Riggen Industries, Brimhall Bodies advertised the following: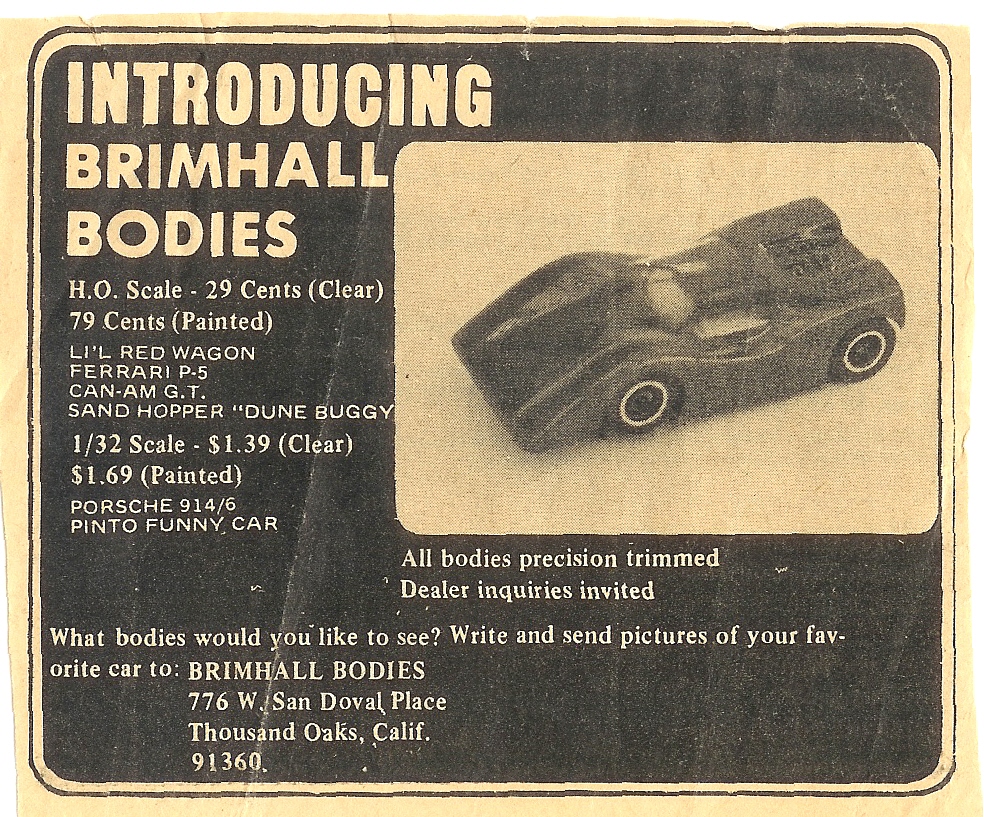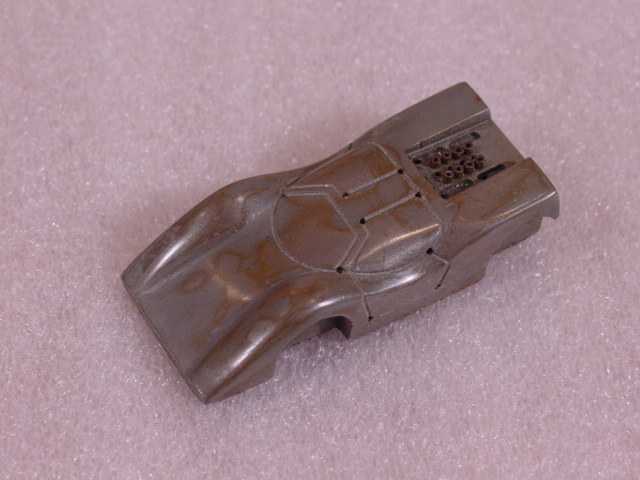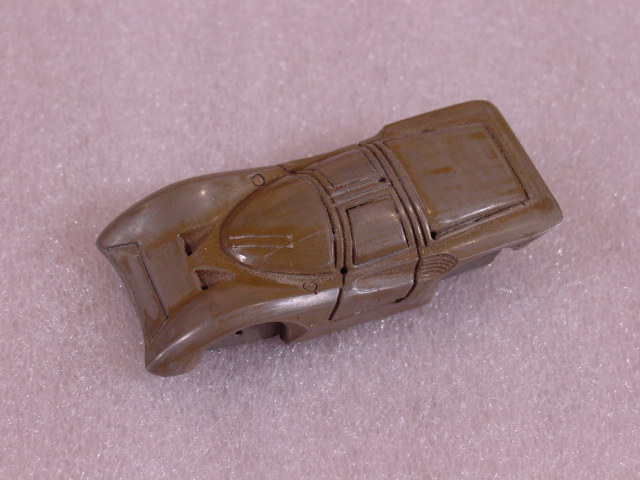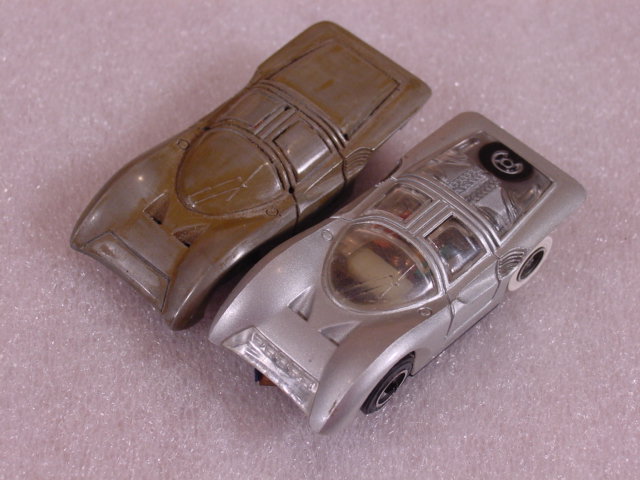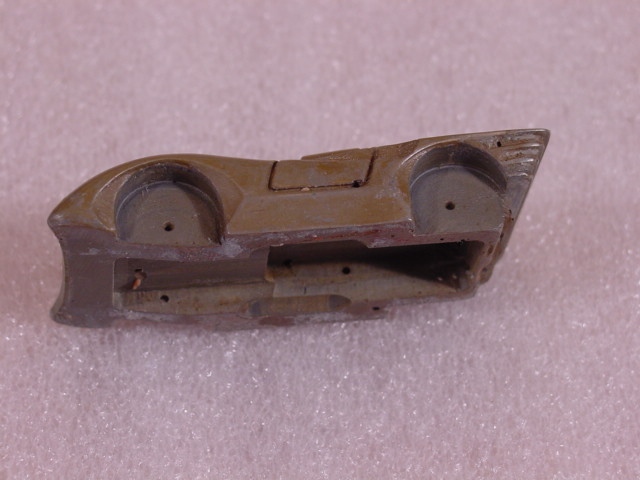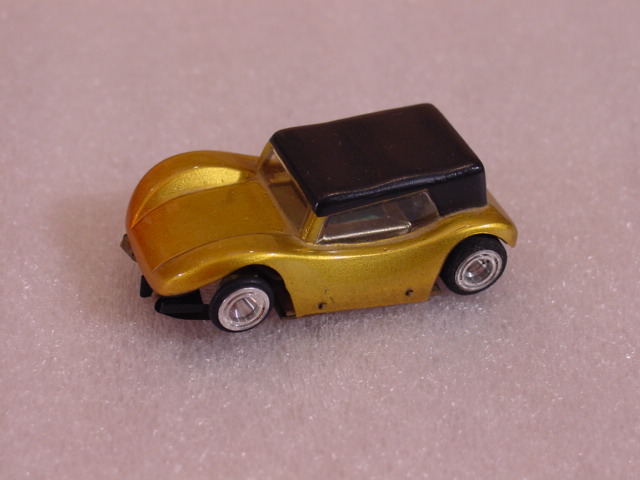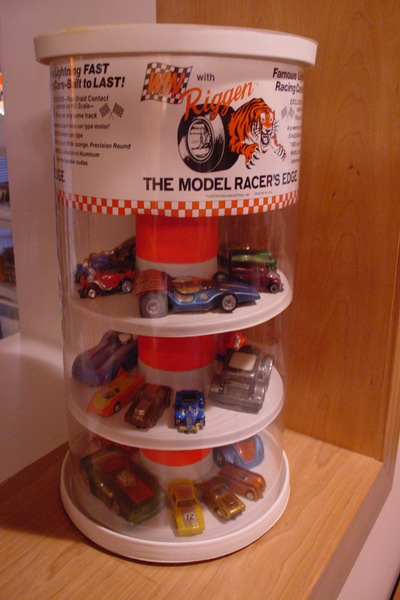 The photo above is a very rare Gayla era Dealer Display. I have never seen another. More here...
------------------------------------------------------------------------------------------
Carbon Fiber chassis by Toybaron, basis for RiggenHO PolyCarb Limited Edition...
-------------------------------------------------------------------------------------------
RiggenHO Limited Edition in the style of a large scale "drop down" like Classic Industries...
more here...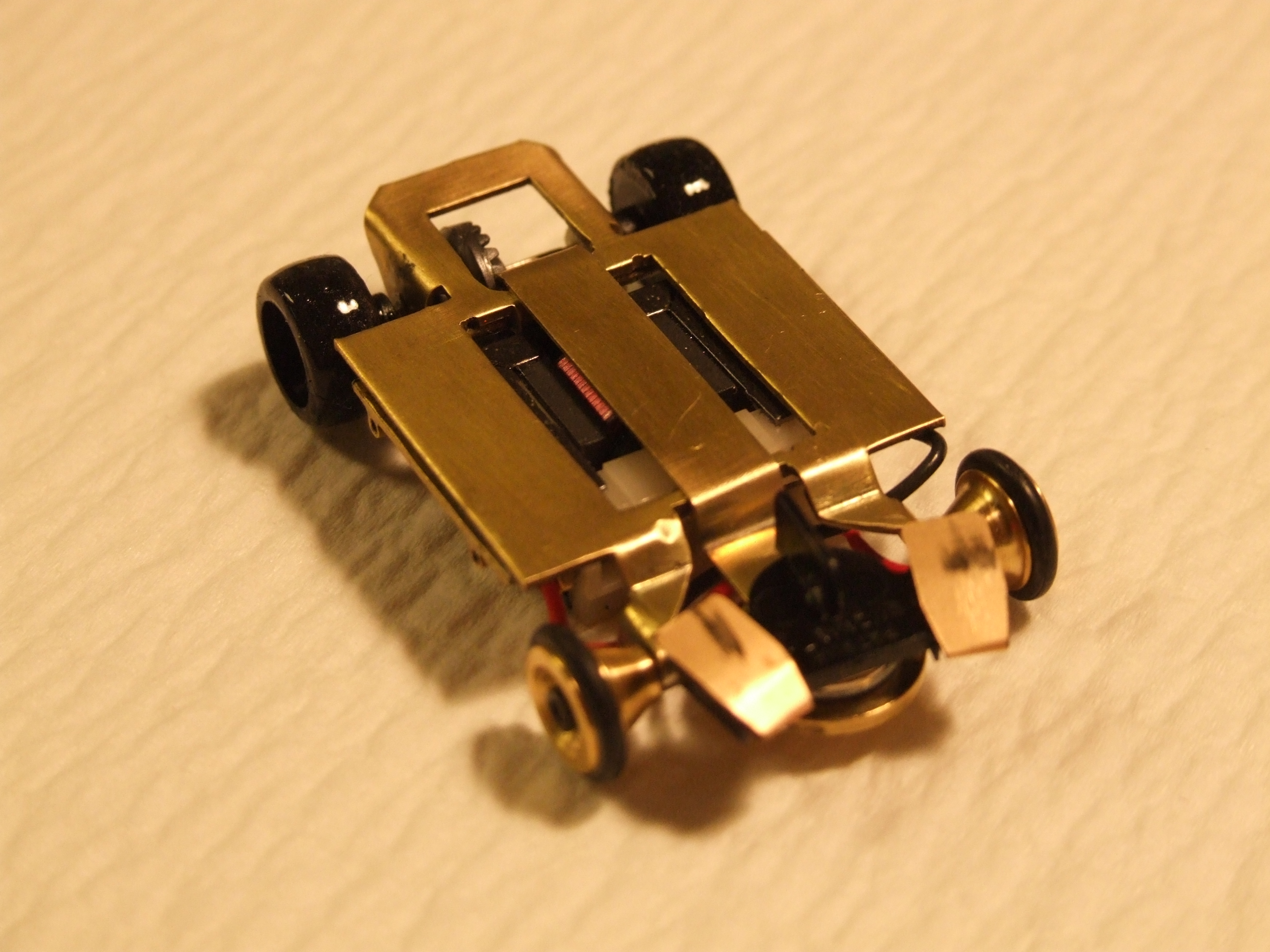 -------------------------------------------------------------------------------------------
Brass Chassis, modern build using Uhlrich style suspension...pretty amazing...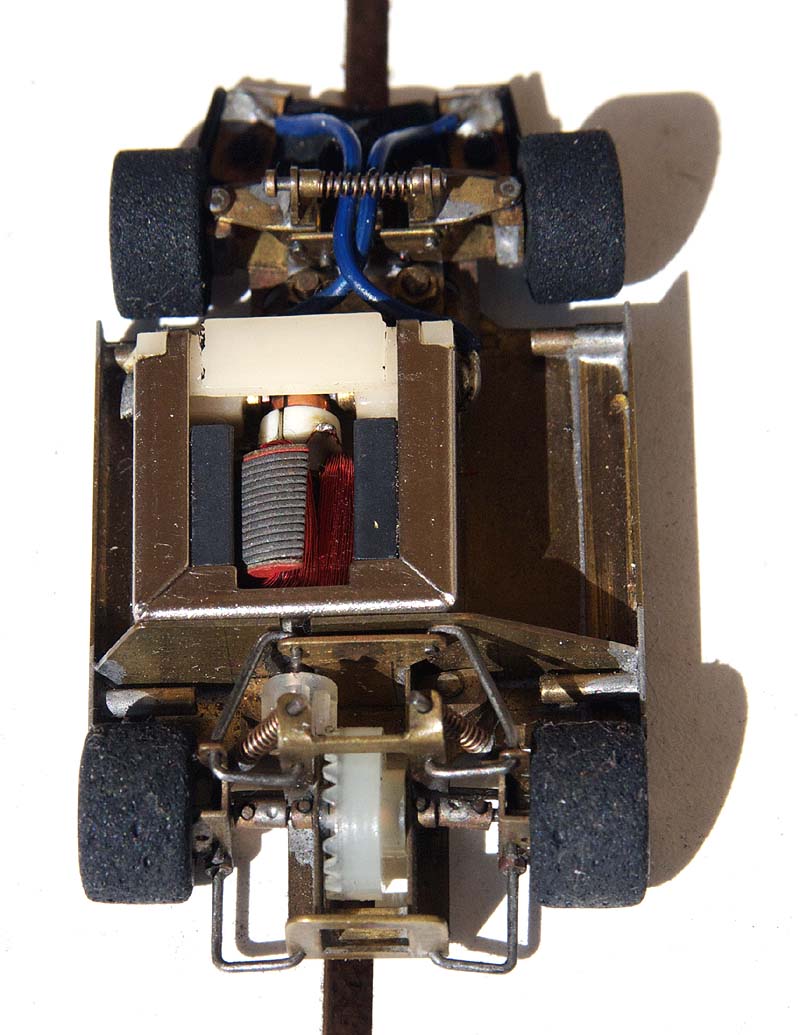 -----------------------------------------------------------------------------------------------------------------------------------
Nice old brass work.....builder unknown...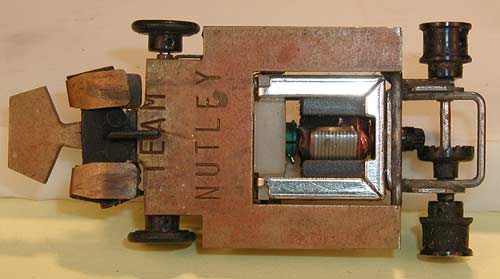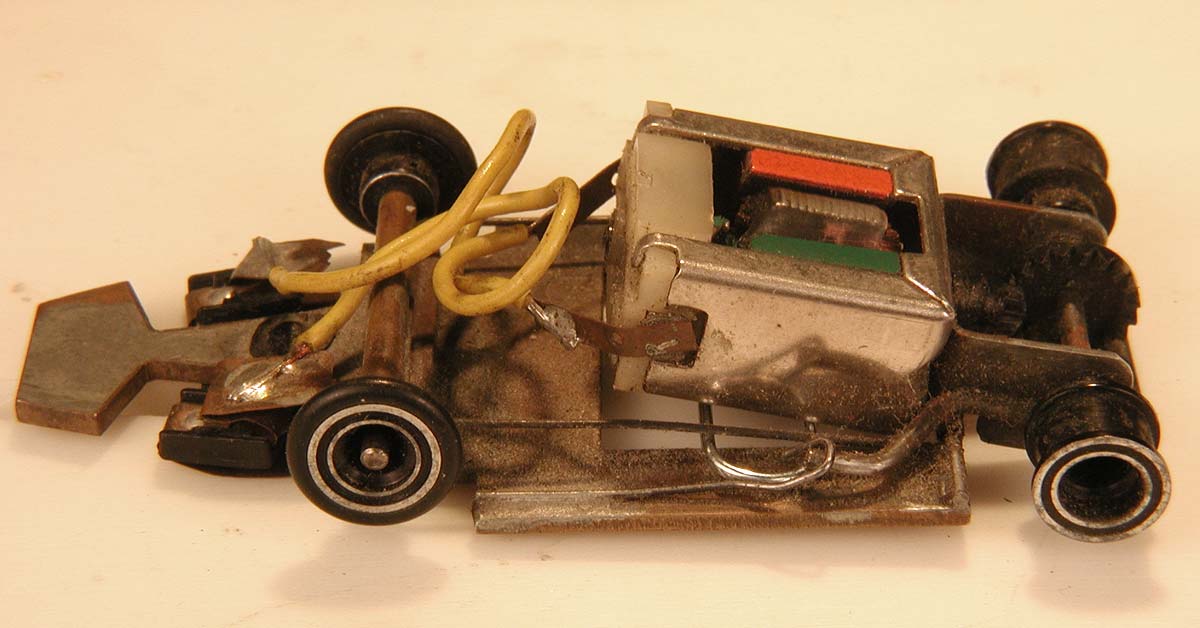 ------------------------------------------------------------------------------------------


Toy Show Photo (from Electric Dreams PdL)
---------------------------------------------------------------------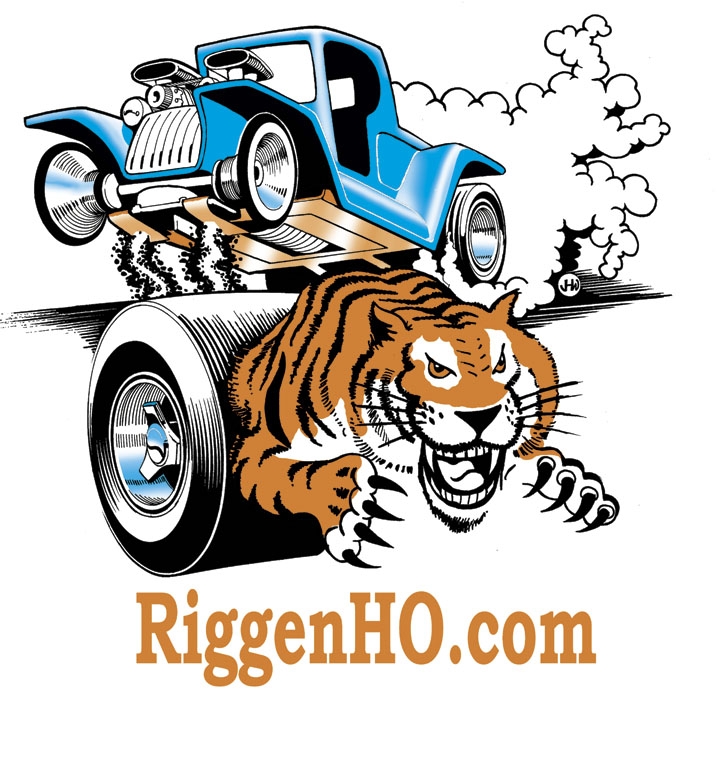 RiggenHO 2nd version T Shirt Design, not yet (as of 2012) available...
----------------------------------------------------------------------------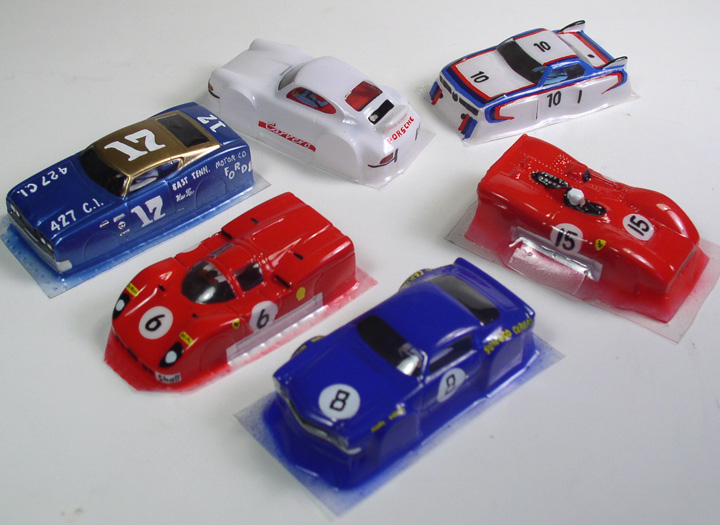 Jairus Watson hand painted bodies on Thayer brand vintage shells for brass wars racing 2010
-----------------------------------------------------------------------------------------------------------